INEARPEACE Earphone Sound Quality Tests
INEARPEACE Earphone Sound Quality Tests
The first thing I noticed, even before I started my critical listening tests, was the sensitivity of the OM Audio INEARPEACE headphones. They are rated by OM Audio of 101dB / 126mV @1kHz with a impedance of 16 ohms. While this isn't overly sensitive, something allowed the OM Audio INEARPEACE headphones to pass on even the slightest noise. I could clearly hear when my phone or my computer engaged the audio output. This took the form of a slight background hiss. During playback, it was inaudible and when I paired the INEARPEACE headphones with a better source, it wasn't present. If you are going to do most of your listening at your computer, you might want to take this into consideration or invest in an external DAC/amp.

The second thing I noticed was the dynamic range of the INEARPEACE headphones. Even at low volumes, the bass still had a really authoritative kick to it. I have to give credit to the dual driver design for this one. As the volume increased, however, the bass evened out quite a bit and the OM Audio INEARPEACE headphones had a flat quality that I really appreciated. If you are looking for headphones to artificially boost the bass during your listening, you won't want these. During bass heavy tracks,however, the OM Audio INEARPEACE could really bring the bass. They almost felt like they wanted to jump out of your ear but they didn't sound overly bassy when the bass wasn't there in the original recording.
I tried to do a number of comparisons but the OM Audio INEARPEACE headphones were frustratingly hard to compare to other headphones. Their sensitivity was so much different that comparisons to most headphones was near impossible The volume difference between the two forced me to to both switch the headphones while spinning the volume control on the Yamaha AVENTAGE CX-A5000 processor I have in for review. What I ended up doing was spending most of my time flipping (as quickly as possible) between the INEARPEACE and the RHA MA750 in-ear monitors.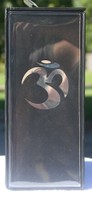 In their review, I established that while I liked the RHA MA750 headphones, they had a bass boost. I didn't mind the bass boost as it afforded the RHA's a bass extension that I had yet to experience in a headphone. While the INEARPEACE did not have the bass boost or the extension, they did have a much more linear presentation and a much more developed top end. While the INEARPEACE only cost $40 more than the RHA's with the in-line controls ($130 with a three-button control unit), the headphones couldn't be more different.
In the marketing materials, OM Audio claims that their INEARPEACE headphones feature "a balanced armature driver delivering crystal clear highs and a 10mm coiled bass driver for smooth, deep lows." I have to say that this claim is right on. If I had to use a word to describe the INEARPEACE headphones, it would be balanced. For some, this will be a turnoff. They've been listening to headphones with frequency response curves that have increasingly been accentuating the bass. You can look at nearly every manufacturer's history and you'll see this is the case. Does that mean it is what the consumer wants? Perhaps. But true Audioholics want accurate sound. If that's what you look for in a headphone, the INEARPEACE is for you.
These are easily one of the least fatiguing headphones I've worn. The highs are clear and crisp but never harsh. The bass is punchy and tight but not at all overdone (with the exception, perhaps, at lower volumes). The midrange sounds just as clear as you'd want. The effect of this is that the presentation of the music sounds so much more natural than headphones that emphasize a particular region. When switching from a bass-heavy headphone to the INEARPEACE, the vocalist suddenly takes a big step forward and the bassist and drummer stop hogging your attention. The OM Audio INEARPEACE in-ear headphones retail for $180. While they are not the perfect headphone, they are certainly worth every penny of that. 
Conclusion
If the OM Audio INEARPEACE in-ear headphones aren't for everyone, it is because not everyone wants accurate sound. With a dual driver design, more comfortable than most tips, and a truly tangle-free cord, the OM Audio INEARPEACE have a lot going for them. The dual drivers give them the ability to have punchy bass even at low volumes while maintaining a balanced presentation at louder volumes. At $180, it is hard to find competitors with dual drivers to this headphone. If you are looking for accurate in-ear monitors, the OM Audio headphones should top your list.
OM Audio INEARPEACE In-Ear Headphones
MSRP $179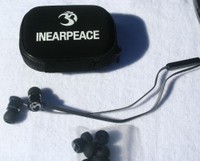 The Score Card
The scoring below is based on each piece of equipment doing the duty it is designed for. The numbers are weighed heavily with respect to the individual cost of each unit, thus giving a rating roughly equal to:
Performance × Price Factor/Value = Rating
Audioholics.com note: The ratings indicated below are based on subjective listening and objective testing of the product in question. The rating scale is based on performance/value ratio. If you notice better performing products in future reviews that have lower numbers in certain areas, be aware that the value factor is most likely the culprit. Other Audioholics reviewers may rate products solely based on performance, and each reviewer has his/her own system for ratings.
Audioholics Rating Scale
— Excellent
— Very Good
— Good
— Fair
— Poor
| Metric | Rating |
| --- | --- |
| Build Quality | |
| Appearance | |
| Treble Extension | |
| Treble Smoothness | |
| Midrange Accuracy | |
| Bass Extension | |
| Bass Accuracy | |
| Imaging | |
| Soundstage | |
| Dynamic Range | |
| Fit and Finish | |
| Performance | |
| Value | |
See also:
Confused about what AV Gear to buy or how to set it up? Join our Exclusive Audioholics E-Book Membership Program!
Recent Forum Posts: