INEARPEACE Earphone Controls, Comfort, and Use
INEARPEACE Earphone Controls, Comfort, and Use
Like many headphones these days, the OM Audio INEARPEACE in-ear headphones have an in-line control and a mic. The main benefit of these, other than the actual functionality, is that they quickly identify which headphone goes in which ear. The in-line controls are of the one-button variety. If you have an iDevice, you are probably already familiar with the functionality. A single press to start/stop playback or answer/disconnect calls, double click to skip forward, and triple click to skip back. There are no provisions for volume control so you'll need to use the buttons on your computer/phone. If you have an Android device or other, you'll have to look for an app that will allow the controls to work with your particular device/operating system.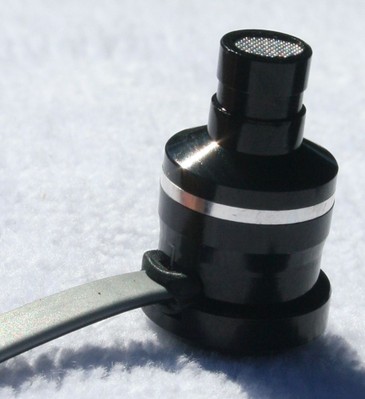 OM Audio claims that their headphones have a "pressure-relief" system to reduce the air pressure in the ear canal. Honestly, I have no idea what this is or how it works. I can't say I ever thought to myself that there was too much air pressure and took out my earphones to relieve it - regardless of model. Mostly, it is the tips that are the problem. The OM Audio INEARPEACE headphones have some of the larger in-ear posts I've tested. In the past this has made it hard to correctly seat the earphones in my ear canal. I'm comfortable enough to admit that I have small ears and in-ear headphones, in general, have been a historic problem. But the INEARPEACE headphones fit just fine and I chalk that up to the tips.
Many tips have a focus on the outer bell. It seems to me that OM Audio has put more thought (and material) into the inner (apropos no?) part that grabs onto the headphone post. This rubber is very supple and soft and allowed for a much more comfortable fit. While shoving something into your ear is never a very pleasant experience, the OM Audio headphones, even with their larger post, were some of the most comfortable in-ear headphones I've tested.

That one on the left looks different, but it isn't

The cable may be tangle-free and flat, but it is not without its issues. The most noticeable problem I had with the cable is sound transmission. There are rubber grommets where the cable enters the headphones but it is not enough. Running your finger down the cable is enough to be audible. Rubbing on your shirt, bumping your chest, tapping on it...anything will be audible. If you have your music high enough, it won't be a problem but it is not a great design.
The other problem I had with the cable was that it tended to grab onto my clothing. I took the headphones out to mow the grass one afternoon. Here in Florida, you have the option of mowing and sweating until you are a husk of your former self or not mowing at all. And that's in winter. While the weather has cooled, it is still humid enough to keep your well drenched during any extended stay outside. I put on the OM Audio INEARPEACE headphones draping the cable down my back (outside my shirt) and down to the side pocket in my cargo shorts. The INEARPEACE have the standard 4ft/1.2meter cable which, while I can't dock them because it is the industry standard, I find a tad short. Companies like RHA have been releasing 1.3 meter cables which I find much preferable.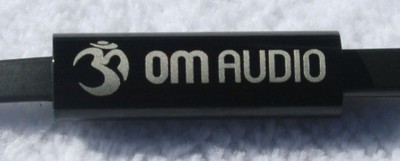 When I started mowing, I noticed that the OM Audio INEARPEACE headphones kept in fairly well. One wanted to slip more than the other, but it wasn't too much of a problem. As I continued and started sweating, the flat cable would grab onto my shirt or the back of my neck and tug the earpieces loose. By the end, while they were staying in my ears, they were often pulled out of their proper position more often than not. If I had draped the cable down my front (something I don't do because I don't like having my headphones ripped from my head when I catch the cable on something), or used the lapel clip, I might have had fewer problems. Since I didn't find the clip all that useful, I don't think I'd recommend the OM Audio INEARPEACE headphones for vigorous exercise. 
Lastly, a word on the tips. I'm not sure if I had an odd pack but I got one pair of small tips, one pair of large tips, and three pairs of medium tips. I can't imagine why this would be. I kept examining them to see if there were some differences in the medium tips but I couldn't find any. Apparently OM Audio thinks most people have medium size ears and lose their tips a lot.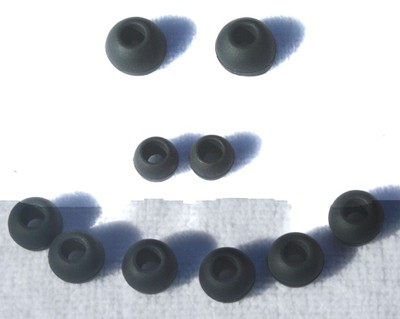 That's a lot of mediums but at least they are happy
Confused about what AV Gear to buy or how to set it up? Join our Exclusive Audioholics E-Book Membership Program!
See also:
Recent Forum Posts: