Hifiman Ananda-BT Headphones Measurements & Conclusion
Hifiman Ananda-BT Headphones Measurements & Conclusion
The Ananda-BT headphones can get signal either via USB-C or via Bluetooth.  Both require the headphones to be powered on and for signal to flow through the onboard DSP.  Because I intend to use these headphones exclusively as Bluetooth headphones, I performed measurements over Bluetooth.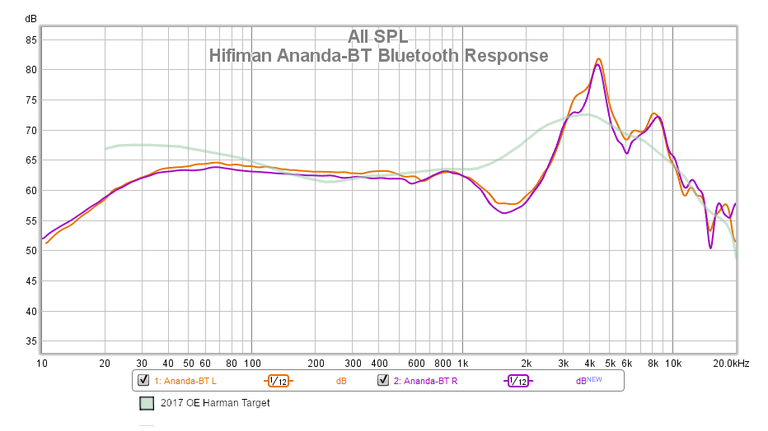 According to the graphed response I would expect to be missing some detail around the 2kHz range.  Honestly, I don't.  This is a good argument for spending some time becoming familiar with your equipment before letting a graph tell you what you should expect to hear.  It's a bit of a Catch-22 for one who shops for equipment based on response graphs, right?  How does one choose what to buy without some expectation of what he will hear?  All I can say is, graphs are the beginning of wisdom, not the end.
The subtle rise from 600 Hz down to 60 Hz explains the slightly overcooked midbass I mentioned earlier; but as I said, it's not enough to make the sound displeasing.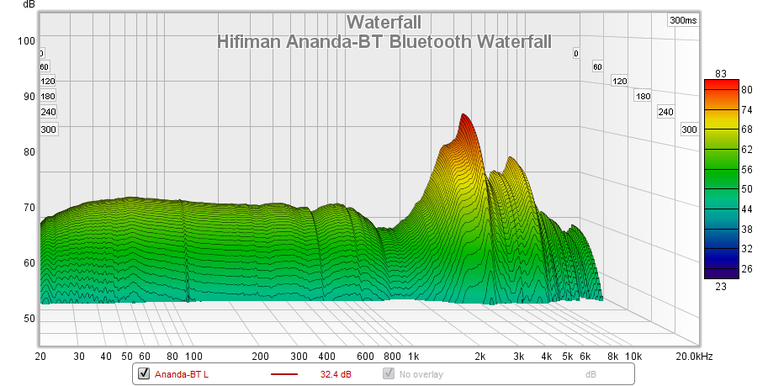 Because this was measured over Bluetooth also using itself as a timing reference, I'm not certain how reliable it is.  Measurements in the time domain have diminished meaning with such a latent transmission method.  Regardless, there is no range on these headphones where I hear any ringing.  The waterfall plot seems to support this.
Comfort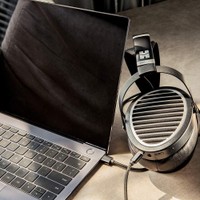 The headband expansion mechanism is tight.  Pulling the ear cups down takes some effort.  Unfortunately, this feat of brute strength is required right next to a delicate wire feeding up into the headband.  Hopefully over time this tension will relax.
Once the headphones have been properly sized, they are supremely comfortable.  They are deceptively lightweight.  The clamping force is barely noticeable while still sufficient to support their insubstantial heft, and the open backs allow my ears to breathe.  Comfort is not affected by wearing glasses, nor can I perceive any audible difference with glasses versus without.  The polyester face of the ear pads may get sweaty after an hour or two of listening.
Bluetooth controls
The buttons on the left ear cup are minimalist.  Power button controls power and pairing.  Charging button starts charging, preventing the Ananda-BT from vampiring the battery charge from a mobile phone or laptop.  That's it.
Kudos to Hifiman for not copying the Bluetooth features and human interfaces from other manufacturers, and for sticking to their guns despite criticism.  The Ananda-BT don't have ANR, no head tracking, no app-controlled tone settings, no touch or swipe gestures, none of the frivolities that make mainstream Bluetooth headphones less headphone and more head-mounted appliance.  For Hifiman's headphones for grown-ups, Bluetooth is merely the wireless wire, nothing more than a means of transmitting signal.  Those who claim the Ananda-BT's Bluetooth controls are lacking need to stop associating the Ananda-BT with mainstream Bluetooth headphones.  They are in a class of their own, and should absolutely behave like it.
Comparisons
Sony WH-1000XM4
The Sony headphones have less sound leakage, active noise canceling, more robust controls, and a cheaper price tag.  However, their superiority does not extend to sound quality.  Although tuned for a neutral response, the Sony headphones sound unrefined and 2-dimensional compared to the Ananda-BT.  The difference is not even close.  The Ananda-BT headphones have a significantly expanded soundstage and better detail, and are genuinely more exciting to listen to.  They are simply the best sounding Bluetooth headphones on the market that I've heard.
Aeon Flow Open Back v1
Dan Clark makes some nice headphones, make no mistake.  However, the typical midbass hump characteristic of planar magnetic headphones is more pronounced on the Aeon Flows, limiting their suitability to fewer genres of music without significant EQ.  The Ananda-BT headphones sound more open, presenting a wider, taller, and deeper soundstage than the Aeon Flows.  Both offer similar levels of detail and supreme comfort.
Hifiman HE-560 and HE6SE v2
A friend of mine recently acquired a pair of HE6SE to replace a pair of failing HE-560.  He says the Ananda-BT remind him of his 560s.  However, I recall A-B testing his (then working) 560s against my Aeon Flows with my preferred EQ curve, and thinking the Aeon Flows clearly won that matchup.  The sound of the Ananda-BT reminds me more of his HE6SE headphones, but he would never admit that my headphones might be better than his.  The HE6SE may have a slightly deeper soundstage and a marginally more neutral natural response curve, but the infinitesimal gains would probably not be noticed without a side-by-side demo, especially with EQ applied to the Ananda-BT.  The HE6SE headphones have more in common with the Ananda-BT than do the HE-560.
The state of the market
the Hifiman Ananda-BT headphones are the unqualified best sounding Bluetooth headphones on the market.
In the past, enjoying the convenience of wireless headphones has meant compromising on sound quality.  Almost all wireless headphones are closed back, employing entry-grade dynamic drivers.
Grado Labs was the first to enter the market with an open back offering, the Grado GW100.  Unfortunately, its native response curve is somewhat V-shaped, with bloated bass and mid-bass, veiled mids, and a top end approaching sibilant.  With the response hammered into shape with EQ, you've still got an on-ear headphone with transducers among the lowest grade that Grado offers.  When asked whether they would be open to converting one of their more premium offerings, the GS1000e, into Bluetooth, the terse response from Grado Labs indicated a hard no.
Drop.com seeks to address the other side of the niche by incorporating higher quality planar magnetic drivers and upgraded amplification into the Drop + Panda.  These headphones approach audiophile-level resolution, but are sadly still closed-back, and thus limit the soundstage.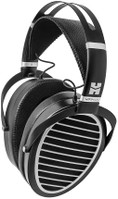 Hifiman seems to be experimenting as they enter into the Bluetooth fray.  They began with a pair of truly wireless ear buds, the TWS600.  The Ananda-BT came second around the middle of 2019, and as of this review are the last to offer an integrated Bluetooth DSP.  The more budget-minded Deva came next featuring a pluggable Bluemini module, allowing its owner to choose passive wired or active wireless.  The Deva may not match the bass response or overall presentation of the Ananda-BT, but it does come at a much lower price.  Hifiman also offers a Bluemini option for its higher end wooden closed back headphone, the HE-R10 Dynamic.
I contacted Hifiman's customer service staff to ask about the future of Bluetooth development.  Will the Ananda-BT be their last model to offer an integrated Bluetooth DSP?
They responded:
"The new Bluemini is still under [development]. We will adjust our goal[s] in accordance with the trend[s] and technic[al] development, ultimately, to achieve the best sound quality and balance."
I take that to mean that, for the immediate future, they will continue developing their Bluemini independently of their headphones, making it an available option where impedance and sensitivity permit being driven by a 230mW power source.  Beyond that, who knows?
In any case, more options are becoming available for those who want the freedom of wireless without having to sacrifice sound quality.  For now, the Hifiman Ananda-BT headphones are the unqualified best sounding Bluetooth headphones on the market.
The Score Card
The scoring below is based on each piece of equipment doing the duty it is designed for. The numbers are weighed heavily with respect to the individual cost of each unit, thus giving a rating roughly equal to:
Performance × Price Factor/Value = Rating
Audioholics.com note: The ratings indicated below are based on subjective listening and objective testing of the product in question. The rating scale is based on performance/value ratio. If you notice better performing products in future reviews that have lower numbers in certain areas, be aware that the value factor is most likely the culprit. Other Audioholics reviewers may rate products solely based on performance, and each reviewer has his/her own system for ratings.
Audioholics Rating Scale
— Excellent
— Very Good
— Good
— Fair
— Poor
| Metric | Rating |
| --- | --- |
| Build Quality | |
| Appearance | |
| Treble Extension | |
| Treble Smoothness | |
| Midrange Accuracy | |
| Bass Extension | |
| Bass Accuracy | |
| Imaging | |
| Soundstage | |
| Dynamic Range | |
| Fit and Finish | |
| Performance | |
| Value | |
See also:
Confused about what AV Gear to buy or how to set it up? Join our Exclusive Audioholics E-Book Membership Program!