Bowers & Wilkins Px8 Review & Px7 S2 Comparison: Which One's Right For You?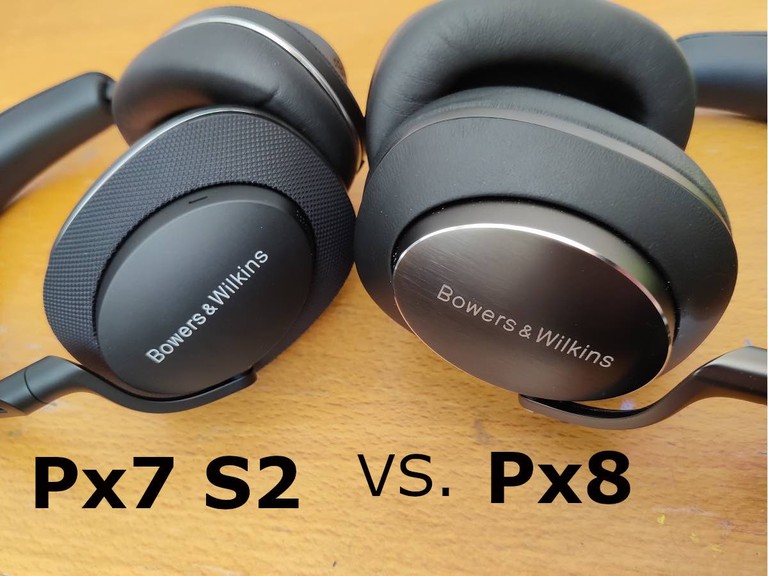 Bowers & Wilkins Px8 Unboxing
Summary
Specifications
Px8 Bluetooth Wireless Over-Ear Headphones
Net weight 320g (without carry case)

Dimensions (Carry Case) 189mm (w) x 63mm (d) x 233mm (h)
Technical features:

Hybrid Noise Cancellation
Ambient Pass-Through
Wear-Detection Sensor
Bluetooth® audio

Bluetooth 5.2 with aptX™ Adaptive
USB-C charging & audio interface
Bluetooth codecs aptX™ Adaptive
aptX™ HD
aptX™
AAC
SBC
Drive units:
2 x 40mm dynamic full range carbon driver
Microphones 4x mics for ANC
2x mics for telephony
Distortion (THD) <0.1% (1 kHz/10mW)
Battery
Battery type Rechargeable Lithium Ion
Battery life & charging 30 hours playback
15 minute charge for 7 hours playback
In box accessories 1.2m USB-C to 3.5mm stereo jack audio cable
1.2m USB-C to USB-C cable
Carry Case
Finishes

Black Leather
Tan & Grey Leather
Executive Overview
Late in 2022 Bowers & Wilkins released its new flagship wireless headphones with Active Noise Cancelling, Px8. This isn't Bowers & Wilkins first go-around launching either a flagship or a high-end wireless headphone, so you can bet its latest offering brings the company's considerable experience to bear along with the consumer feedback its received along the way. The new headphones feature Active Noise Cancelling with an ambient pass-through mode, one-press smartphone assistant for voice commands and even has a built-in "wear detection" that pauses your music whenever you remove your headphones. Fortunately, for my fellow feature-curmudgeons, the Bowers & Wilkins Music app lets you disable any or all of these extra features, including noise cancelling for a lean rendition of the Px8 wireless listening experience without distractions. Using a compatible Android device, disabling ANC provides the raw sound quality of Px8 streaming through Qualcomm's aptX Adaptive codec. Bowers & Wilkins is so confident in the experience that the company states quite simply:
A Worthy Upgrade? Bowers & Wilkins Px8 Headphone Review
"We've never made a better headphone than Px8." - Bowers and Wilkins Px8 product page.
Bowers & Wilkins latest wireless headphone was in development around the same time as Px7 S2 which launched only months prior. Comparisons are inevitable! I gave the Px7 S2 a stellar review because it's a great rendition of today's high-end wireless Bluetooth technology. Considering Px7 S2 retails at $399 USD and Px8 at $699, B&W is well positioned as the lower-cost alternative to some of 2022's great high-end wireless headphones that competitors have priced significantly closer to the $1K-mark or higher. As for intra-brand new headphone competition, is Px8 really worth the extra $300? I'll give my subjective opinion in the Conclusion below, but this article aims to arm you with the details to help you decide.  
At first glance the Px7 S2 and Px8 look quite similar, but the differences are in the finer details - and what fine details they are! Px8 promises to be an achievement in both luxurious esthetics and sound quality.
Design: Look and Feel
It's my humble opinion that Bowers & Wilkins Px8 is the most beautiful pair of headphones I've ever seen. They wear small and light on the head with minimal presence, but their excellence comes through in the details that come together in a work of art and craftsmanship. While both standard color choices, black and tan narrowly avoid being loud or gaudy, the black model is a little more subdued where the tan model is brighter and will attract more attention. But both tactfully make a statement in high-end quality. Lightweight at only 320-grams, Px8 is effortlessly comfortable and its seamless stitch-free Nappa leather-wrapped memory foam ear-pads are breathable on the skin and feel great for long listening sessions.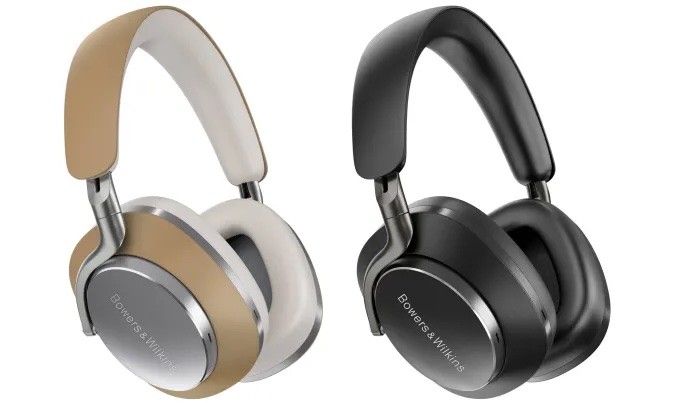 Px8 basic retail color choices: Tan and Black. Not counting special edition varieties that retail for an $100
Bowers & Wilkins went all-in on luxury design for Px8. Die-cast aluminum arms connect to diamond-cut,brushed aluminum driver housings over each ear-cup with real Nappa leather accents. The raised Bowers & Wilkins brand mark catches light in a sparkle that speaks to a discriminating taste. The aluminum no-click arm extension through the headband feels solid with consistent resistance-levels all the way to your preferred fit. Even the fully tactile buttons around the ear-cups are aluminum and everything fits together in a detailed display of design and engineering.
Px8 fresh out of the box inside the included case awaiting first use.
The Px7 S2 look similar, at a distance you may not even tell them apart. The Px8's less-costly brethren carries the same general shape and build quality but made with an uncomplicated durable plastic in a flat variant of your cholor choice with fabric accents around the earcup instead of leather. It is indeed indeed a well-made headphone with quality materials and it benefits from the same overall design, shape and fit of Px8. But up-close, Px8's luxury details emerge. Between the cut of the aluminum and sparkle in the highlights, one does not simply look at Px8 as much as peer into its design-craft. It's like drinking-in the details of a finely crafted wristwatch.
Bowers & Wilkins Music App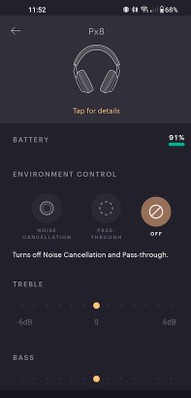 One result of Bowers & Wilkins decade-long foray into wireless products has been the development of a sophisticated Music app. With the launch of Px7 S2, B&W finally brought its wireless headphones into the same Music app as its network-aware speakers and abandoned the dedicated Headphone app. Unfortunately, your new headphones will do without some of the Music app's most slick features like multi-zone and Wi-Fi streaming. The Music app (iOS & Android) is your one download for all wireless B&W audio equipment including the Zeppelin Bluetooth speakers and Formation speaker systems. But unlike its wireless speakers, the wireless function is strictly Bluetooth. If one day Bowers & Wilkins brought Wi-Fi to its Bluetooth headphones, it could be a great way to differentiate itself from the Bluetooth headphone pack. At-home Wi-Fi with lossless/high-res streaming and Music app features, such as streaming to multiple devices and lossless Internet radio may attract attention away from competitors. American headphone manufacturer Koss pulled off a Wi-Fi headphone in its Striva Pro, a product that was so far ahead of its time in 2012 that neither the underlying technology nor the broader consumer market were prepared to fully adopt its revolutionary ideas. But for today, Bowers & Wilkins Music app is slowly evolving. At launch of Px7 S2 the in-app EQ was limited to a one-slider tone control that has now grown into separate bass & treble controls. I'm hoping to see its evolution continue, perhaps into a multi-band EQ with savable profiles. And who knows, maybe a future Formation Duo-like wireless headphone with both Wi-Fi and Bluetooth.
Bluetooth ANC Modes:
ANC-On: Adds to the passive isolation of its closed-back design using mics to monitor outside frequencies and provide an opposing signal to neutralize ambient noise. Has a moderately effective intensity without hiss or much loss to your music's frequency spectrum. But there is some loss to detail and depth of the sound. It's fine for background music when you don't want to be disturbed while flying, in a noisy office or coffee shop.
Pass Through: Activates the outward facing microphones to pass sound through your headphones in a second-hand sonic rendition of your environment. It's a good safety feature that you should keep on-the-ready with the left earcup's programmable mode button when using these cans outdoors in the city.
Off: With ANC off, sonic isolation is strictly passive which is not bad with its thick earpads and closed-back design. This should be your go-to mode because it has the advantage of providing the best sound quality possible.  
Microphone quality is good for calls and online chat. B&W upgraded mic positioning since the release of original Px7 that saw the new 6-mic layout in both Px7 S2 and Px8. Incoming calls are an easy one-press away and the clarity of my own voice through the phone has received no complaints.
Listening Modes
We buy wireless headphones for Bluetooth, but Px8 includes alternate listening modes using the included cables so you can test it for yourself. While 99% of owners may never use a cable with Px8 outside of charging, it's worth taking a look at how alternate listening modes perform by circumventing Bluetooth's compression.
Bluetooth aptX Adaptive
Px8 does not use the LDAC codec, instead Bowers & Wilkins goes all-in with Qualcomm's aptX suite of advanced codecs, alongside the defaults AAC for iOS and SBC for Android.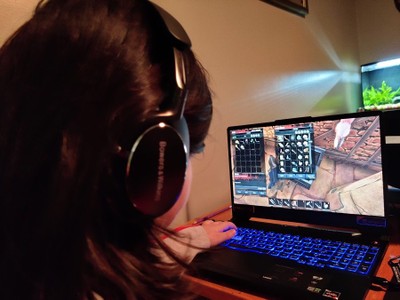 The Bluetooth codec Px8 will try to use once paired with Android 8 or higher devices is aptX Adaptive. Depending on your Android device you may find it using SBC due to compatibility issues with aptX Adaptive, even if your Android is compatible with aptX HD. Although aptX Adaptive & aptX HD are capable of hi-res bit/sample rates up to 24/96kHz, the stream is compressed by Bluetooth so it's not a true lossless/hi-res stream. The Adaptive flavor of aptX automatically scales between 279-kbps and 420-kbps to achieve its dual priorities of sound quality and reliability, free of drop-outs in radio-noisy environments. It also brings a low-latency stream as the Adaptive codec is intended to replace aptX Low Latency, which should make Px8 serviceable for movie viewing and gaming. I played an online game session with my daughter who used the Px8 to keep us voice connected and she nor I noticed obvious delays to in-game audio cues. For serious competitive gaming you'll want to use Px8 connected to a USB port for maximum reliability.
Although aptX Adaptive is capable of up to 24/96 resolution streams, Px8 appears to be capped at a bit/sample-rate of 24/48, which is fine for broad compatibility to multiple sources. However, even with an Adaptive-compatible Android device, your device's stock Bluetooth settings might just be robbing your digital audio stream of some of its brilliance. Smartphone manufacturers often err on the side of reliability to stave-off dropouts, delay and support calls. So, let's look at a couple of Android Bluetooth settings to ensure your device isn't introducing a sound quality bottleneck.
Android Bluetooth Settings to Check Before You Listen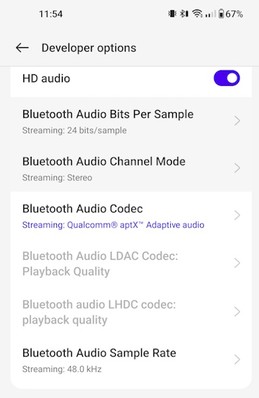 Unlock your device's Developer Options to get into its Bluetooth settings. A quick search should provide easy instructions specific to your brand, it usually involves: Settings > About, tapping seven times. Once unlocked you'll never have to do this again unless you factory reset.
When the headphones are paired to your device and playing back music, go to Developer Options, usually near the bottom of Settings.
1/ Scroll down to find various Bluetooth-related settings. DO NOT play around with other settings if you're not prepared to factory reset your phone, or worse.
2/  If you have an HD Audio toggle switch, ensure it's enabled. Some devices may have this setting disabled out of the box.
3/ Check the active Bluetooth Audio Codec to ensure it's using Qualcomm aptX Adaptive or aptX HD.
4/ Check that sample and bitrates are set to 24-bit/48-kHz. My OnePlus 8T phone shows all other sample/bitrates disabled, this is Bowers & Wilkins preference and not the full capability of the codec.
Px8 Cable Modes
Inside Px8's case you'll find two cables beneath its magnetized trap-door, one USB-C-to-USB-C and the other a 3.5-mm-to-USB-C. One of these cables will let you hear Px8 with the best possible signal purity. The other, not so much. 
USB-C-to-USB-C Cable: DAC Mode/Charging
A USB energy source and cable compatible with USB 3.0 or higher will take advantage of Px8's fast charge capability that provides 7-hrs of battery life in 15-minutes. Fully charged Px8 it will provide a theoretical 30-hours battery life. In practice battery life may be reduced by hours if you're working the amps through louder listening. In my humblest of opinions, the difference between a 30 or 25-hour battery life is trivial. Count me among the thoroughly impressed by a device's battery life when its hours are counted deep into double digits. This should be long enough for anyone not to worry about recharging with every other use. The newer lightweight lithium-ion batteries are incredible!
Px8 Driver Technology, Upgraded From Px7 S2
Px8 Carbon Cone
Px8 Unique Sound Quality & Px7 S2 Comparisons
Subjective Listening Test: Px8 vs. Px7 S2
Conclusion
Px7 S2 Goes Head-to-Head with Px8!
Px7 S2 vs Px8 - Which Would I Buy?

Unless otherwise indicated, this is a preview article for the featured product. A formal review may or may not follow in the future.
Confused about what AV Gear to buy or how to set it up? Join our Exclusive Audioholics E-Book Membership Program!