Bowers & Wilkins Px8 Flagship Wireless Noise-Canceling Headphones Are Here!
Summary
Executive Overview
Ever since Beats by Dre proved in 2008 that headphones could be cool, fashionable, and desirable — rather than simply functional — a number of established loudspeaker manufacturers have jumped on the personal audio bandwagon and offered up headphones designed to deliver better-than-Beats audio while capitalizing on the realization that normal people are willing to pay multiple hundreds of dollars (or more) for headphones. Of the several well-known speaker brands now making headphones, I think the two most successful have been Focal and Bowers & Wilkins. What's fascinating to me is that these two companies have taken such different approaches to the headphone market, with Focal focusing on truly high-end audiophile products, such as the recently-updated Utopia headphones ($5,000), and Bowers & Wilkins building premium consumer-oriented products, such as the Px7 S2 wireless bluetooth headphone ($399), which launched earlier this year. The two brands have had practically zero price overlap in recent years, so they haven't really been competing with each other. Focal's competitors have largely been headphone-specific specialty brands, such as Audeze, HiFiMan, and Dan Clark Audio, which make big and expensive wired headphones. Meanwhile, Bowers & Wilkins has taken on the likes of Sony and Bose, offering more portable wireless, noise-cancelling headphones costing up to around $400. But suddenly, Bowers & Wilkins and Focal now appear to be meeting in the middle. As I write this, Focal has just launched its first-ever wireless noise-cancelling headphone, the Bathys. At $799, the Bathys is substantially less expensive than most of Focal's other offerings, and is both smaller and lighter as well. And at the same time, Bowers & Wilkins has introduced its new flagship wireless headphone, the $699 Px8, which the company claims will set "a new reference standard for sound, build, and finish in the active noise-cancelling wireless headphone category."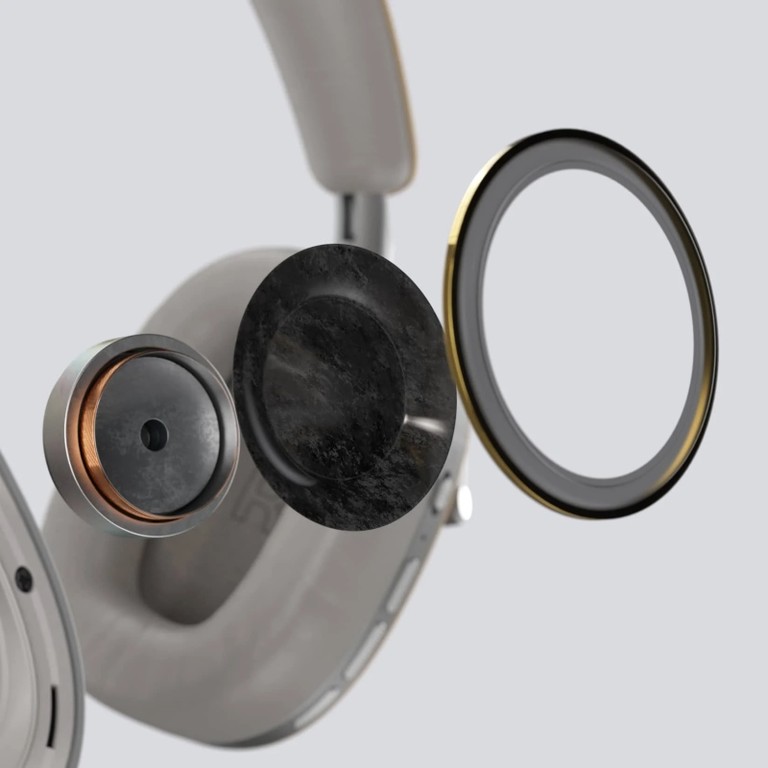 If you've read Wayde Robson's coverage of the Px7 S2, you have a good idea about the promise of the Px8. In short, it offers the same active noise-cancelling wireless platform found in the Px7 S2, but with superior sound quality thanks to a new driver, even better build quality, and more luxurious materials, hearkening back to Bowers & Wilkins's most expensive headphone to date, the $900 P9 Signature wired headphone from 2016. The most substantial upgrade has to be the new, custom-built 40mm "Carbon Cone" drive units, which are said to deliver "even greater heights of detail, resolution, and spaciousness," according to Bowers & Wilkins. These new drivers were reportedly inspired by the carbon tweeters used in the Bowers & Wilkins 700 Series loudspeaker range, the third generation of which was unveiled at Sound United's California headquarters last year. The Px8's new Carbon Cones promise "an unparalleled combination of ultra-fast response plus exceptionally low distortion throughout the frequency range. The result is resolution, detail, and timing that surpasses the high bar set by the Px7 S2, ensuring an even more engaging and natural musical performance that gets closer than ever to the True Sound of the artist's intent," according to Bowers & Wilkins. Like the bio-cellulose drivers used in the Px7 S2, the Px8's carbon drivers are angled inside the ear cups in order to ensure "a consistent distance relative to the listener's ear from every point across the surface of each driver," the result of which is said to be a more accurate and immersive soundstage. This technique of angling the drive units was first used by Bowers & Wilkins in the aforementioned P9 Signature headphone. But compared to previous Bowers & Wilkins headphone drivers, the Carbon Cone drive units reportedly provide "massively improved clarity," thanks in part to a fully optimized motor system with a revised magnet, voice coil, and surround.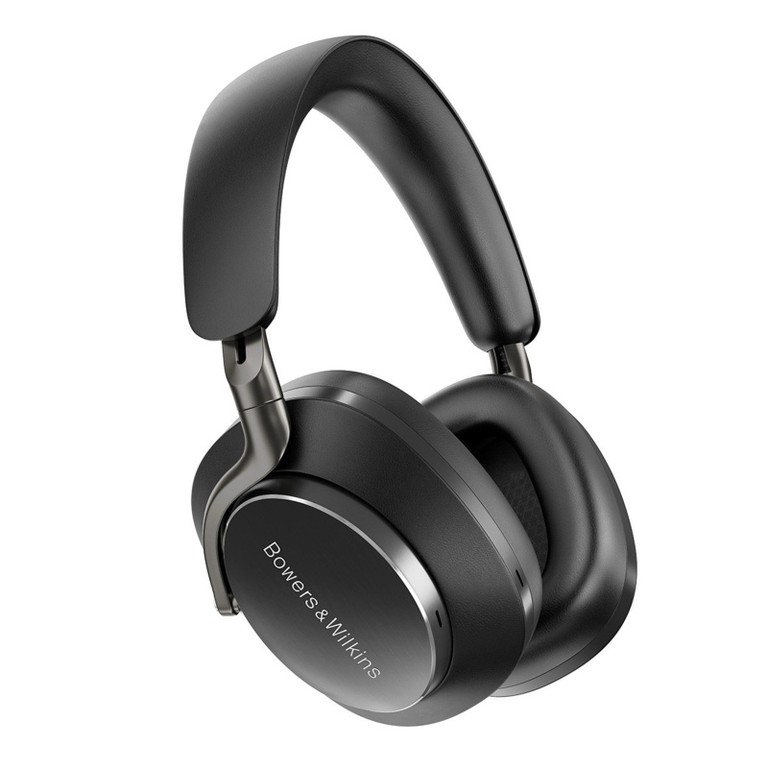 The industrial design of Bowers & Wilkins headphones has always been excellent, but I think it's safe to say that the Px8 is the company's most attractive headphone to date, owing to its refined cast-aluminum arm structure, luxurious Nappa leather ear pads and headband, and diamond-cut, brushed aluminum ear cups with bright-edged, elliptical logo plates. The headphone is available in black or tan finishes (sadly, the Px7 S2's blue finish didn't make it to the Px8). The plush memory-foam ear cushions are removable and replaceable, and are said to offer "the ultimate, premium feel" for long-term comfort and luxury. Underneath this fair facade, the technology inside is no less sophisticated. While iPhone users (such as myself) are still stuck with the AAC bluetooth codec, Qualcomm's aptX Adaptive wireless technology offers Android users the best possible sound quality from a bluetooth connection. And if you want to eschew bluetooth altogether for critical listening at home, you can connect the headphones via the included USB-C cable directly to your laptop, iPad, or compatible smartphone for a lossless digital link. Or go old-school and use the included 3.5mm cable to connect the Px8 to your own headphone amplifier. In all cases, the headphones take advantage of custom DSP developed in-house by Bowers & Wilkins to deliver "outstanding, 24-bit high-resolution sound quality."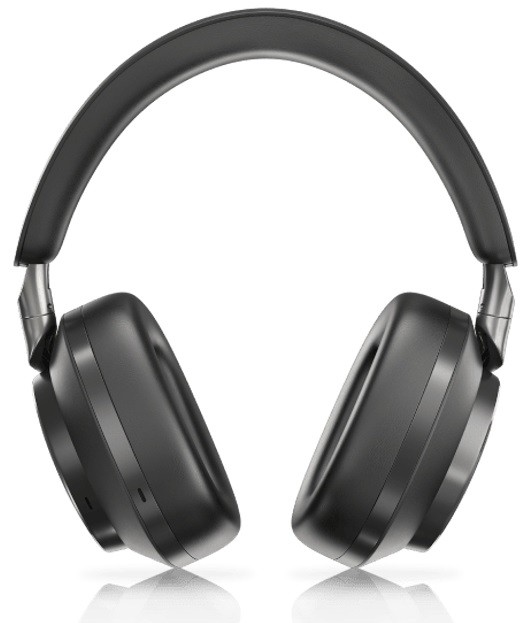 The Px8's proprietary noise cancellation technology uses six high-performance microphones working together to deliver optimal results. Two mics measure the ambient noise, while another two measure the output of the Carbon Cone drivers. The remaining two mics are dedicated to providing voice clarity with enhanced noise suppression for phone calls. Bowers and Wilkins claims that its noise cancellation effectively blocks outside noise without harming musicality. Compared to older designs (such as the original Px7), this improved noise cancellation system takes advantage of various tweaks. For example, the two external mics on each ear cup have been moved closer together and angled to improve voice capture and reduce interference from wind noise. The ear cups also offer physical controls, including the ability to launch a smartphone's voice assistant with the touch of a button. Battery life is listed at 30 hours, putting it on par with Sony's popular WH1000-XM5 ($400), which leads the pack in terms of noise-cancellation efficacy, particularly for high-frequency noise. The new Sennheiser Momentum 4 ($350) boasts a whopping 60 hours of battery life, but neither the Sonys nor the Sennheisers can match the Bowers & Wilkins for build and finish quality. The Px8's 30-hour battery life will probably be sufficient for most people, especially considering that a 15-minute quick recharge can provide up to seven hours of listening time.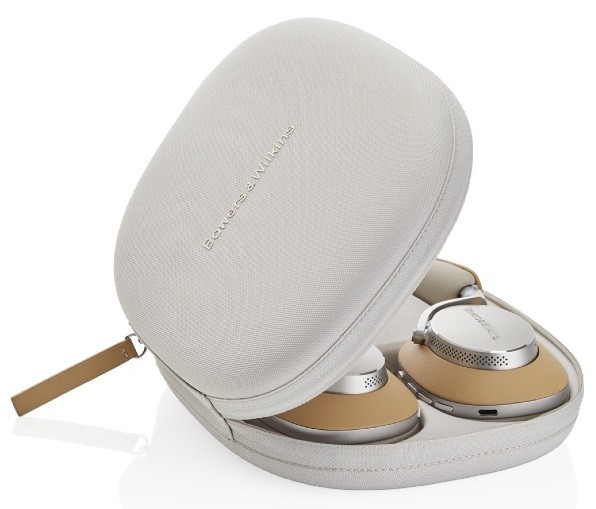 Bowers & Wilkins used the launch of the Px8 to kick off a major upgrade for the Bowers & Wilkins Music App, which gains the unique ability to stream music directly from streaming services to the headphones (with Tidal, Qobuz, and Deezer supported at launch). The Px7 S2 will also gain this functionality when the app updates. We've yet to see just what advantages this will provide, but Bowers & Wilkins says that users will be able to seamlessly switch between listening at home (via B&W's wifi-based home speakers, such as the Zeppelin or the Formation series) and listening on the go via a smartphone and headphones. The app also provides adjustable EQ, selectable noise-cancellation modes, and simplified bluetooth connectivity.
I'm thrilled that today, we're transforming customer expectations in the premium headphone category with our new Px8. It perfectly encapsulates everything we stand for as a brand, with outstanding sound quality that properly reflects our True Sound promise, plus unrivaled design and finish.
— Giles Pocock, Vice-President of Brand Marketing, Bowers & Wilkins
The Px8 is available from authorized Bowers & Wilkins dealers, like our friends at Audio Advice. Will the Px8 successfully woo mainstream customers away from premium consumer products, like the $550 Apple AirPods Max? Will audiophile customers considering the Px8 stick with Bowers & Wilkins, or spend the extra $100 for the Focal Bathys instead? Share your thoughts in the related forum thread below.   

Unless otherwise indicated, this is a preview article for the featured product. A formal review may or may not follow in the future.
Epsonfan posts on February 01, 2023 07:01
$700 bucks I'll wait
gene posts on January 18, 2023 03:12
Bowers & Wilkins has unveiled its new flagship wireless headphone, the Px8 ($699). The Px8 looks similar to the already-stylish $399 Px7 S2, but with more luxurious materials and finishes. Inside, the Px8 features an all-new Carbon Cone driver promising lower distortion and higher resolution.
59678
Read:
Bowers & Wilkins Px7 Headphones
Buy the Bowers & Wilkins Px8 Headphones
Post Reply
Confused about what AV Gear to buy or how to set it up? Join our Exclusive Audioholics E-Book Membership Program!