Arctic P402 First Impressions and Fit
Arctic P402 First Impressions and Fit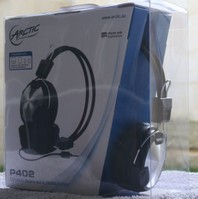 You get into the reviewing game because you love the gear. That's the long and short of it. You can't fake that. You can't just like the gear because you'll lose motivation before your fifth review. I've seen it happen all too often. Some new gung-ho reviewer pops out a few, exceptionally in-depth, reviews, and then you never hear from them again. They didn't love the gear. They liked it.
I love gear. No matter the price or type, opening a new box gives me the same thrill it did when I opened my very first DVD-Audio disc that Gene sent me all those years ago. Some people get jaded after a while. They start to believe that some gear is beneath them. Their ears are too golden, their system too high-end, their tastes too refined. Not me. Send me all the budget stuff. I don't care if it costs $5 or $5000, I'm game to review it.
When the Arctic P402 on-ear (they call them Supra-Aural) headphones arrived, I didn't know exactly how much they cost. All I knew was that they were light. Super light. Arctic specifies them at 130 grams. That's a touch over 4.5 ounces and includes the cable. That's light.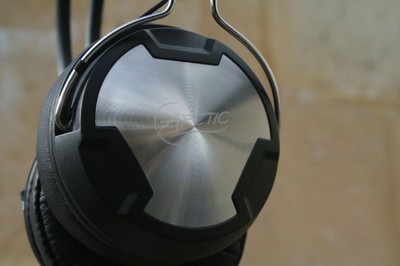 The P402's have twin black plastic arches for a headrest and thin, chromed bent wire frames for connecting the ear pieces. The earpieces feature 15mm (0.6") thick ear pads for extended listening. The wire, which is thinner than most others I've experienced, has an inline mic but no controls. It is designed to work with all sorts of smartphones and tablets. Arctic even included a adapter for older Samsung and Sony-Ericsson phones (they reverse the mic/return contacts on the connector).
Other than the chrome wire frames, the only other color on the Arctic P402s is a textured backplate on the earpads featuring the Arctic logo. The P402s feature a nicely industrial design that apes professional-style (or DJ-style) headphones and convey an air of quality. I generally like the way they look and am consistently surprised by their weight. They just look much heavier and beefier than they are.
Fit
Obviously Arctic targeted the P402s to chronic headphone users. At 130 grams, you only know they are on your head because of the pressure on your ears. The earpads have an interesting (and in my experience unique) design. The bottom of the pads are thicker than the top. The wire frame is meant to slide up and down in the black plastic housing to adjust the fit but I found that it had no staying power. Basically, you put on the headphones and they sort of self-adjusted. You couldn't slide the wire frames to make the fit looser or tighter.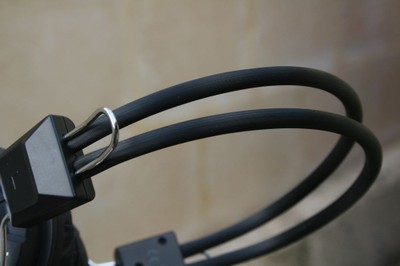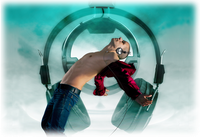 If I had to describe the fit overall, I'd call it tenuous. It wasn't as if they were falling off all the time, but the Arctic P402 headphones didn't grab the head very firmly. Looking at the promo picture on the right, in my mind those headphones came screaming off that guy's head milliseconds after that shot was taken. In everyday use, the P402s didn't fall off but any sort of quick motion would dislodge them. These are headphones that I believe would be perfect for a commuter - as long as they walked or rode the train/bus. Any sort of running/biking would likely end badly for the Arctic P402s.
Confused about what AV Gear to buy or how to set it up? Join our Exclusive Audioholics E-Book Membership Program!
See also:
Recent Forum Posts:
BoredSysAdmin posts on September 18, 2012 09:06
In this price segment I don't know anything better than Fostex T20RP
Haven't heard MDR-V6's, but I assume they are nearly as good
Impulse posts on September 18, 2012 08:22
Interesting review, its nice to see companies nowadays still give a good
Product at a low price!
Post Reply