Vizio P-Series Quantum Calibration, Setup, and Conclusion
Vizio P-Series Quantum Calibration, Setup, and Conclusion
The PQ65-F1 and P65-F1 support HDR10, HLG HDR, and DolbyVision. Therefore, if you want to get the most from your displays you want to perform three separate calibrations:
One for standard dynamic range (SDR) which encompasses traditional HD sources with REC709 color space and some 4K/UHD content in SDR.
One for HDR sources and the expanded color gamut and color volume that comes with HDR.
One for Dolby Vision.
Note: You might scratch your head for a moment and ask why you need to do a separate calibration for HDR and Dolby Vision since Dolby Vision is an HDR format. The answer is that Dolby Vision's approach is different.
What Dolby does is measure various models of a display and determines its capabilities and the best results for that display.  Dolby then generates a file called a Golden Reference Target file. You load the Golden Reference Target file into high end calibration software to initiate a Dolby Vision workflow. The software in conjunction with the Golden Reference Target file helps you produce an optimal image for that display. You can then determine how close you got to the "target" after your calibration.
It's refreshing to see Vizio's TVs not only meet but exceed their published specs in real world performance measurements.
You might notice that many TV reviews do not perform a Dolby Vision calibration. That could be due to the fact that a Golden Reference file wasn't available or the reviewer didn't perform the calibration because it's too time consuming.
With our review samples, we did perform three individual calibrations on the PQ65-F1 (Quantum): SDR, HDR10, and Dolby Vision. However, for the P65-F1 (P-Series) the Dolby Vision file wasn't yet available so we only performed SDR and HDR10 calibrations.
Vizio's marketing team did an outstanding job of providing us with everything we needed to conduct the proper calibrations on the displays. You don't often find that to be the case with all manufacturers. The marketing team also gave us detailed settings before beginning the calibration to ensure we got an optimal picture.
We did notice an anomaly with Dolby Vision calibration on the Quantum. After some back and forth with Vizio's representatives our findings were confirmed. There is now a new Dolby Vision Golden Reference file available for the Quantum. The new Golden Reference file was released after our review calibrations were completed so we expect better performance from the display with the new file. If you purchased and calibrated a Quantum in 2018, we strongly recommend downloading and using the new Dolby Vision Golden Reference file.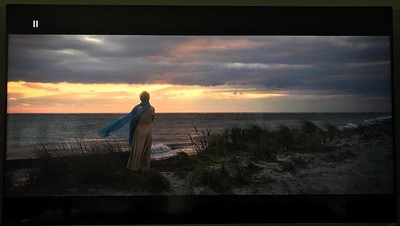 The Vizio was capable of delivering breathtaking HDR images such as this sunset scene from The Greatest Showman.
First of all, I want to emphasize that you should make the investment to have your TV calibrated. These TVs—especially the Quantum—are capable of breathtaking performance.
While any display's "movie" or "calibrated" setting will get you a large portion of the way to an optimal image, I strongly recommend a calibration. These TVs benefitted from further tweaking. We noted that out of the box the P-Series had visually oversaturated blues. The image wasn't unwatchable by any means, but the oversaturation on our review panel was noticeable.  The Quantum was more accurate out of the box in its preset modes. I noted slight overemphasis even in the Calibrated and Calibrated Dark presets—this is typical of any display unless it has with a THX mode. It's worth repeating that a serious home theater aficionado should invest in a good calibration.
For our review, I want to give a special nod to Pete Nelsen from Attuned Services (www.attunedservices.com) who worked with me to perform the calibrations on both displays. We spent several weekends together calibrating the displays. In addition to patterns generated by CalMan for Business, Pete used some additional pattern generators to test the results.
Some general notes that I feel are important to pass on for users who are (and are not) using a professional calibrator:
First, use "Calibrated" for calibrating in bright rooms and use "Calibrated Dark" if the TV will be used in light-controlled rooms.  With SDR signals, calibrated and Calibrated Dark Picture Modes match closest to the Rec709 color gamut and a D65 white point. "Calibrated" default gamma is closer to 2.1, where "Calibrated Dark" gamma is closer to "2.2". With HDR signals, the Calibrated and Calibrated Dark Picture Mode settings match closest to the most accurate, or "Golden Reference" HDR characteristics for the displays. In other words, it will match as close as possible to the SMPTE 2084 EOTF (or "PQ") curve, and will offer as much of the Rec2020 color space as the display (and of course content!) can accommodate. However, as I mentioned previously, there were obvious shifts in the panels out of the box when we fired them up.
Second, HDMI inputs 1-4 are HDMI v2.0a and HDCP 2.2 compliant with a 600MHz pixel clock rate. HDMI input 5 is HDMI v1.4 and HDCP 2.2 compliant with a 370MHz pixel clock rate. HDMI input 5 is geared for gaming and low latency.
Third, the Vizio's on-screen display interferes with measurement readings from the display. You need to make sure that when you take readings that you are either using the Vizio SmartCast application or you are canceling out the menu before you take a reading.
Fourth, make the time to perform separate calibrations for SDR, HDR, and Dolby Vision. Don't cheat for the best picture! You can find the Dolby Vision Golden Reference files for the displays here.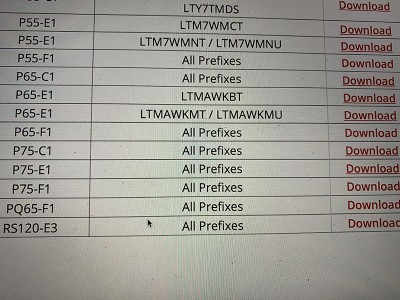 You can download the Dolby Vision Golden Reference file from Vizio's web site and select the PQ65-F1 for the Quantum or the P65-F1 for the P-Series.

Fifth, adjust the SDR signal first, then Dolby Vision and HDR10. Vizio told me that significant adjustments to the HDR10 CMS signal are not recommended since the display will tone/color map the incoming signal while it's being adjusted. Dolby Vision compensates for this with their Golden Reference target point. Vizio suggests you adjust White Balance first; starting with a baseline "white." This should reduce the amount of CMS fine-tuning needed.
Sixth, take special note of the window sizes you are using! The Active Full Array setting (formerly known as Xtreme Black Engine) setting engages the local dimming and peaks bright highlights on lower APL images (smaller windows or smaller highlights) as the setting is increased from Med to High.  However, the size of the window that peaks is different between the P-Series P65-F1 and the Quantum PQ65-F1. On the P-Series, with the setting on High, you would measure the brightest light output on a 10% sized window. With the setting on Medium, you would get the brightest values on a 25% window. On the Quantum, the High setting would make the 2% window to be brightest, while the Medium setting would make the 10% window be the brightest.
Seventh, take special note about the Active Full Array: Select the Low, Medium or High setting to enable local dimming and peak brightness. Medium and High settings offer better contrast with increased peak brightness in specular highlights. When calibrating, it is best to keep this disabled, or use test patterns with Constant Average Picture Levels. When measuring for Peak Brightness with small windows Vizio recommends that you use the High setting.
Finally, for regular viewing, Vizio recommends the Medium setting for both HDR and SDR. Both TVs are subject to significant halo/blooming effects if you use the wrong setting with the Active Full Array.  If you see someone commenting about halo/blooming effects on these sets, the first thing you should do is check the Active Full Array setting.
Lower the setting to eliminate halo or blooming effects.  If you put the TV in the medium setting, it will activate both local dimming and peak highlighting (brighter specular highlights) while still preserving black levels and preventing most halos. The high setting activates aggressive local dimming and peak brightness settings for the highest contrast possible. However, as I can tell you in my 4K/UHD testing, you'll get significant halo/blooming effects with HDR content.
Calibration on the P-Series and Quantum TVs
If I had one request of Vizio, it would be for them to work with SpectraCal to enable Direct Display Control. Direct Display Control enables you to automate calibration patterns and measurements. I think that if Vizio wants to play in the high-end display space (and the Quantum certainly belongs in that discussion), the company needs to make their reference displays more calibrator-friendly in this regard. Not only would it have made our calibration go faster, but, as noted above, it would have allowed an easier way to mitigate the effect of the on-screen-display (OSD) from interfering with the measurements and having to resort to the Vizio SmartCast app, which had some lag.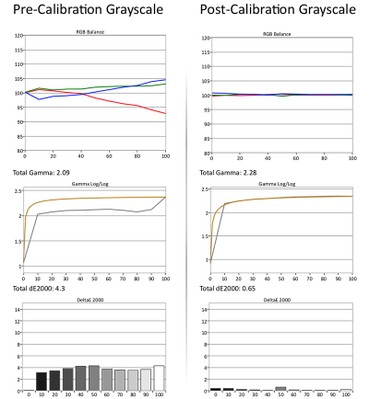 SDR Calibration before and after on the Quantum.
Before and after for REC709.

Calibration was performed with a SpectraCal C6 HDR2000 meter. Patterns were generated with CalMan for Business' internal pattern generator and Video Forge Pro.
During calibration, we noted that the P-Series panel exhibited a bit of cloudiness and screen uniformity issues that were visible when the panel was displaying full white. We noticed no such screen uniformity issues with the Quantum. Screen uniformity can vary from unit to unit, panel to panel. Be sure to inspect your purchase closely.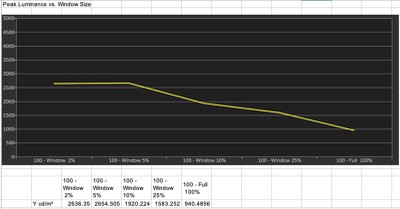 The display has about the same light output with a 2% and 5% window pattern.  Ideally, the smaller the window, the higher the peak light output should be to reproduce specular highlights. 

If you perform measurements with low local dimming enabled (as is the case here) it will cause the display to have much lower luminance output.
Calibration improved the grayscale and overall performance of both displays. Initially we did have some issues reaching 1000 nits on the P-Series (P56-F1). Even though HDR saturations for both the colorchecker plot and P3 sweeps inside of BT2020 color space were not under-saturated, HDR images appeared to lack color vitality. As you are doing your measurements, you might want to test the P3 sweeps using higher luminance levels.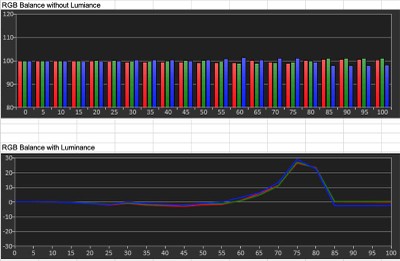 The grayscale for HDR-10 mode has lower luminance values than the target value shown in red and higher for values shown in blue. 

The higher values from 60% to 85% stimulus level tend to lighten up or wash out the brighter parts of an image.
Vizio isn't fudging any numbers here as we were able to confirm in our testing.
These initial measurements on the P-Series were later rectified after consulting with Vizio's representatives and doing some tweaking. Let me be clear, you should measure Vizio's stated performance for peak brightness. If HDR images don't "pop" then you need to look back at your calibration.
The Quantum, on the other hand was a freaking light canon. I kid you not that when this thing pumped out the brightness, it lit up the entire room like all the lights were on! We had no problem reaching—and exceeding—Vizio's stated 2000 nits.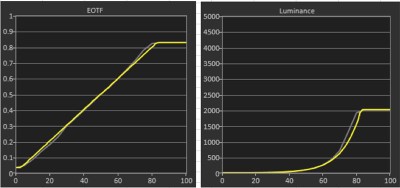 Vizio Quantum EOTF and Luminance post calibration
Here at Audioholics we want to applaud Vizio for producing TVs that meet and exceed their stated performance specifications. We wish all TV manufacturers were as honest in their specs. Vizio isn't fudging any numbers here as we were able to confirm in our testing. 1000 nits means 1000 nits post calibration and 2000 nits truly is 2000 nits post calibration!
On the Quantum, the 2-pt white balance while in the Dolby Vision workflow was very sensitive. The SDR and HDR10 workflows were very stable and had much more gradation that allowed for finer adjustments to achieve more precise results.
Pete's general observations were that most video displays are far more accurate in terms of greyscale, gamma/luminance and color when in SDR mode compared to HDR before and after calibration. Pete felt that the SDR and HDR10 workflows were very stable and allowed for finer adjustments to achieve precise results.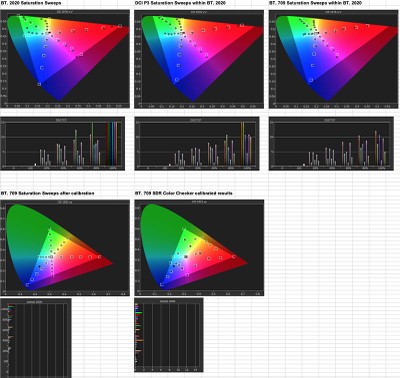 Saturation sweeps of the Quantum. Pete noted to that when trying to reproduce the BT. 2020 color space, e.g., varying degrees of 'curling' or veering off target for hue as they approach the most saturated areas. 

DCI-P3 is a bit better.  In Pete's calibration experience, he told me that  BT.709 sweeps exhibit much of the same curling when measured within the BT.2020 color space. 

The Quantum measures much better in SDR picture modes for BT 709.  See the BT 709 Saturation Sweeps from SDR calibration.  Color Checker SDR results also show much better color accuracy.
Real World Content
I connected both Vizio TVs to my Anthem AVM 60 using an Oppo UDP-205 and AppleTV 4K as sources. The AppleTV 4K sported the Dolby Vision firmware update. I played a variety of 4K/UltraHD Blu-rays on the Oppo and served up a variety of 4K and HDR content via Netflix, Amazon Prime, and content purchased through iTunes.
Both TVs sport the same UI. At the top, you have a menu bar that shows you the resolution and source's HDR format. When I played a regular 4K/UltraHD Blu-ray, the TV displayed 3840x2160 and HDR10. Connecting the AppleTV 4K, the TVs turned on Dolby Vision.
My comments below all relate to the PQ65-F1 (Quantum) unless otherwise noted.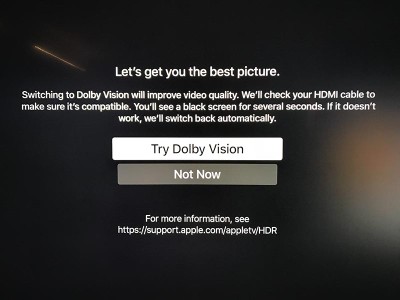 The AppleTV 4K recognized the Vizio Quantum as Dolby Vision compatible

Vizio Quantum is a whole other league of awesome.
After calibrating both displays, one thing was sure: As good as the P-Series is, the Quantum is a whole other league of awesome. Everything about the display—color saturation, brightness, black levels, motion blur, is simply superior. I'll summarize things by saying the P-Series is a strong value; but Quantum, when properly calibrated, can go toe to toe with some of the best displays out there.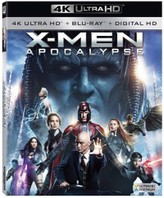 But that peak performance from the Quantum comes at an interesting cost. The Quantum is so bright—blindingly so—that in some instances it was slightly uncomfortable to view in a fully darkened room. I found that for late night viewing, I had to tone things down a bit. Of course, ISF recommends a 6500K bias light behind your display to reduce eye strain. A bias light will become a more important aspect of home theater installations as we get displays with higher peak brightness levels.
On the other hand, the Quantum's light output is so good and its colors are so vibrant at high brightness that you will have no problem using this TV in a bright, sun-lit room.
As we covered earlier in the review, one of the big things about LED and FALD displays naturally comes down to black level performance. Although the Quantum's black level is very good, it's not completely OLED black.  I had the opportunity to see the Quantum side by side with an LG OLED at Vizio's event in NY this past summer. Now that I've lived with the Quantum for several months, I'd say that you're getting somewhere in the neighborhood of 85% to maybe 90% of black level performance. Nevertheless, the Quantum's brightness and color pops to such a degree in HDR and Dolby Vision that I think some users might prefer that trade off.
Moving over to real-world content, I found it comical how realistic those darn AppleTV 4K screen savers suddenly looked on the Quantum. The evening lights on buildings in Dubai, the fly-overs of cities from space at night, and the sunset with icebergs in the foreground took on an uncanny realism. And this wasn't just a single impression. I'm talking every single time those screen savers turned on, I couldn't help but appreciate the contrast, specular highlights, and color saturation the Quantum pumped out. The fact that members of my family commented on the same thing without any prompting highlights the fact that there's something special about the Quantum.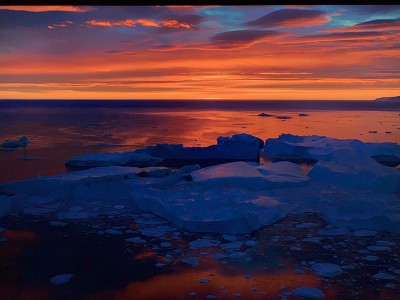 Images on the Quantum were glorious
On the downside, both displays exhibit significant off-axis color desaturation. In fact, when I first put the TV up, one of my kids was looking at the TV from about a 160-degree angle and remarked, "why are the colors so bad." I prompted them to come in front of the display to see the difference.
Of course, off-axis performance and halo/blooming effect are among the banes of LED-based technology. This is not a specific knock on the Vizio TVs. Vizio's performance is no exception to the rule here.
Off-axis performance is one key area where OLED trounces LED-based displays.  On the Vizio, as you move off-axis, dynamic range and color vibrancy go flat. If you're used to the off-axis performance of a plasma or OLED, then you'll be shocked at the difference. If off-axis performance is important for you, then you should look to an OLED-based display.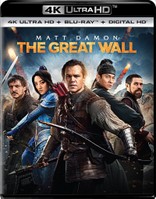 The Great Wall on 4K/UltraHD Blu-ray is visual eye candy. It's a reference disk by any measure. The Quantum's brightness and strong support for wide color rendered scenes in all their glory. The color-coded armor of the various army corps was beautifully rich. The colors maintained their richness whether in the subdued light of the Great Wall's inner chambers and halls or emblazoned by the bright, outside sunlight.
The catapulted fire balls exhibited an intense glow against the shades of grey and black smoke. These are exactly the type of scenes where the extra brightness pays off in spades.
But the locus classicus in the Great Wall is the scene with William and Lin in the rainbow-colored, stained glass chapel as they try and attack the monstrous Taotei queen. The brilliance and color saturation of light emanating through the windows and reflecting upon the pair as they ascend up the staircase was stunning. The Quantum rendered this scene with outstanding performance. Again, while the P-Series (P65-F1) was good, once I viewed the scene on the Quantum (PQ65-F1) it was game over.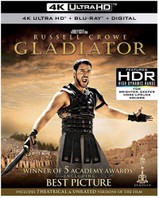 Next, I turned to seminal classics: Gladiator and the Matrix. Though "older" movies, Gladiator and The Maxtrix were shot in 4K. Both movies use 10-bit video depth, wide color gamut, HDR, and feature Dolby VIsion. You can always visit Reference Home Theater to see details about a 4K/UltraHD movie you're considering for purchase.
Gladiator and the Matrix on 4K/UltraHD Blu-ray never looked better. The images jumped off the screen with an uncanny crispness in 4K.  The presentation in Dolby Vision made the movies all the more luscious.
On Gladiator, the brilliance of flaming arrows and earthy-tones of the Roman garrison's uniform in the early morning light came across wonderfully. Fire torches at the Roman encampment celebrating the victory over the Roman horde danced with realism.
Specular highlights on the gladiatorial armor during the first battle in the coliseum were eye-squintingly bright in Dolby Vision. The crisp 4K presentation brought out every last detail.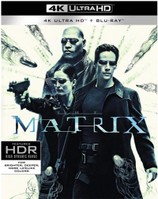 Turning to the Matrix, the subtle greenish overlay on objects and figures while in the matrix was on full display.  During the darkly lit scene where Morpheus offers Neo the blue and red pill, the Quantum did a great job of rendering details while crushing only the blackest blacks. The engine output from Morpheus' ship, the Nebuchadnezzar, glowed brilliantly in the darkness.
Whether it was Daredevil, Iron Fist, Spider-Man Homecoming, Avengers Infinity Wars, Mission Impossible: Fallout, Harry Potter and the Deathly Hallows Part 1 and Part 2, the Greatest Showman, X-Men Apocalypse, or Pacific Rim, in all of these Netflix and 4K/UltraHD Blu-rays, the Vizio brought out seemingly every ounce of color, detail, and contrast. The only shortcoming is the blackest of blacks where only OLED reigns supreme.
As a final note, while the majority of my review watching was 4K/UHD sources, HD and SD performance is still key. I put in How to Train Your Dragon on Blu-ray as a test and the image was drop-dead gorgeous.  There really wasn't much to fault with SD performance.
Conclusion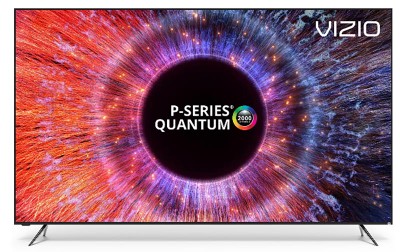 Vizio P-Series & Quantum TVs are arguably some of the best values on the market today for 4K/UltraHD displays.
Consumers rejoice! In the P-Series Quantum and P-Series TVs, Vizio has given you a one-two punch that's a budgetary knockout. Both the P-Series Quantum and P-Series TVs are arguably some of the best values on the market today for 4K/UltraHD displays. Their on-board features with Smartcast, performance, and smart home integration are all outstanding. Nevertheless, in an increasingly crowded field, it's the P-Series Quantum that rises head and shoulders above the competition.
By any measure, the Quantum is a stunning 4K/Ultra HD TV. It features all the specs that matter and its real-world performance is breathtaking—not only at this price point but against some of the best displays available on the market today. It will embarrass an OLED in brightness but concede the crown with shortcomings in black levels, off-axis performance, and blooming (certainly not trivial shortcomings). In my opinion, it arguably reigns supreme in the price/performance value of any OLED or LED on the market.
Ironically, the Vizio P-Series Quantum's key strength—2,000 nits brightness—is also a bit of its Achilles heel.  It is the perfect display for bright, sunlit rooms. However in light-controlled environments it's almost too bright—and one again blooming. I think many users will need to tone it down a bit for real-world environments or add bias lighting behind the TV. If you're in a light-controlled setting, be sure to use Calibrated Dark preset.
Now the hard part. It's really hard to pin either TV down to a star rating, but do that we must. The Quantum is at least 1.0 to 1.5 stars better than the P-Series. But since we need to put down a rating for both in this review, I'll need to give the P-Series a 4.0 and the Quantum a perfect 5.
The Score Card
The scoring below is based on each piece of equipment doing the duty it is designed for. The numbers are weighed heavily with respect to the individual cost of each unit, thus giving a rating roughly equal to:
Performance × Price Factor/Value = Rating
Audioholics.com note: The ratings indicated below are based on subjective listening and objective testing of the product in question. The rating scale is based on performance/value ratio. If you notice better performing products in future reviews that have lower numbers in certain areas, be aware that the value factor is most likely the culprit. Other Audioholics reviewers may rate products solely based on performance, and each reviewer has his/her own system for ratings.
Audioholics Rating Scale
— Excellent
— Very Good
— Good
— Fair
— Poor
| Metric | Rating |
| --- | --- |
| Detail and Resolution | |
| Contrast and Black Levels | |
| Color Reproduction | |
| Ease of Setup | |
| Features | |
| Remote Control | |
| Fit and Finish | |
| Performance | |
| Value | |
Confused about what AV Gear to buy or how to set it up? Join our Exclusive Audioholics E-Book Membership Program!
Recent Forum Posts:
TheoN posts on January 28, 2020 14:31
NickyT, post: 1365849, member: 90683
Thank you. I really appreciate the information you provide.

Happy to help. Good luck, enjoy, and have fun.
TheoN posts on January 28, 2020 14:30
Th
Verdinut, post: 1365708, member: 80194
Is that a new job created to reassign many TV repairmen who had to find something else, as modern TV sets are a lot more reliable than previously ?
I just can't believe that, with all the existing technology, TV sets which could calibrate automatically cannot exist.

The closest you will find to a TV set calibrated out of the box is a TV with a THX mode. That will get you closest to what you are asking.
NickyT posts on January 28, 2020 13:49
Thank you. I really appreciate the information you provide.
Verdinut posts on January 27, 2020 23:42
TheoN, post: 1365704, member: 68072
https://www.rtings.com/tv/learn/professional-calibration-services
There are several lists like this one that have calibrators in Texas. D-Nice is listed here among others. To be clear not an endorsement of the site or the people listed but simply a starting point for you.

Is that a new job created to reassign many TV repairmen who had to find something else, as modern TV sets are a lot more reliable than previously ?
I just can't believe that, with all the existing technology, TV sets which could calibrate automatically cannot exist.
TheoN posts on January 27, 2020 23:09
Post Reply