First Impressions and Setup
First Impressions and Setup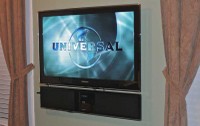 I find it maddeningly easy to be critical of new products. It's partially a gift, and largely a moral fault of mine to seek out the worst in things and complain about how easy it would be to improve the device. This often causes engineers and product managers to pull out their hair in frustration and scream at the top of their voices about staying on budget and target markets... Now, when Samsung sent us their 1.2"-thin LED backlit UN40B7000, we set it up and quickly found ourselves struck speechless. Aside from an unresponsive remote control, off-axis black levels, and a few setup quirks, there is not much to dislike about this 40" flat screen television. In fact, it's got a lot of benchmark features we'd like to see in many other sets on the market.
First Impressions and Build Quality
The very first thing everyone who purchases this TV will note is its size, or lack there of. The retail box is less than 10" deep, alluding to the surprisingly thin television within. Samsung separates the included tabletop stand from the display, a rare move that has the added benefit of significant space savings, and then packages everything in a corrugated retail box with a removable lid. Everything arrived in ship-shape and the television was indeed set upon a pallet, which served to protect it during both air and ground transportation – a wise move. In the end, only one plastic retaining clip was missing and we quickly had the television unboxed and perched face-down upon our couch, prepped for installation of the wall mounting hardware.
From this side we could see the array of inputs. The UN40B7000, in keeping with its slim design, arrays the inputs along the lower left corner of the display such that cables slide in from the side. This is the correct way to configure inputs for a thin display, since rear-entry cabling would necessitate that the display be placed off the wall. We'd recommend the use of smaller-gauge cables so that you can make a tighter bend and avoid having the cabling show along the edge of the display. Unfortunately, this may present a problem with HDMI cables, should you require a longer length (for example, if your source devices are located in a remote area form the display). In our setup, the Cables2Go RapidRun HDMI cables seemed to give just enough to avoid sticking out from the side of the set, but from the left you could certainly spy all our wiring.
There are four (4) HDMI inputs along the side along with digital TOSLink output, two USB 2.0 ports and an 1/8" stereo audio output jack. There is also an analogue 1/8" stereo input for use with the bottom HDMI input or the PC (HD15/VGA) input. Along the bottom you'll find the PC input, component video (with analogue stereo audio), composite video (with stereo audio inputs), antenna/CATV input, and Ethernet (RJ45). I actually grin each time I see a new product come out without S-Video inputs. That connector couldn't die off any faster – and consumers are all the better for it. Now if only HDMI could follow – to be replaced by something with strain relief and a locking connection.
Set-Up & General Use
Physically, the biggest decision in setting up this television is going to be making the choice to wall mount it or use the included tabletop stand. Let me be blunt: If you plan on "tabletopping" this display you need to get your head examined. It's 1.2" thin! Go buy a wall mount and stop being so cheap. If you don't know how to do it yourself, get somebody to do it – and do it right away so you don't grow complacent. This display needs to be mounted very close to the wall in a manner that keeps with its attractive stylings. It's a work of art and you won't regret having this beautiful piece of electronic art hanging in your living or bedroom.
Once you've mounted it, setup consists of telling it whether to use cable or antenna for its single F connector input and then you can proceed to do a channel scan and connect your additional digital and analogue sources. While the UN40B7000 has four HDMI inputs, its complement of analogue inputs is, pardon the pun, thin. If you have lots of legacy products you'll want to ensure you pair this television with a good quality A/V receiver that can handle video switching duties and simplify your life.
After making your connections you'll likely want to proceed with connecting the television to the Internet. This can be done via the wired Ethernet port on the rear of the set or, as most people will appreciate, the optional wireless USB dongle that is available from Samsung. By simply plugging in the wireless USB dongle, you can now select the 'Wireless' Network Type from the Plug & Play menu. We connected using 802.11g and found the system to be fairly responsive, though the initial connection and widget loading could take up to 2-3 minutes. This speed varied per the integrity of our internal network and the speed available to the television.
Confused about what AV Gear to buy or how to set it up? Join our Exclusive Audioholics E-Book Membership Program!
See also:
Recent Forum Posts:
sulshrisy posts on December 11, 2009 10:37
Cheers!
Valikie
Out of the many posts, this one attract my attention. I believe it is possible for anyone to participate.
Excellent ! I like it very much.
Bobber posts on December 10, 2009 18:03
UN40B7000 review

I am trying to figure out why you had a delay on the response of your remote, as mine and my cousins both work fine. The response is quick, no delays. What firmware you were using? I did the firmware update (1013 as of Nov 3) the networking software PC Share Manager Version is 2.3. I did this soon after I received my UN40B7000. I used a wired connection as my Panasonic PD 55 and my new (not ordered yet) Yamaha AVR will need Ethernet too so I went with a switch off a Belkin N+ router downstairs.
I decided the widgets were not worth that much to me, others may find them useful (you wait for the widgets to load, longer if they are doing an update). I have a laptop by my chair and can get news and weather faster with it. Still no NetFlix as the latest update….. yet. That would be worth it I think.
Your review was informative, but why no mention of the power use? After the California flap on green sets. I thought you might just test that. I did (with a inexpensive "Kill A Watt" meter) a had about 85 watts depending on content and or brightness level. I measured my my 5 year old JVC 40" and it was over 240 watts, same inexpensive meter. I think that California may have rushed another regulation that the industry (Plasmas are getting better, but often higher in power demand) is responding to but short term may hurt local shops as people will just buy out of state and they Cal will loose the tax from the sale.
I wonder if the mention of the speakers being tinny (from another responder) was due to the mounting location? I have NO problems with normal viewing. I of course "need to get MY head examined" :-) as my set is in an entertainment center (for now) the swivel base on this unit is nice(most are fixed) but my speakers are not reflecting directly off the wall so the sound on mine and my cousins may be fine because of that. I use the AVR for sound for DVD and movies. A matching sound bar can be used for a wall mount and you can kill the TV speakers in setup and add a wireless sub if you want for better sound without an AVR.
I plan to get rid of the EC and move this set to the bedroom at some later date, when LED Back-lit sets drop in price maybe .
The new 9000 series will be wireless except for the 120 Volt connection…sounds interesting..but expensive for now, I bet real cool looking though. I am very happy with the set so far and ordered on line from Audioholics. Thanks for the good service and delivery!!! Audiohilics price was very competitive.
Hi Ho posts on December 10, 2009 15:13
It is a side lit LED TV. I have experience with both this TV and the higher end 8500. I agree with Clint's findings for the most part. The 8500 has the same viewing angle problems as the 7000. To me, both sets also have an artificial look to them. The colors just seem to be off in some way that I cannot quite explain. I have not seen one that was ISF calibrated so maybe this is remedied through that process but I was not able to make it look *normal* to me using user adjustments and a DVE Blu-Ray.

One thing I did not see mentioned in the review is how HORRIBLE the built in speakers are. *Anyone* considering this display will definitively want an external sound source. The built in speakers are atrocious. The sound is harsh and tinny and the cabinet tends to resonate and create an odd warbling effect. My laptop has better sound.

The thinness of the display is it's most compelling feature. I will admit, it looks awesome. However, I could never bring myself to pay over $2,000 for it when I can get a Panasonic 42 G10 for $850 or even a 50 G10 for $1,200 that offers superior picture, infinitely superior viewing angles, and far better glare reduction (the super glossy Samsung screen has absolutely no anti-glare qualities). I can live with the extra inch of thickness.
acacia987 posts on December 10, 2009 14:49
I thought this TV was LED sidelit, not backlit. Was there any evidence of the lighting gradient from the sides?
Post Reply