Logitech Squeezebox Boom Preview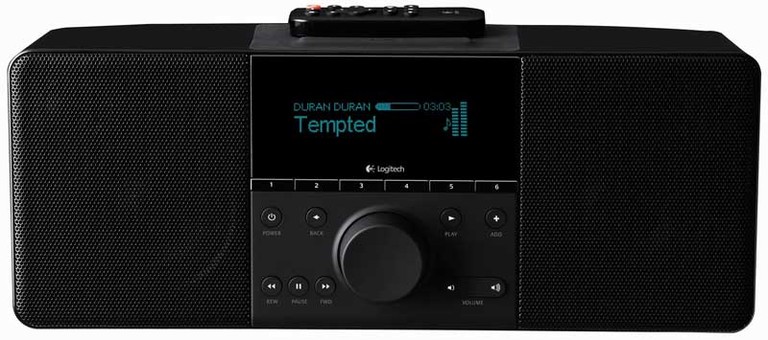 Logitech Squeezebox Boom
Summary
0.75-inch (1.9 cm) high-definition, soft-dome tweeters and 3-inch (7.6 cm) high-power, long-throw woofers
Bi-amplified design with high performance signal processor, class D amplifiers and digital crossovers
Stereo XL technology widens the sound stage beyond the physical boundaries of the speaker
6-button presets allow one touch access to favorite radio stations and playlists
7-day alarm clock
Infrared remote control
Bright, high-contrast VFD display with ambient light sensor and automatic dimming
Built-in 802.11g wireless with dual internal antennas
10/100Base-T Ethernet port
Line-in via 3.5 mm stereo jack
Headphone/Subwoofer out via 3.5 mm connector
Plays MP3, AAC, WMA, Ogg, FLAC, Apple lossless, WMA lossless, WAV, and AIFF music files
Connects to your home network to access music stored on your computer via SqueezeCenter, and Internet radio and music services via SqueezeNetwork
Executive Overview
Logitech unveiled its new Squeezebox family product, the Boom. Boom is an all-in-one network music player. The system, which is not portable so much as it is self-contained, features an integrated 30-watt Class-D amplifier and speakers - a first for the Squeezebox family. Logitech is betting that the network music player will be the CD player of the 21st century. Now that Squeezebox has successfully added its SqueezeNetwork service, users can actually listen to Internet radio and other web-based music services without an active PC networked in their home. Adding a PC with the free SlimServer software also means that you can listen to all of your music (including those on iTunes) anywhere in your home.
Look, Ma - No Wires!
With the Logitech Squeezebox Boom, you can pretty much listen to any PC or web-sourced content anywhere in the home. You just plug the player into a power outlet and make sure you have an active wireless network in your home. The Boom uses true 802.11g wireless technology and dual internal antennas. In addition to free Internet radio and your own ripped music collection, the Boom can connect to Rhapsody, Last.FM, Slacker, Pandora and Sirius satellite radio (online) – even when your home computer is off.
Logitech has made the setup process for the player extremely simple - and this seems to be a trend in all of their Squeezebox models. The system will automatically detect any available networks. You simply select yours from the list and enter your WEP password (if you have one.) The Squeezebox Boom automatically remembers any entered passwords for future use.
The Boom works with every other Squeezebox family player. That means you can have a Boom (or two) in your kitchen and/or bedroom, a Transporter in your home theater and a Squeezebox Duet in your office. Since Logitech has now standardized its players, you can use the new Squeezebox Controller to run any of the systems.
All That and Speakers Too
The Squeezebox Boom network music player offers an integrated, 30-watt Class-D amplifier accompanied by two 0.75-inch, high-definition, soft-dome tweeters and two 3-inch, high-power, long-throw woofers. The bi-amplified design employs a digital crossover and for bass lovers, the Squeezebox Boom even includes a subwoofer connection. We know you audioholics will be using that, right? You better. Those who want to listen to music in private can use the 3.5 mm jack and plug in headphones.
Not to be outdone by a $19.95 Wal-Mart special, the Logitech Squeezebox Boom also works as an alarm clock and can wake you up to your favorite tunes. This alone makes it an excellent bedroom (or even bedside) system. Six preset buttons, located under the display, make it easy to get to your favorite song, Internet radio station or playlist. The included low profile IR remote control gives you very basic control of the Squeezebox Boom from across the room. The remote also includes a tiny magnet that lets you easily attach it to the top of the Squeezebox Boom or, if that's how you roll, your refrigerator.
Conclusion
The new Boom seems to be a good, and logical, addition to the Squeezebox family of products, which includes the Squeezebox Duet network music system, Squeezebox network music player, as well as the audiophiles' choice (and my personal favorite), the Logitech SLim Devices Transporter network music player.
The Logitech Squeezebox Boom network music player is available now in the U.S. and Europe for a suggested retail price of $299.99.

Unless otherwise indicated, this is a preview article for the featured product. A formal review may or may not follow in the future.
Confused about what AV Gear to buy or how to set it up? Join our Exclusive Audioholics E-Book Membership Program!