Slim Devices Squeezebox v3 Digital Music Player Review
Slim Devices Squeezebox v3 Digital Music Player Review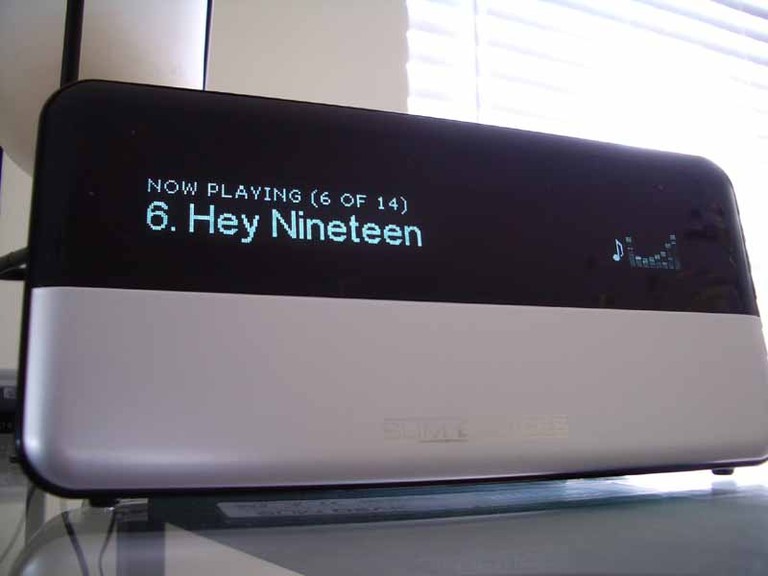 Squeezebox v3 Digital Music Player
Product Name: Squeezebox v3
Manufacturer: Slim Devices
Performance Rating:
Value Rating:
Review Date: April 13, 2006 19:00
MSRP: $ 299
System Requirements

All systems: 256MB RAM, Ethernet or wireless network, and 20MB hard disk space
Macintosh: Mac OS X 10.3 or later
Windows: 233Mhz Pentium running Windows NT/2000/XP
Linux/BSD/Solaris/Other: Perl 5.6.0 or later

Audio formats

Lossless Formats (FLAC, Apple Lossless, WMA Lossless)
Uncompressed formats (AIFF, WAV, PCM)
Compressed formats (MP3, AAC, Ogg Vorbis, MP2, MusePack, WMA)
High accuracy 24-bit synthesis

Wireless Interface (wireless model only): 802.11g wireless networking with dual int/ext antennas; Bridging capability allows Ethernet devices to connect to the network through Squeezebox3; Automatic detection of available networks; Support for both WPA Personal and 64/128-bit WEP encryption

Ethernet: True 100Mbps throughput; Shielded CAT5 RJ-45 connector; Automatic receive polarity correction

Display: 320x32 VFD grayscale pixels with brightness control

Firmware: Flash-upgradeable; Network settings stored on non-volatile memory; Auto-configuration for most networks

Architecture: 250 MHz 8-way multithreaded RISC processor; Field-upgradeable Xilinx CPLD; 64Mb high-speed RAM; 16Mb program flash

Warranty: One year parts and labor; 30-day Satisfaction Guarantee

Finish: choice of high gloss white or black

Internet Radio

"Always-on" Internet Radio, powered by SqueezeNetwork, lets you tune in to Internet Radio streams even when the home PC is switched off.
Quick selection from hundreds of Internet Radio streams offered by Slim Devices' partners.
Internet Radio favorites can be saved in a playlist for easy access.
Displays song title information during playback
Support for MP3, Ogg Vorbis, and WMA formatted Internet Radio streams

Analog RCA outputs

High fidelity Burr-Brown 24-bit DAC
Two dedicated linear power regulators for DAC and line-out stages
Full 6.0Vpp line-level signals
Signal-to-noise ratio: over 100dB
Less than 0.002% THD (-93.5dB)

Digital S/PDIF outputs

Optical and coax digital connections
Dedicated high-precision crystal oscillators (no PLL, no resampling)
Standard IEC-958 (S/PDIF) encoding
Optical connector: TOSLINK 660nm
Coax connector: RCA, 500mVpp into 75 ohms
Sample rates: 44.1Khz, 48Khz
Audio format: linear PCM, 16 or 24 bits per sample
Intrinsic jitter: less than 50ps (standard deviation)

Headphone output: Multifunction 1/8" jack (also functions as an IR blaster); 16-ohms minimum impedance; less than 0.03% THD; Left/right crosstalk attenuation is 92dB.

Dimensions: 7.6"W x 3.7"H x 3.1"D (192mm x 93mm x 80mm)
Pros
AAC Support
Excellent 802.11g wireless range
Setup is a cake walk
Digital coax and optical S/PDIF outputs
Sexy new chassis
Wireless bridge option
Added Internet Radio selection to SlimServer
Improved Help topics in SlimServer
Runs on Windows, Mac OSX, and Linux!
Cons
No RS-232 control (just TCP/IP)
Um... it's not free?
Slim Devices Squeezebox v3 Introduction

We already did a review of the Squeezebox2 music player which we found to be incredibly versatile and scored high marks for ease of use and quality of music playback. The goal of the Squeezebox is to eliminate the need for a huge physical CD collection. With Squeezebox, users can rip their CDs to a hard disc in one of the lossless formats and play it back through the high fidelity Burr-Brown 24-bit DAC. The Squeezebox v3 is functionally and internally identical to the Squeezebox2, but features a brand new enclosure that has completely redesigned the unit for a more "stunning" look. Instead of a geeky looking black box that does wonders, the unit now has the look of a polished product that can go head to head with the big boys.
Confused about what AV Gear to buy or how to set it up? Join our Exclusive Audioholics E-Book Membership Program!