Latest Xbox 360 Blu-ray Rumor Stinks
Latest Xbox 360 Blu-ray Rumor Stinks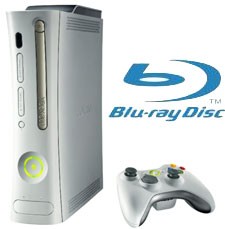 A Blu-ray Xbox 360 - Not likely soon
If you can't beat 'em, join 'em. That's what Microsoft must have been saying after Toshiba sounded the death knell to HD DVD yesterday. Now, rumors are circulating about a possible Xbox 360 Blu-ray add-on, but don't get your hopes up too soon. The rumor of a quick Blu-ray player coming from Microsoft has the peculiar odor of link-bait.
It wouldn't be the first time the Xbox 360 / Blu-ray rumor has surfaced, but this time it comes from SmartHouse.com. They claim their sources at Microsoft are already testing a standalone Blu-ray player add-on to Xbox 360, similar to its HD DVD add-on. They also claim Microsoft is prepared to roll the new product out as early as May.
SmartHouse also says its sources at Microsoft are working on an Xbox 360 with an internal Blu-ray player.
That was my stop at the rumor station. I'm calling BS on the whole story. Microsoft getting ready for a Blu-ray player add-on for Xbox360 maybe, but an internal drive is just too far.
The rumor is doubtful considering Microsoft wasn't even prepared to build an internal HD DVD drive in an Xbox 360. And VC-1, despite licensing and patent woes, is still a Microsoft product that would have been used inside every HD DVD player.
If Microsoft wasn't willing to take a loss on HD DVD drives inside Xbox 360s, why would they take one now on Blu-ray?
The claim supports itself with old news about media server PC manufacturer Niveus Media INC switching to Blu-ray exclusively for its high-def optical storage. This info came out in a press release last Friday.
Niveus' decision was made when everybody began abandoning Toshiba - even Toshi, the HD DVD dog. In a move that stunned fuzzy slippers everywhere last week, Toshi switched sides offering his services as a cute and cuddly Blu-ray-exclusive mascot. (Okay, I made up that last part, but you get the point.)
It's likely the Xbox 360 Blu-ray rumor would resurface now, and SmartHouse.com wasted no time offering the link-bait. But I wouldn't count on an Xbox 360 Blu-ray add-on in May.
As for an internal Blu-ray edition Xbox 360, Microsoft lacks a profit motive to lose more money adding a Blu-ray player.
The company's eye is already on the real competition to Blu-ray and any other disc media - Microsoft sees movie downloads like the ones offered by Xbox Live as the entertainment of the future. Movies on Xbox Live are already available in 720p with compressed Dolby Digital 5.1 audio.
They might not be ready to compete with 1080p at 24fps and lossless audio, but Microsoft and others in the movie download business could be banking that most people probably don't care.