Toshiba announces HD DVD surrender: War is finally over!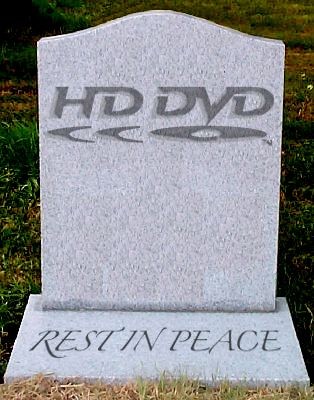 The high definition disc format war that has raged for the last two years ended in the wee hours of Tuesday morning. Toshiba announced it would stop development, manufacturing and marketing HD DVD players and recorders. The company says however, it will continue to fully support and service all existing HD DVD players.
The war is finally over! The HD DVD format has surrendered amid rampant speculation and overwhelming opposition. From retailers and rental services dropping its products to studios ending support for the format, it looks like Toshiba has wisely bowed out of a war it could no longer win.
"We carefully assessed the long-term impact of continuing the so-called 'next-generation format war' and concluded that a swift decision will best help the market develop," said Atsutoshi Nishida, President and CEO of Toshiba Corporation. "While we are disappointed for the company and more importantly, for the consumer, the real mass market opportunity for high definition content remains untapped and Toshiba is both able and determined to use our talent, technology and intellectual property to make digital convergence a reality."
With the announcement from Nishida, Blu-ray becomes heir apparent next-gen optical storage. Toshiba says it'll begin reducing shipments of HD DVD players to retailers until March 2008 when it says its HD DVD business will be at an end. Toshiba's first entrant into the format was the release of its HD-A1 exactly two years prior back in March 2006.
Within the March 2008 timeframe Toshiba will reduce production of HD DVD products for PC and notebooks. The company says it'll continue to support computer related HD DVD products but makes no promises. Toshiba says its commitment to PC products is only relative to future market demand.
In other words it sounds like you'll find blank HD DVD discs for the foreseeable future - so stock up now.
Toshiba has decidedly done the right thing if there is any chance at mainstream consumer adoption of high definition movie discs. With no ace up its sleeve in its war with Sony Toshiba could only drag it out and wait until the remaining studios inevitably cross the floor and begin producing Blu-ray discs and HD DVD would simply wither away slowly.
See also:
Recent Forum Posts:
Geno posts on February 22, 2008 20:51
I saw the Tosh HD DVD players at Costco today for $79
B3Nut posts on February 20, 2008 19:34
Wayde Robson, post: 378116
That's one interesting thing too, a lot of people had this format war pegged as another Beta vs VHS. But Sony held Beta hardware exclusively as far as I know, nobody else was allowed to make them.
Sanyo manufactured Beta recorders as well, they had a top-load unit that was a popular bargain machine, and when Beta hi-fi came out they had a nice frontload unit. IIRC they OEM'd a version of it for Radio Shack, but my memory might be a little hazy. I'm not sure who else had a license to produce Beta video decks, but Sony did license the technology.
alexsound posts on February 20, 2008 13:52
birdonthebeach, post: 378493
Agreed! I would imagine that in a few months, we'll begin to see the real deals…
It may not be that long. Spoke with one of the guys today at
Magnolia (BB) and they've been told to push the players. He said they will probably be fire selling the players and the software in early March in his opinion. This is the same guys who told me a few months back, that they would be selling the Yammy 2700 they had on display for $700 as soon as the 1800 arrived. He wasn't lying. They marked it down to 700 and it sold in 2 days. Take this for what it's worth.
patnshan posts on February 20, 2008 13:24
stratman, post: 378458
Let the fire sales: begin!!!!

Man, I just saw the prices, for a dead format, those prices are way too high!
$12 is more like it. I want to get Shrek the Third for my girls, but it's still $28!!!!!!!!!!!
Pat
birdonthebeach posts on February 20, 2008 13:22
stratman, post: 378458
Man, I just saw the prices, for a dead format, those prices are way too high!
Agreed! I would imagine that in a few months, we'll begin to see the real deals…
Post Reply