The Evolution of Digital Music On Demand
The Evolution of Digital Music On Demand
by
Mary Sekerak
—
April 28, 2008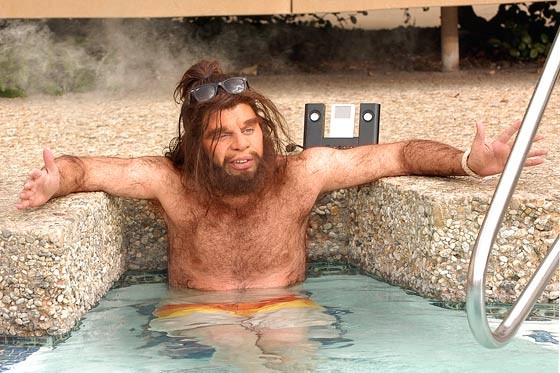 So easy...
Think back to a time when you couldn't log onto the Internet and download any song you wanted in little or no time at all.  It seems like that was an eternity ago, right?  Well, in reality the popular MP3 has only been distributed since the late 1990s.  They were developed by the German company, Frauenhofer-Gesellshaft.  MP3 stands for MPEG Audio Layer III; it is a standard for audio compression that makes any music file smaller with minimal loss of sound quality. MP3 is part of the Motion Pictures Expert Group (MPEG), which is a family of standards for displaying video and audio using lossy compression.
Once MP3s became more popular, users needed MP3 players to listen to their digital music.  Frauenhofer-Gesellshaft developed the first unsuccessful MP3 player in the early 1990s.  However, the first portable MP3 player was the MPMan F10/F20 by SaeHan/Eiger Labs, released in March of 1998.  It was sold for $250 and featured 32MB of flash memory and held around 8 tracks.  A few months later the Diamond Multimedia Rio PMP300 was released, which some enthusiasts argue as being the first MP3 player.  Also in 1998, the first hard-drive-based MP3 player was developed--the Hango/Remote Solutions Personal Jukebox PJB-100 with 6GB of memory.  It was created by Compaq's Systems Research Center and the Palo Alto Advanced Development group (3 years before the iPod).  These early devices enabled listeners to transport and listen to their MP3 files almost anywhere.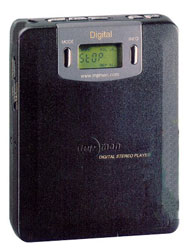 MPMan F10 by SaeHan/Eiger Labs
MP3s and MP3 players brought about the beginning of the digital music age, where music is downloaded, streamed, given away as prizes, ad-supported, and listened to everywhere.
Once Napster and other popular peer-to-peer music downloading sites were shut down and the Recording Industry Association of America (RIAA) began prosecuting more and more illegal music 'pirates,' numerous "legal" subscription and pay-per-download services arose.  A summary of these services can be found in this here.  Amazon.com, Wal-Mart, Apple, Microsoft Zune Marketplace, Rhapsody, and Napster are among the many companies with subscription and/or pay-per-download services available.
Along with paid download services, a great number of companies are giving away free music downloads as part of their advertising campaigns.  Some of the more recent promotions include PepsiCo's nation-wide Pepsi stuff points campaign, where Pepsi drinkers can trade in points for free Amazon MP3s (DRM-free).  Coke is also giving away free music downloads from Rhapsody through its Coke Rewards campaign.
Some music sites, such as SpiralFrog, are ad-supported and funded completely by advertisers.  SpiralFrog's ads are presented in the form of banner ads.  On their site, songs can be downloaded for free and put on no more than 2 portable devices.  Songs will not work on Mac OS X, the Apple iPod or iPhone, or Microsoft's Zune.  Licenses must be renewed once a month.  Besides all of those restrictions, it seems to be a great source for free music downloads.
Another source for free ad-supported music downloads is imeem, which is a social media service that allows users to interact and share content of all media types.  Tracks can be uploaded to the site by imeem users and streamed to other users' computers.  In return, the music labels receive a cut of the advertising revenue.
Streaming music is a popular alternative to the pay-per-download and subscription services.  Streaming music allows site users to listen to music for free without actually owning the source of the song, like listening to a radio station.  There are quite a few websites where visitors can stream music for free.  Radio stations all over the US stream their broadcasts online.  Other sites like Pandora, for example, provide visitors with radio stations customized with music by artists they like as well as music that has a related sound.  If a song plays that a listener doesn't like, then you can give it a thumbs down and you won't have to hear that song, or any other like it, again.  Also, you can create as many stations as you want—all for free, with no advertisements!
CBS's Last.fm is a site that combines online radio and social networking.  Users can interact with each other in groups and forums and even create widgets for other social networking sites, including Facebook and Myspace. Napster also has a music streaming site where visitors can play any particular song up to three times, after which they will need to subscribe to Napster or purchase the song to play the full version again.
What will the future bring?  Clearly the convergence of audio and video entertainment media and computer networking is in its early stages. Even with all the developments discussed above, it doesn't take much imagination to envision the next steps.  Telephone, media storage, entertainment access and Internet connectivity are already intimately tied together in the portable world.  The continuation of convergence in the home (read non-portable) market is clearly underway.  When considering the purchase and installation of a home theater or multi-room residential entertainment system it's vital to look to the convergent trends revealed in the portable market.  Understanding how those trends can increase the efficiency and utility of our permanent in-house technology is vital in getting the most from our investments.

Special thanks to Impact Acoustics for allowing us to reprint this editorial.

stratman posts on April 29, 2008 15:36
westcott, post: 406785
Don't worry. A shave and a haircut and no one will even suspect!
I know this sounds crazy….I pick up my kid at pre-k today, I'm dropping him off at my mom's, lo and behold I hear the drone of a prop plane, I look up and there in all it's glory is a GEICO banner I would estimate 20x20 being towed by a putt-putt plane that could have been in the Flintstones, with my mug right on it for all Miami to stare at, I couldn't believe it, I cracked up so loud my kid was just standing there staring at me as if I had lost my marbles! Best part of the day today!
westcott posts on April 29, 2008 11:18
stratman, post: 406666
Man, no respect! First GEICO, now this!
Don't worry. A shave and a haircut and no one will even suspect!
stratman posts on April 28, 2008 23:40
kicknsupra, post: 406603
i was waiting for that
Man, no respect! First GEICO, now this!
kicknsupra posts on April 28, 2008 21:02
stratman, post: 406549
Ok, Ok! What's up with the photo?? I mean, what, "so easy a caveman……" Unbelievable, it just follows me.
i was waiting for that
stratman posts on April 28, 2008 18:32
Ok, Ok! What's up with the photo?? I mean, what, "so easy a caveman……" Unbelievable, it just follows me.
Post Reply
Confused about what AV Gear to buy or how to set it up? Join our Exclusive Audioholics E-Book Membership Program!