Spotify Sony PlayStation Music Partnership Announced!
Spotify Sony PlayStation Music Partnership Announced!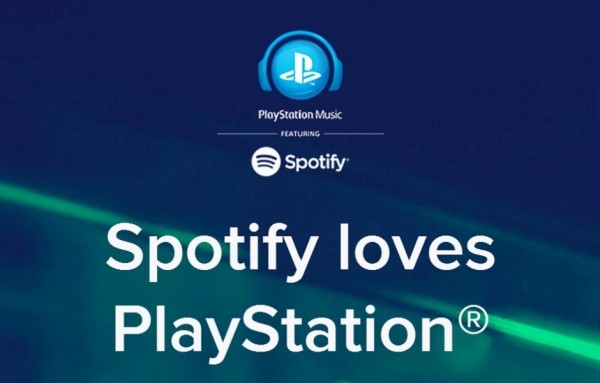 Sony Network International and Spotify have announced a partnership to create a new music service that will launch in spring dubbed – PlayStation Music. Users of Sony PlayStation and Xperia devices will have access to the new streaming music service in March 2015 when Sony will close the virtual doors on the much maligned Sony Music Unlimited.
"This partnership represents the best in music and the best in gaming coming together," Said Sony President Andrew House. "We're thrilled to make Spotify the foundation of our strategy with PlayStation Music."
"As a gamer and PlayStation 4 user myself, I'm super excited to be able to soundtrack my FIFA 15 Arsenal matches later this spring." Says Spotify founder Daniel Ek.
The few who subscribed to Sony Music Unlimited will get a month free access to Spotify when the switch is made in March. With PlayStation Music, PlayStation gamer's library will swell to over 30-million songs thanks to Spotify. That's a lot more songs from which to select background tunes your favorite games. Presently, PlayStation gamers are stuck with Music Unlimited's selection which is… rather limited.
This is the first big partnership between a streaming music service and a game console and it should be a welcome sight for all gamers, especially PlayStation users. PS4 buyers felt the Sony squeeze after buying such a powerful media devices for the living-room that makes no effort to live up to its potential.
Good News for Games and Media
When Sony released PlayStation 3 it innocently included in the console full DLNA capabilities. But in this new gaming-world of DLC treadmills and pay-to-play services Sony didn't make the same mistake with PS4. A paid subscription to PSN as a requirement for multiplayer gaming is not exactly news, we knew it was coming before the launch of the console last winter. But prior to PS4's launch we had no idea the console's media capabilities would be tied so tightly around Sony's own music and movie services.
Don't get me wrong; PS4 is a great product with lots of potential. Unfortunately that potential is hampered by the manufacturer's own desire to bill. PS4 users miss certain PS3 capabilities.
This is why it's good to see Sony Music Unlimited has officially failed. No, it doesn't mean DLNA is just around the corner for PS4, although optimistic rumors of a DLNA update continue to swirl. But it is a sign that consoles might be doing what they should have been doing all along, behaving more as a platform for third party apps rather than a walled garden for its own recurring revenue streams.
The need to bill its users is why game consoles won't win the war of the set-top-box. Incessant nickel-and-diming of its users creates a market for Android, smart TVs and smart disc players - even among those who own a console. There will always be a need for set-top hardware that is more interested in delivering A/V solutions and not just being an online store.
For now the PS4 is a great gaming device with power to spare if it wanted to be a simple A/V extender. But if you're looking for a digital audio-video platform for your main A/V system you're forced to look elsewhere. That the PS4 is purposely neutered to promote Sony's own recurring revenue streams is a sad commentary on what can only be chalked up to greed.