Impressions Of Dolby Atmos and Auro-3D Demos at CEDIA 2014
Impressions Of Dolby Atmos and Auro-3D Demos at CEDIA 2014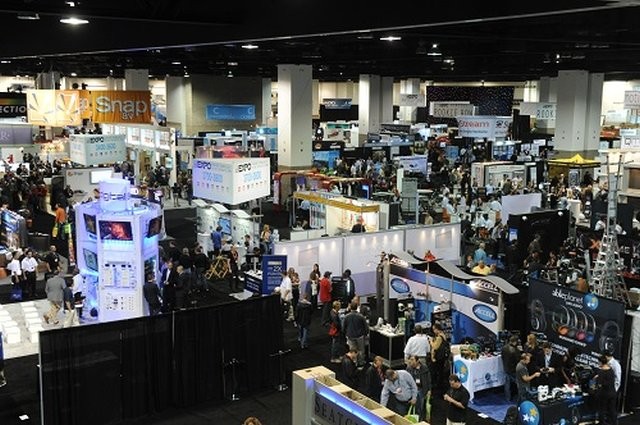 This year I, along with fellow Audioholic Cliff Heyne, was lucky enough to attend the CEDIA Expo in Denver. If you've not been keeping track of A/V industry news, the "big thing" for 2014 is the introduction of 3D sound to the home market. There are currently two competing formats, Dolby Atmos and Auro-3D, with DTS's next generation sound format  still on the horizon. Suffice it to say, we were able to score several demos to gauge just what these new formats could offer, including some one-on-one time with several examples of Dolby's Atmos Elevation speakers.
CEDIA 2014 Dolby Atmos and Auro-3D Demo Report
Yamaha
Our first Atmos demo of the Expo came courtesy of the fine folks at Yamaha. On display was a 5.2.4 setup built around their AVENTAGE RX-A3040 A/V receiver, NS777 towers, NS333 center, and NSIC800 in-ceiling speakers. The room was semi-enclosed, i.e. it had a ceiling and three walls, but it wasn't acoustically isolated due to the open back. Unfortunately, there was a considerable amount of background noise (foot traffic, other manufacturers still putting up their booths, etc.) which took away from the experience. Between that and the short demo material, it was hard to get a feel for what Atmos could really bring to the table. However, there was something which stuck with me from this demo, namely a projector coming to life in a movie theater. Simply put, it was exactly where you would expect to hear such a sound come from, which isn't just directly behind, but from above as well. While this was a neat trick, I wasn't exactly sold yet on what Atmos could deliver. As a second opinion, Cliff felt that the in-ceiling speakers were fairly precise in terms of imaging height effects, but easy to localize since they were turned up for wow factor. I appreciated this precision, though I didn't have a significant issue with localization, which we've found can vary considerably with seating position relative to the ceiling speakers.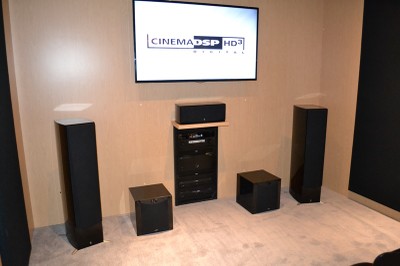 Yamaha's Atmos demo room.

Definitive Technology
Definitive Technology's Atmos demo was quite different from our experience with Yamaha. Definitive had a dedicated demo room, which was somewhat isolated from the show floor's noise. In addition, they were showing off their new A60 Atmos Elevation speakers, which fit neatly atop the BP8060 super-towers. Definitive had two pairs of BP8060/A60 combos for the front and rear L/R slots, with a conventional center channel and dipole/bipole side surround speakers which were slightly elevated above ear level.  Amplification and processing were provided by an Onkyo TX-NR3030.

Impressions here varied a bit. I didn't feel that the A60's managed to pull off the height illusion. Instead, what "height" I did hear was mostly localizable to the high-mounted side surround speakers. I would have liked to get a second demo with better seating, but unfortunately time didn't allow. However, Cliff wasn't in the cheap seats, and came away with the impression that the A60s did provide height effects, though it was mostly high frequencies. Cliff appreciated the ambiance he was hearing in the Atmos demo material. However, when Definitive played the opening clip from Star Trek: Into Darkness, he didn't discern any audible benefits from Atmos.
Onkyo
While Cliff was busy uploading photos back to Audioholics central, I snuck off for another demo, this time with Onkyo. More Definitive Technology speakers were featured here, along with Onkyo's TX-NR3030 A/V receiver. However, instead of the BP8060/A60 combo, Onkyo was showing off a Definitive Mythos 5.1 system plus in-ceiling speakers to create a 5.1.4 system. It was interesting that Onkyo went with in-ceiling speakers instead of their own SKH-410 Atmos elevation modules.
The demo space was semi-enclosed like Yamaha's; however, I did this demo during the lunch hour which meant that the noise floor was relatively low. In addition, a new track was leveraged to demonstrate what Atmos could do, specifically the experience of being stuck in the middle of a thunderstorm, with occasional switching between Atmos and conventional 5.1. Let me be clear: you won't mistake one for the other. Dolby's Storm demo undeniably highlights exactly what Atmos adds to the listening experience. Other Dolby demo content was convincing as well, including Dolby's "Leaf" and "Unfolding" tracks.

Of course while demo content is cool for showing off, actual movie content is what matters. To demonstrate real world content, Onkyo chose to play a clip from the movie Oblivion where Tom Cruise is chased by evil robots. Without the ability to switch back and forth, I would have to categorize the improvements afforded by Atmos to be subtle (which isn't necessarily a bad thing), though effects like a stroke of lightning coming from above made it readily apparent that I wasn't listening to a regular 5.1 system.
D&M (Marantz Electronics)

After lunch, Cliff and I made our way to D&M's space on the show floor. D&M was showing off their new Marantz AV7702 pre/pro, and they opted to use older Snell L/C/R speakers as well as side and rear surrounds. Boston Acoustics in-ceiling speakers rounded out the 7.1.4 package, which was in a fully enclosed room. As with the Onkyo demo, I felt that Dolby's dedicated demo material clearly highlighted the benefits of Atmos. The movie selection here was the clip from Star Trek. Both Cliff and I felt that Atmos provided a tangible benefit here, with one example being the point where Spock's cable to the shuttlecraft snaps, and the shuttle ascends, which was clearly represented in the soundtrack. With this demo (along with the prior Onkyo demo), it's fair to say both Cliff and I were sold on what Atmos could offer the consumer.
Pioneer
While both Cliff and I were both impressed with the D&M and Onkyo demos, I hadn't really heard what an Atmos Elevation speaker could do. This was about to change as we visited Pioneer's room on the lower level of the Denver Convention Center. As you'd expect, the demo room included all Pioneer Elite equipment including their new line of Elite speakers and an Atmos-ready A/V receiver. This time, I actually took several demos to get a better feel for things. The first time around, I sat towards the right rear of the room, which unfortunately pulled everything including the height effects towards the right rear speaker.

On the second demo, I was able to sit in the sweet spot, which was an ear opening experience. Pioneer also ran Dolby's Storm demo to compare between 5.1 and 5.1.4 presentations, which proved the efficacy of Dolby's Elevation speaker concept to both me and Cliff. Dolby's Leaf Demo was similarly impressive, as was the clip from Oblivion. Unlike everyone else thus far, Pioneer also showed off Atmos' musical chops, playing Enrique Iglesias' Bailando. While I felt that Atmos didn't revolutionize this surround track, Cliff did feel there was an advantage in spaciousness and ambiance which was beneficial. However, he found that using monopole surround speakers at ear-height was distracting.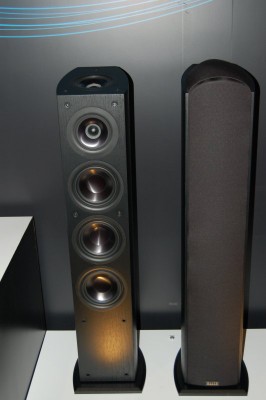 Pioneer Elite's SP-EFS73 Atmos-enabled speakers.

Auro-3D
After visiting with Pioneer, Cliff and I made the long walk to Auro's demo room which was situated across the hall. Suffice it to say, few systems present at CEDIA could compete with what Auro brought to the party. In addition to a Datasat RS20i processor boasting Dirac Live room correction, the Auro room featured a 20.1 setup consisting of James loudspeakers and no less than six subwoofers. The speakers were arrayed in nine channel arrays; the first array was oriented at ear level, with the second height layer being placed roughly five to six feet above ear level. Two "voice of God" speakers were utilized for overhead effects.

To call Auro's demo impressive would be the understatement of the year. In fact, it was by far our favorite demo experience of the show though we didn't get the chance to hear the highly regarded JBL Atmos demo.  Part of this was undoubtedly due to the caliber of the system present, but the added ambient information provided by the height layer added a sense of scale that simply wowed both of us. A wide selection of material was played back including an organ piece recorded in a church, as well as an orchestral piece. However, the star of the show was a jet flyover. As someone that occasionally parks near an airport to watch (as well as listen) to planes taking off, I can say that this demo was extraordinary in its realism, which certainly wasn't hurt by the dynamic capability of the system.
Auro's demo room.

Trinnov / Procella
The next stop was back up to the main show floor to visit with Curt from Trinnov, and to hear what the 32-channel Altitude processor could offer in combination with a 9.1.4 Procella system. Unfortunately, both Cliff and I were in the cheap seats, with time constraints precluding a second run at things. We were sitting directly under a Procella ceiling mounted speaker, which definitely distracted from the overall presentation. However, one thing I did notice was a difference in how in-ceiling and Atmos Elevation speakers behaved in this situation. While in my experience with Pioneer's cheap seats, I felt the height effects pulled to the rear, with no height information coming from the front channels, the dedicated in-ceiling speakers in the Trinnov / Procella space still managed to convey height information from all around the room. While it's obviously a good idea to build your system to avoid the above situations, that difference may suggest that in-ceiling / ceiling-mounted speakers might offer a wider sweet spot, and be a better solution for larger rooms.
GoldenEar
The penultimate demo of our time at CEDIA came courtesy of Sandy Gross, CEO of GoldenEar Technology. GoldenEar was showing off their new Triton One tower speakers as part of a 5.1.4 setup which included a quartet of in-ceiling speakers. Like the previous demos with D&M and Onkyo, the GoldenEar system pulled off convincing height effects on both Dolby's dedicated demo material and movie clips from Star Trek: Into Darkness and Oblivion. GoldenEar was also the first to play a clip from Transformers: Age of Extinction for us, which will be the first Blu-ray release with Atmos. While the movie wasn't exactly our cup of tea, no switching was required to tell that Atmos made a clear cut difference.
GoldenEar's Atmos demo room.

Dolby / Triad
While Cliff was busy trying to squeeze in as much coverage as possible, I headed over to Dolby's booth with a representative from Triad. I got the opportunity to speak with Dolby's Director of Global Public Relations, Joshua Gershman, who was kind enough to sneak me in for a demo as well as let me chat with some of Dolby's technical team. The speakers used in Dolby's booth were the new Triad Bronze LR-H speakers which include an integrated Atmos Elevation speaker. In addition, Dolby set up in-ceiling speakers to allow people to hear the difference between them and Elevation speakers.

The first demo to compare/contrast the two was "Storm", which switched from a 7.1 presentation to 7.1.4 with in-ceiling speakers to 7.1.4 with Atmos Elevation speakers. With this content, I didn't feel a huge difference in the presentation between the Elevation and in-ceiling speakers. The next comparative demo featured sounds from a rainforest; this time there were some differences, namely in the precision of the overhead sound objects. The demonstration then turned to the movie clips, with Oblivion and Transformers being presented with in-ceiling speakers, while Star Trek was played back using Elevation speakers. While the Star Trek demo did benefit from additional height information courtesy of the Elevation speakers, I did feel that I heard the clip reproduced a bit better from the rooms using in-ceiling speakers. In terms of Triad's solution versus Pioneer, I would also lean towards Pioneer based on my initial impressions.
Conclusion
So what do we think sounds better, Atmos-enabled speakers or in-ceiling speakers? Based on what Cliff and I heard at CEDIA, we'd give an edge to the in-ceiling speakers. They deliver a bit more precision and a fuller sound because they are not bandwidth limited. In-ceiling speakers also seem to offer a wider sweet spot; again something to consider for larger rooms with multiple seats. However, they can be distracting if you sit directly below one of the height speakers. At the same time, we have to give credit where it's due. We've been skeptical thus far about how effective Atmos-enabled speakers would be, but speakers from Pioneer's Elite line have proven to us that the gap can be awfully thin. At this point, we look forward to getting some of these Atmos Elevation speakers in for some further testing to get a better idea of how the magic happens.
Auro-3D put on an incredibly immersive demo proving its prowess for an unparalleled cinematic and musical experience.  We are hopeful this format catches on and reaches products at the affordable level for the consumer marketplace.