Call of Duty: World at War on Xbox 360
Call of Duty: World at War on Xbox 360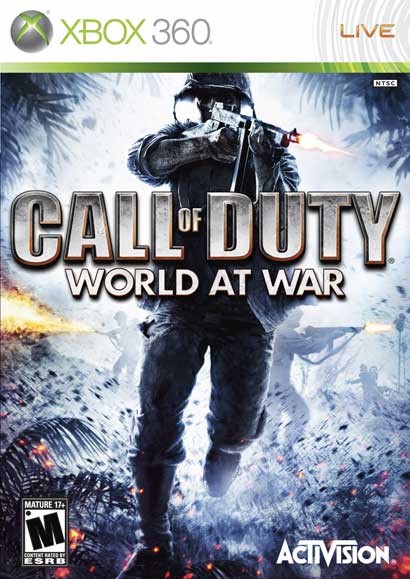 Everyone's favorite World War II franchise is back – and despite initial trepidation about Treyarch's return I'm happy to report - it's all good! In the wake of Infinity Ward's already legendary Call of Duty IV, we feared for World at War (ie. CoD V) after it was announced only weeks after the release of CoD IV. The new installment would not only return to its WWII roots it was developed by Treyarch, the developers that gave us the decidedly lackluster Call of Duty III. But go ahead and roast your fears with a flamethrower, first-person shooter fans! This game is an asset to the franchise.
Platform: Xbox 360
Developer: Treyarch
Publisher: Activision Publishing, Inc.
Game Resolution: 1080p
MSRP: $59.99
Style: First Person / Shooter
Rating: Mature (Blood, Gore, Violence)
Call of Duty: World at War is a beautifully rendered, well designed, highly polished, dark edged, star powered magnificent game. Did I miss any adjectives? If there was any question that Treyarch was going to give us another run-of-the-mill CoD III, forget-about-it!
Comparisons to Call of Duty IV: Modern Warfare are inevitable and valid. World at War has not only benefitted from the lessons of Infinity Ward's masterpiece but they've built on them. The controls for World at War are the same as CoD IV so Modern Warfare players can comfortably jump right in. Treyarch's use of the same graphics engine as CoD IV put it easily on par with what was largely considered the most fab graphics seen on the Xbox 360.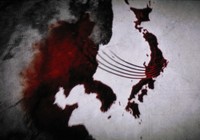 The gameplay is standard fare for anyone who has played a previous CoD game. You'll visit parallel storylines of soldiers fighting on different fronts in World War II. One is a U.S. Marine fighting the Imperial Japanese in the South Pacific, a theater not often visited in video games. Sure it's been made into some great flight sims but this time you'll get an up close view of the trenches, tunnels and sniper infested palm trees on the tropical islands.
The other campaign takes place a world away in Russia as the tides of the Nazi invasion are about to turn. Both fronts are fought in roughly the same timeline, it's late in the war and victory for the allies in both theaters seems so close – yet so far away.
Despite the sunny beaches and palm trees in the Pacific Islands, this game has a darker edge to it than previous World War II games. Sun-drenched beaches are punctuated by death defying crawls through darkened Japanese tunnels.
Games Imitate Film
Perhaps you've seen Eastwood's remarkable film, Letters From Iwo Jima. You'll be transported to the drama in those tunnels the Japanese used as cover from artillery barrages from nearby battleships. The game takes queues from this and other films that have explored the fundamental disagreement between the Imperial Army's interpretations of its Warrior's Code vs. the US Military's (sometimes shaky) interpretations of the Geneva Convention. A disquieting scene ensues right in the opening of the game where a comrade has his eye burned out by a Japanese cigarette. It's all part of the darker edge of CoD V.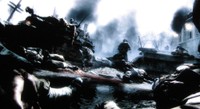 The Russian campaign starts like a scene from a nightmare. The graphics blur and trail as your semi-conscious Russian soldier miraculous evades certain death among a pile of bodies. From the old Russian architecture in the background to the swirling surreal perspective of a soldier on death's door, the mood in the Russian campaign is a instantly dark with a slight gothic edge.
Video
Graphically the game is on par with CoD IV which is to say it's one of the best games you'll see on Xbox 360. Don't let the bright sunny beaches fool you. If you keep any stored modes for your display you'll want to go with a bump to your contrast. It's beaches may be sunny and bright but you'll soon end up deep in caves and buildings where the darkness can be absolute. You'll be forced to rely on the tiniest flickering details to get around.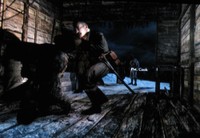 Despite the amount of time you'll spend outdoors, most of the game (Russia and South Pacific) I've experienced so far lacks many of the sweeping landscapes I remember in Modern Warfare. Even the sniper level feels somewhat cramped and simple.
Audio
The game is full of great ambient effects for your surrounds and you better like bass. If you live too close to your neighbors you might want to think about night-mode to tame your sub. The game is full of explosions that spare not one iota of LFE.
There are lots of tiny acoustic details that creep up into the game. Some of which become horribly overused – like the sick gurgling sound of a fallen enemy. Okay, I get it, the game is dark and unflinching. But that doesn't mean I can hear an enemy soldier I've shot at well over 100 yards sucking for his last few breaths, in the middle of a firefight no less. Frequent first-person gamers will understand that as great as the repertoire of sound effects can be, they almost inevitably become a bit redundant.
One thing that is never redundant is the crisp and clear voices – when they're correctly centered that is. The voice acting is top-notch (more about this later) in this game and you'll want to gather around whenever your superior has a few words for the troops. As in other installments of this franchise you can turn your POV and get the voice to move around the room. Just like in the movies, a center voice is always best if you want hear every detail.
Game-play
When it comes to overall game-play experience, in a word, this game rocks! I mentioned the voice acting is top notch, it's probably the best voice-cast I've ever heard in a video game. The developers picked up premium talent in Keifer Sutherland (Jack Bauer of 24) and Gary Oldman (who reprises his Dracula-esque voice).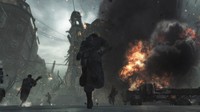 Keifer will be your platoon sergeant Roebuck. Oldman is perhaps one of the best all around actors working today. Gary Oldman reprises his voice from Dracula (a distinct East European) as Sergeant Reznov. There is plenty of dialogue from both actors throughout this game.
As usual for the franchise the weapons are an accurate video game depictions their historic counterparts. You get to slug along with single shot semi-automatic bolt-action rifles as well as some nifty machine guns that convey a feeling of power and substance. Both the kick-back and the rumble of the sub make gunplay an addictive part of the game. Of course there are also sniper rifles, especially in the Russian campaign.
The game's darker aspect and its' unswerving attention to the details of human suffering make it a committed adults only game. Of course the effects get a little over-the-top. But the focus on the darker aspect of war will hopefully serve as a reminder that despite some of it's entertaining aspects - it's a plight to mankind.
Oldman's Reznov says it best in a bombed out café in Russia. "One day, this place was filled with the conversations of friends and lovers – no more."
Overall
No game is perfect and there are problems with this title. Smallish maps seem to be the main complaint I've had. I haven't finished the game so I can't give a proper start-to-finish perspective.
It's a very linear FPS, as you'd expect, there is generally only one solution to the levels. But within the framework of individual battle-field levels there is an emphasis on trying to flank your opponent. For an FPS game the enemy AI is surprisingly good. The co-op mode forgotten in CoD IV is a welcome addition, especially for gamers like myself who aren't particularly competitive and would rather slog through the levels with a buddy on LIVE than try to reach the top of the single-player ladder.
For fans of the franchise who might have been on the fence about this installment following up CoD IV - this game gets a big, big recommendation. If you're not an FPS fan this game won't bring anything new to the genre that you should rush out to experience.
Confused about what AV Gear to buy or how to set it up? Join our Exclusive Audioholics E-Book Membership Program!
Recent Forum Posts:
Wayde Robson posts on November 18, 2008 09:20
Modern combat was very cool. But the room-to-room tactics with all the gadgets (as found in many Tom Clancy series) gets a little grating. It's like the difference between a WWII fighter sim vs a modern Jet sim.

Gimmie a Thompson to flank an enemy trench over heat vision goggles with three different settings, snake cams under the door before arming it with a stun blast to have your (half AI) squad declare the room clear.

Another thing… as much as I loved CoD IV, multi-player would do well with random generated maps. I hated how each map comes down to a very limited bandwidth of possibilities… play them and you'll earn kills, deviate and someone better at working the formula will rack up kills on you.
GlocksRock posts on November 17, 2008 15:53
It's still time to give up on the WWII games… they are so played out, keep it with the modern combat stuff, that's where it's at.
bmf795 posts on November 17, 2008 14:19
I believe IW did consult with Treyarch on this game. I started playing it last night and it is good.
GlocksRock posts on November 17, 2008 13:19
I'll still wait for the next COD… I like what Infinity Ward does better.
Post Reply