The Twelve Biggest Industry Mistakes of the Digital Age
The Twelve Biggest Industry Mistakes of the Digital Age
Adapted from United Features Syndicate
When I think back through some of the more recent technology inventions and innovations that we are enjoying in this digital age I am often reminded of the somewhat ridiculous nature of who brings forth these products and services. After all, you'd think the market leaders would continue to lead, or that those involved in a particular industry would remain on the forefront and bring that industry to repeat pinnacle achievements and advances. But this is simply not the case for many companies. In fact, more often than not, large companies tend towards stagnation and are thus greatly reduced in size from large megaliths to mere shadows of their former glory. Others just make bad choices.
We've compiled a list of our favorite corporate and industry-specific "disasters", citing our rationale of why each represents a failure in some part by the company or industry to lead technological innovation and instead sit on its laurels, following others. Of course, in some cases, companies just plain screw up.
1. The Largest Music Retailer is a Computer Company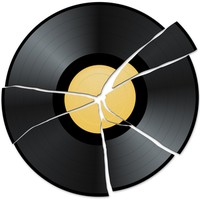 Back in 2001 Sony, BMG, EMI, Warner Music and Universal Music Group pooled their resources and announced the first online music store. They also developed the industry's first digital music player - a svelt-looking device called the mPod, or music pod. It was beautiful and consumers everywhere could finally search, rip, mix and store music on their own personal music devices and carry them around wherever they wanted - freed from the shackles of CDs or other physical media.... er, oh wait... the music industry didn't create a united storefront, that was Apple. And it's the iPod, not the mPod... Let me get this straight - the largest music retailer in the world is a computer company? Yes. Yes it is. The above story is simply a bunch of fiction. Fiction that should have been fact.
And yet, why? Why did the music labels and an entire industry sit on its laurels and allow a computer company to innovate and develop the largest resource for online music? Perhaps because, like a lumbering shipping vessel, the labels, used to bullying around an entire industry of artists, distributors and broadcasters, were simply too slow to recognize that the world was passing them by. Instead of innovating, they dug in their heels and grabbed hold of every scrap of cash they could, attempting by sheer force of will (and lawyers) to keep the industry from slipping out from underneath their grasp.
From behind this massive Titanic-bound juggernaut came Apple Computer, who, known for their innovation and market-savvy, decided to work their own back-door deal and invent the world's first (and over 7 years later still the most popular) mass-market digital music player that was quickly followed by a robust, fully-loaded online music store. That's one giant leap for Apple and one massive mistake for the entrenched record industry as a whole.
2. Blockbuster Fumbles Direct-to-Consumer Video Rentals
In 1999, Blockbuster Video, the largest and most successful video rental chain in the US, introduced a direct-to-consumer DVD rental program that sent consumers video rentals by mail and charged a flat monthly price that scaled only according to how many rentals you desired to have out at one time... Oh wait, no they didn't - that was a startup company who had never before done anything with video rentals. Netflix, seeing an opportunity to take video rentals to the next level and eliminate late fees, all but obliterated the in-store video rental model n a few short years by using the US postal service. That's OK, though, because Blockbuster retaliated by introducing kiosks everywhere that allowed $1/day rentals of DVDs in convenient locations like strip malls, shopping centers and other places of interest. Oh... no... no, that was Redbox, who in 2007 (a little over a year after their launch) passed Blockbuster in number of US locations and exceeded 100 million rentals in 2008.
In truth, it took Blockbuster until 2004 to release their own DVD-by-mail service. Plagued with low rental quantities and an inferior infrastructure, they have yet to catch up to the dominating Netflix. In 2008, Netflix moved their online streaming movie service to set-top boxes and has now placed their service into the manufacturers who comprise 68.8% of the LCD TV market in North America.
3. HDMI Goes Digital... and That's About It
I can't even make an introductory joke about this one it's so depressing... Everyone has used USB and Ethernet before... so the idea of a standard isn't new. What seemed like a great idea, HDMI - digital audio and video rolled into one - turned out, to me at least, to be one of the biggest disappointments in recent memory. Now let's back up. I'm not saying that HDMI isn't convenient... I'm not saying that it isn't popular or adopted by nearly everyone at this point.... I'm not even saying that there is a known competitor or that something necessarily "better" has been invented yet. It's just that it's really more of a stop-gap interface whereas it could have been a new standard. Let me explain...
HDMI has certainly replaced the analogue audio and video cables that have the potential for cluttering up the backs of our AV equipment. It's easy to see the logic in wanting to replace a potential 4 cables (or more) with one. It's also easy to see how high definition audio required, in theory at least, a new cable configuration and some additional copy protection to give the record labels the warm fuzzy of knowing that it would take an extra week to crack the revised standard for encryption... but I digress...
In a world that is ever leaning towards streaming solutions and additional digital content, HDMI is a stop-gap measure. What the industry needed was a new standard for digital connectivity, not a new cabling system. We needed a way for a Blu-ray player to tell a flat panel television - ANY flat panel television - what resolution it supported, what network features it had (Netflix, CinemaNow, etc) and even possibly negotiate the best possible signal transfer resolution for the cable strength utilized. If the cable length was too long to handle 1080p, the system could automatically negotiate down to 1080i, thus retaining the best possible image quality from the source. If the AV system could support uncompressed audio, or included native TrueHD/DTS-HD decoders, the source component could send out the appropriate data - without being told to do so manually by the consumer.
Have an Internet connection? Excellent, this smart interface could instantly configure and detect this and allow the resulting connection to update each component and negotiate content flow to all the other devices.
Instead, we have a largely "stupid" new cable system that merely carries data. While HDMI will argue that its CEC system is cable of providing a platform for some of the negotiations mentioned above, CEC was pretty much an afterthought and is NOT standardized across platforms and manufacturers. It is also very simplistic and not nearly sophisticated enough to handle the type of communication users will soon expect.
HDMI doesn't seem to be getting us where we need to be, and thus it is destined to eventually go extinct, to be replaced by a "smarter" standard. The potential for devices to work easily together and do more has been retarded as a result. Either that or the manufacturers will get in the game and develop some sort of standard for using CEC across brands and enabling the next level of smart interfacing of HD sources and displays... right after they announce a plan for world peace and solve the mystery of fluctuating global temperatures.
4. Onkyo/Integra Create Upgradable Receiver... Haha, Just Kidding!
In 2005 Onkyo/Integra released their new TX-NR1000 and DTR-10.5 AV Receivers. It was a card-based system that took the industry by storm. It touted HDMI functionality, Net-tune support for Internet radio and, most importantly, to be "The Future-Proof Anchor to Your Entertainment Needs" - a platform that could be updated simply by purchasing new cards from Onkyo/Integra. It seemed like a dream come true, and many folks flocked to the company to pick up this AV receiver with a base price of $3500.
All the latest encoding formats—THX Surround EX, DTS 96/24, Dolby Pro Logic IIx, and more—are here along with the knowledge that you're ready for the future with upgradable flash memory
Of course, there was a problem, er... more than one, actually. You see, first off, the marketing person and product manager who thought that building a single product that was upgradable was a great business decision must have been on some heavy drugs that day... as were any persons responsible for giving them the green light. You see, while Onkyo was touting the genius of a receiver that never required replacement, some accountant up at headquarters was scratching his head saying "What?!?!" That's right, while Yamaha and Denon were on 9 month new product release cycles, Onkyo was about to trade in its product cycle for add-on or replacement "card" purchases. Not exactly what we'd call a smooth business decision - nor one that could be sustained for any length of time due to new formats and processing requirements (room EQ, anyone?).
At the same time, technology went through an incredible and fast expansion from HDMI 1.0 to HDMI 1.3 in just a short period of time. Silicon for HDMI 1.3 was particularly problematic - and Sony buying up every available piece for its overpriced, undersoftwared (is that a word?) PS3 didn't help. AV manufacturers were stuck in limbo and the new emerging technologies such as automatic room EQ systems, Dolby Digital Plus, Dolby TrueHD and DTS-HD made mincemeat of existing platforms and their audio processing chipsets.
As for firmware upgrades? Well, the Onkyo TX-NR1000 and Integra DTR-10.5 could ONLY be upgraded at a service center. Users could not download firmware updates online from the Onkyo website. And within a year, iMerge, the Internet Radio service available through Net-Tune capable Onkyo brand products, announced that it discontinued the iMerge service and would no longer be supporting Internet radio streaming or the Internet Radio database. Internet Radio stations available through Net-Tune would decrease and eventually cease.
As the expected occurred, Onkyo apparently realized their mistake and scrambled to their next product... all the while product managers were left making empty promises that would later get pulled out from under their feet. Take the HDMI 1.2a card that was promised (though not officially) "in late summer" of 2006. Around mid-September it was finally leaked that there would indeed be no card, but that the company would release an HDMI 1.3 card sometime "next year".
After waiting until mid-2007, users were greeted with this emailed response:
Sorry, at this time we have no info on when the card will be out suggest contacting us at a later date for more info.
Soon after that the TX-NR1000 and DTR-10.5 were removed form the Onkyo and Integra websites... eliminating all hope for an HDMI upgrade of any kind. As it turns out, Onkyo was saved from being completely decimated with false advertising claims thanks to releasing a single new card after the product debuted... an HD-Radio/XM card.
To this day no other manufacturer has even hinted at the prospect of a card-based system.
Update: Alain, one of our readers, alerted us that NAD had in fact released some card-based systems that they are updating. Though updates are expensive and restrictive, they are indeed allowing their dealer networks to update these products with the latest technology like Dolby TrueHD support and HDMI 1.3. More info is available here.
5. Music Industry Hails Solution to "CD Problem" - Embraces DVD, DVD-Audio and SACD Discs!
Really? No... no... not really. Instead they continued to sue teenagers and little old ladies for thousands of dollars and resist all attempts to give consumers what they wanted - online streaming content. But they also did one other very important thing: they failed to innovate in the area of the physical disc.
During the era of CDs taking to the ether and becoming popular as illegal downloadable tracks, the record industry already had the solution: an installed base of DVD players and DTS surround audio. While everyone could rip CD tracks and upload at will, very few people would have been equally excited about ripping entire DVDs of video and audio content and sending them online.
It's certainly true that DVD ripping is nothing difficult, but the bandwidth concerns of 2004 were far different than they are now. In addition, alternative formats such as DVD-Audio and SACD could have been made into new standards industry-wide had they been backed by the recording industry (in particular the RIAA). As we know, those formats take up additional space over a CD and all three formats support a very important thing that CDs do not - surround sound audio capability. While a stereo track is necessary for portability, full surround is an incredibly innovative twist on a dated two-channel delivery medium for music. Pushing this would have done the entire industry a favor.
And why didn't the recording industry push video? MTV debuted in 1981, changing music forever and adding a visual element that was clearly desired by most consumers. Doing something as simple as setting up a video camera in the studio and paying a modest amount for editing would have yielded some excellent behind the scenes footage. This could have been married with each song on a typical disc. Instead of 650MB CDs, the RIAA would be distributing 4GB DVDs that were much less desirable as illegal downloads due to their size (think of how many people you know who download full DVDs as opposed to music). Think if you know of ANYONE who downloads SACDs or DVD-Audio tracks.
The music industry dropped the ball. The real question is will they continue to drop it. With the dawn of Blu-ray and its support for Dolby TrueHD and DTS-HD, music can once again be lifted up to a new level. The throw-down challenge is whether the RIAA will raise the bar and push its artists to use the new medium, charging only a modest premium over CDs in an effort to switch the dominant format. Blu-ray is a harder nut to crack since it has not yet penetrated the market as fully as DVD (which has near total penetration) but they could certainly steer the music in this direction and drive the market.
Our bet, however, is they will continue to lull themselves to sleep, only to be awoken suddenly when their largest artists have moved onto independent labels of their own and new artists are figuring out that their bests interests lie not in losing 90% of their revenues to large men in suits.
6. AOL - Bring Us Your Ignorant
Back in 1995 I jumped on board AOL as did most others I knew. It was a new world and AOL provided an incredible experience for those looking to try out and experience this new thing called the Internet. The problem was, AOL set itself up as the "walled garden" of the Internet. A place for people who wanted everything spoon-fed to them and didn't want to venture out into the "scary world of the real Internet". In short, AOL created and maintained dumbed-down users, providing them with a limited Internet and email experience that was nothing like the Internet outside of the AOL network. 
By 2002, however, people were getting pretty smart and this Internet thing had really taken off. AOL's tactic became its downfall. They had the opportunity to take their 25 million subscribers and educate them on the "real" Internet, build loyalty and create super-users who understood how to search for items, send email, chat and shop online. Instead they kept their subscribers walled-off and ignorant. While the rest of the Internet grew up around them and moved on to exciting new capabilities, AOL users became the lost sheep who had no idea how to use email outside of AOL (which, by the way, needed its own rules for email and necessitated two sets of instructions for anyone attempting to send email to an AOL user).
Around the year 2001, at nearly the peak of the Internet boom, AOL purchased Time Warner... That's right, the order above is correct ,the smaller AOL had bought out the larger Time-Warner. Shortly after this, no thanks to the popping of the Internet bubble (that hissing sound was the sound of escaping AOL users to the real Internet), the value of the America Online division dropped significantly. This forced a write-off of $99 billion in 2002 which was then the largest loss ever reported by a company. Ever. Ever ever.
Since then the total value of AOL's stock went from $226 billion to around $20 billion. In 2003 Time Warner removed AOL from its name and booted the Executive Chairman Steve Case from his position. In 2008, Time Warner finally kicked AOL completely out and decided to spin it off once again as its own company at the end of the year.  Yeah, ouch.
7. HD-DVD, the Betamax of Our Generation

What's left to say... except that the MPAA and associated studios are responsible for one of the most money-driven decisions in the consumer electronics industry since VHS beat Betamax. In the Blu-ray vs. HD DVD war, there was an early winner - and it wasn't Blu-ray. With a completed spec (including Internet-downloadable content), no region encoding, and the choice to not implement the restrictive BD+ and ROM-Mark copy protection, HD DVD quickly became the apparent "completed" format. Blu-ray, however, offering much more copy protection and region-encoding, better catered to the bloated, old-school, restrictive,  tactics that were desired by the studios. Over time, money flowed... then it flowed more... then the Blu-ray marketing machine unleashed a veritable tidal wave of marketing and obliterated the competition.
Now this may sound like sour grapes, but considering the following facts:
HD DVD was the first player to market by 3 months
HD DVD was a completed spec and had Internet connectivity out of the gate, almost 2 years before Blu-ray released BD-Live (Profile 2.0) players with Internet features.

HD DVD came to market at just $499. The Samsung BD-P1000 hit the market at $999.

HD DVD discs cost less to manufacture and used existing disc presses, slightly adapted; disc manufacturers could switch their plants almost overnight to manufacture HD DVDs.

HD DVD was region-free
... it's pretty clear that Blu-ray won simply by buying and promising its way to the top. This was done through studio deals, full-out marketing at the retail store level and through claims made with the PS3 which bumped up sales figures even though most PS3 users at the time had no intention of using the gaming box to play Blu-ray movies.
OK, this does sound like sour grapes, but the bottom line is that the HD DVD vs. Blu-ray debacle was an interesting study showing us that the best format (or in this case the better format that got to the finish line first) doesn't necessarily win. Keep this in mind the next time you notice a format war brewing. Those of us that lived through the 80s remember VHS vs. Betamax and are acutely aware that Betamax tapes were smaller, better quality and sported advanced audio capabilities which far exceeded that of VHS (or "Alpha" as it was known to insiders) - which was rushed to market.
8. Windows Me - Mistake Edition
Back in 2000 Windows released Windows Me, an OS that was supposed to offer some new features to its then-current Windows 98 operating system. The OS was on the market for approximately 1 year before it was pulled and replaced by Windows XP. It encountered numerous problems, frequently crashed and was, in generally, something most PC users would rather forget existed. System Restore, in particular, had so many bugs that it would often restore malware and/or delete all restore points in order to eradicate viruses or trojans. PC World included it as #4 in its Worst Tech Products of All Time feature. When a Microsoft OS is out for only 1 year, it's a good bet that it's got some serious issues.
9. Windows Vista - Here We Go Again
After Me you'd think Microsoft would get the hint, however its Windows Vista Operating system, loved by some, hated by many, seems to have done it again. The OS will have been around for less than 2 years when its replacement, Windows 7, comes to market later this year. While some would hardly consider Windows Vista to be a failure, we'd cite it as one for several reasons:
Though Microsoft claimed it would run on all hardware since 2005, Vista requires quite a bit of overhead to use its highly-touted Aero interface. This not only affect upgraders, but those purchasing new computers with an OS that quickly slowed to a crawl right out of the box. At one point it was revealed that Vice President Mike Nash (Corporate VP, Windows Product Management) commented after the upgrade on his laptop that "I now have a $2,100 e-mail machine."

Windows Vista's UAC (User Account Control) system throws up a prompt for everything even remotely related to a security issue. It is so bad that many feel it's designed specifically to tick users off - especially since its rare that it actually asks for a password, just mere acknowledgment that you're doing something "with potential for risk". Microsoft apparently agrees:


Microsoft's David Cross came out and said: "The reason we put UAC into the platform was to annoy users. I'm serious," said Cross.

Windows Vista launched with 6 flavors. This is a good example of how Microsoft simply doesn't understand its user base. Six versions? Are you kidding me? Unfortunately, Vista 7 seems to follow this trend as well.
Users revolted in such numbers, Dell and other manufacturers insisted that Microsoft allow them to provide free XP downgrades to users who didn't want Vista installed on their new PCs. Windows XP has risen from the dead so many times, we hear it stars in the next George Romero film.

Netbooks have skipped Vista in favor of XP - if this isn't a testimony to Vista being bloat-ware I don't know what is...

10. Mac Clones - Yes We Can! (Steve: Um, No You Can't)
Mac Clones. For years, Mac users everywhere screamed for Apple to simply put out clones and drop the cost of entry for their computers. After all, they were a pleasure to use, just not a pleasure to purchase. Well, Apple eventually did it... they just did it a decade too late. For some unknown reason (OK, it was to get a quick cash infusion and boost market share - or at least that was the idea) Apple created an official clone program in 1995. At that time Apple had dropped to just 7% market share and PCs were entering budget territory and becoming cheaper and cheaper to purchase. It was shortly after this time that I switched to PC (and took me another decade to come back to Mac once again).
Apple licensed its ROMs and OS out to several companies, the most prominent being Power Computing, who almost immediately produced products that were less expensive and faster than Apple products... oops. It didn't take very long to see that the decision to allow cloning was a poor one and cloners, as was feared by some, indeed ate into existing Apple market share rather than grow the business as anticipated. Had Apple licensed clones ten years earlier it would likely be the Microsoft of today, however they chose to lock down the hardware. Repealing that decision this late in the game was impossible.
When Steve Jobs returned as CEO in 1997 the clone licensing program was 86'd and the rest is history. Rather than a complete money-wasting failure this one was more of a demonstration of a massive act of futility and poor leadership decisions. Had Gil Amelio stayed in charge of Apple, it's a good bet the iPod would resemble a cloned Zune player... and would sync to the Amazon store.
11. DIVX - Let's Rent Us Some Videos!
The DIVX format (not to be confused with DivX) was unique in that it promised a physical disc "rental" that cost around $4 and could be viewed for up to 48 hours from when it was unlocked (started). After this, the disc could be stored in a library and then "re-rented" by paying a "continuation fee" to unlock it for another 48 hours. You could also pay a higher fee and unlock it into a "DIVX silver" disc. There were several problems with DIVX:
It required a telephone connection in order to register the player and unlock discs. This worked similar to the way satellite TV set-top boxes worked to track PPV purchases.
While DIVX players could play DVDs, DIVX discs were not compatible with the growing installed base of DVD players.
Because Zenith, RCA, and Panasonic never saw their players get taken up in the larger quantities expected, player prices never benefitted from economy of scale price reductions. In the end, players cost twice as much as regular DVD players.

DIVX lasted about 1.5 years before lackluster adoption rates caused the system to be discontinued. Consumers who purchased players before June 16, 1999 were given a $100 refund for each player purchased.
The entire DIVX system was spearheaded by Circuit City and, believe it or not, a law firm. It received widespread hatred from the online community and never really got traction beyond a forced system that simply cost too much to compete with DVD. For those interested, check out Flex-Play for a similar story without the hardware component.
12. Circuit City Implodes
No one liked how this went down, but it was a little like watching a train wreck... we couldn't look away. Circuit City was the largest electronics retailer in the US until 1996 when it got passed up by Best Buy. From there things just continued to go downhill.
In 2003 the company decided to eliminating commissioned sales and change its employees to hourly. Some existing sales associates were subsequently offered new positions as hourly "product specialists," while 3,900 salespeople were completely laid off. These changes supposedly saved the company about $130 million per year, but it also triggered a massive change in direction for the company and resulted in what many felt was the beginning of the "McDonaldsization" of their sales force.
In 2006 Firedog, Circuit City's installation division, was formed with the intent to capitalize on installation fees and computer repairs. It didn't last long. Six months later, the hourly rate for new employees dropped by $1.35 and 3,400 additional employees were laid off who were being paid higher than the re-worked salary caps at the time of restructuring.
The company, to put it bluntly, was soon full of numbnuts who didn't know a DVD player from a toaster, the company having fired its seasoned staff. It was at this point that the story went from one of "unfortunate missteps" to bemused amazement. It was like everyone knew the company was going under, but we couldn't believe how many bad decisions one company could make in a row.
In November of 2008, Circuit City announced that it would close 154 stores and lay off 17% of its workforce by the end of the year. Blah blah $1.6 billion loan... blah blah Blockbuster pulls out of $1 billion buyout... The company announced in January of 2009 that it was closing all of its stores. Over 30,000 employees lost their jobs in the liquidation. The circuitcity.com website was reborn in May as an online-only retailer of consumer electronics.
Conclusion
While I'm certain we didn't cover everything, this is at least a fun and educational trip down memory lane. We're hopeful that you've enjoyed this trek through time to unveil some of the biggest corporate mistakes and disappointments of the digital age. We look forward to progress, and if there is anything we can learn from this it's that companies, no matter how large they are, should continue moving forward and never stop innovating. If you get too big that you can't think on your feet, you're pretty much doomed to decline. How fast or slow, will be up to how quickly the competition gobbles you up.
Post Reply
Confused about what AV Gear to buy or how to set it up? Join our Exclusive Audioholics E-Book Membership Program!