Audioholics 2008 SOTU Trade Show Last Chance to Register!
Audioholics 2008 SOTU Trade Show Last Chance to Register!
by
Bertica Molinares
—
October 02, 2008

SOTU Logo
If you feel like you're lost and don't really know what's going on, then read on!
Our event this year will be filled with endless possibilities. Among them, chances to refresh your senses and enjoy your childhood again, at least for those of us not working the event. This is Disney; the happiest place on earth – a perfect venue to hold our 10th Annual Trade Show event.
For those of you making attendance this year, we have a list of things to look forward to; most of them are absolutely FREE and some at great discounted price to benefit a good cause – The Conservation of Science and Policy.
You Want FREE Stuff?
Check out for instance our Grand Prize Giveaway - a $3500+ 5.1 Home Theater System. This is an upgrade from the original 4 Disney Ticket's Giveaway. Register and take advantage of this great deal. Winners will be announced the night of the Banquet Event.
Not enough? Grab your bags and fill it with all the freebies from us and our sponsors until it explodes. We will also be giving away tons of home theater equipment, cable products, etc at our dinner event. No one will go home empty handed!
"Are you NOT Entertained"?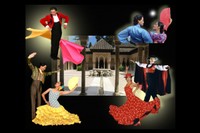 If the six (6) live state of the art high definition demo rooms packed with never before seen products from industry leading manufacturers isn't enough, we've got your back. You can burn off all of those calories by dancing the night away or watching our Flamingo dancers do their stuff. Special prizes will be awarded to those with the best costume so be creative.
Let's recap the major amenities of our event:
Discounted Disney Theme Park events to any of the Four Parks
FREE transportation to all 4 Theme Parks
Discounted Hotel Accommodations for our Registered Attendees
EXPO Show Floors with 6 demo rooms and static floor displays to dream about
FREE 2-day Breakfast and Banquet Event (Limited Time Only)
Audioholics Massage Therapy by licensed massage therapists
Silent Auction – Where you can get it for less and benefit a good cause!
Door prizes and party swag – nobody goes home empty handed!
FREE Flamenco Dancers Debut by "A MAGI Entertainment/Dance Productions"
Dancing with our "Downtown DJ's" Until You can't Stop
Kid's Halloween Costume Party for the little ones (Ages 4-12 with separate registration)- Trick or Treat, Games, Music, Activities and more with the Dolphin Camp Team
Costume Contest for the Best Halloween Costume: Essence of Spain Theme. Only the best can get it! Come and see what's at stake.
Spooky Banquet Dinner Event / Costume Party
Scary gouls, freaky music and spooky Audioholics staff. That's just some of the freebies you'll get at our Halloween banquet party.
The Spanish tradition will intermix with the dark side of Halloween, to give you all goose bumps; the exhilarating dancing of our flamenco couple and our live "downtown DJ's" will keep your hairs shrieking.
Don't' forget to freak your self up. The best costume will win prize and a trophy to show off. So, get your imaginations going!
We'll make sure the food measures up as well. The Dolphin hotel is recognized nationally and internationally for their gourmet specialties. We have chosen under their guidance the "eeriest. Augustine buffet." filled with Bohemian sea foods, delicious and tangy fruits and many meat specialties; a multiple course meal mouth-watering desserts prepared by world renowned chefs. Check out the attached PDF for more details on the cuisine offered at the Dolphin resort.
We don't wanna give away too many details, as the gouls may get angry with us.
Last Chance to Register Monday October 6th

Book your hotel room at the Dolphin NOW, and we will waive the $75 registration fee for up to two people from your party. Click > step 2 < to book your room NOW then fill out our registration form and fax it back to us.

We hope to see all of your happy faces there as we commemorate 10 years of online success. Don't procrastinate any longer. Register to our event, bring your family and enjoy a 4 day fun filled weekend at Disney while feeding you're A/V addiction!
Confused about what AV Gear to buy or how to set it up? Join our Exclusive Audioholics E-Book Membership Program!