Connections and Conclusion
Connections and Conclusion
Wow, You Didn't Even Open This Stuff Up?
It was Day 2 of this fourth installation and I still had a ton of work left to do. Surprisingly, all of the speakers were still boxed up and so were the speaker stands that would support the Aperion Audio Intimus 4B satellite speakers. It seemed that no one was confident enough to mess with the equipment and wanted to let me set everything up before toying with it. I quickly transported all of the boxes to the listening room and laid them out to begin opening everything up and readying it for final installation. I brought along my spool of Impact Acoustics 12/2 speaker cable since I knew I'd need to cut jumper wires for each of the speaker connections.
Naked Gear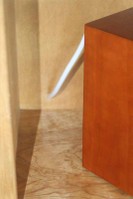 The equipment was quickly de-boxed and made ready to go. I began the tedious but simple task of stripping the cable ends and cutting them to length. This took me longer than I'd have liked, but it was certainly not a big deal overall. I have actually gotten quite good at stripping the speaker wire and getting the leads exactly the length they needed to be to fit the binding posts of both the Yamaha RX-V663 receiver (what we were using for this system) and the wall plates. I got a little impatient so I jumped back and forth between stripping cables and actually placing and connecting the speakers. To install the main speakers I drilled small holes in the rear of the bottom shelf of the three-piece media cabinet that housed the television, speakers and various games, software, etc. It allowed me to place the speakers at ear level without the need for stands. If you remember, the flat roof of the room didn't allow for any ceiling mounting of these satellites (or mini bookshelf speakers as I liked to think of them due to their impressive build quality).
Soon I had some tunes cranking in sparkling mono with the subwoofer engaged (hey, I was progressing one speaker at a time!). Eventually that spread to the Center and Right channel as well, encompassing all three front speakers... and then finally the full 5.1 system was completely wired. The subwoofer was tough since I needed to plug it into the front wall. With all of the legacy components going into this system I quickly ran out of outlets and had to utilize the two on the back of the Yamaha RX-V663 receiver to make it all work. This ended up being the right thing to do as it allowed me to control the power for the VCR and Xbox game console.
Calibrations and Listening Tests
Now that the system was wired it was up to me to get everything setup and running. Sure, I could use the built-in setup microphone and auto-cal the unit, but that would be too easy (and screw up the bass management anyway) so I pulled out my trusty Radio Shack meter and tape measure and got to work (stand back... I'm an Audioholic). After a few moments I had the subwoofer correctly set along with speaker levels, size and delay (distances). Life was good and this system was really starting to sound great.
Conclusion - Sometimes People Are Happy for Reasons You Wouldn't Expect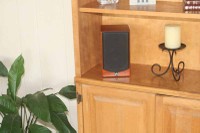 While I planned on coming back and doing a formal review of this Aperion Audio Intimus 4B Harmony SD system (long name, cool speakers), the priority for now was getting the remote control to work on all these legacy (i.e. old) components. I read through the Yamaha User Manual and realized that it simply would NOT control any cable boxes - likely due to their inherent complexity and the Yamaha remote's lack of buttons. Since the receiver didn't come with a learning remote I moved on and programmed it for everything else. Even with this drawback it turned out that the system was 100x more easily controlled than before. I went over the remote functions with Tim about 4 times in a row. He's a smart guy but I think he kept underestimating how easy it was to use. Over and over again he asked me "And I don't need to use the other remotes?" Nope - you're good to go. It turned out that the combining of their system through an AV receiver - routing both audio and video - was simply the most amazing aspect of this system for Tim and his family. Sound quality was cool, but I could tell that convenience was the dominating wonder-maker today. That's cool. I needed to come back for the Aperion Audio review. That's when I figured I'd rock the house out and let them know just how good a truly discrete surround sound system with subwoofer can be.
Confused about what AV Gear to buy or how to set it up? Join our Exclusive Audioholics E-Book Membership Program!