2009 Home of the Year is all Hollywood
2009 Home of the Year is all Hollywood
by
Arlen Schweiger
—
June 02, 2009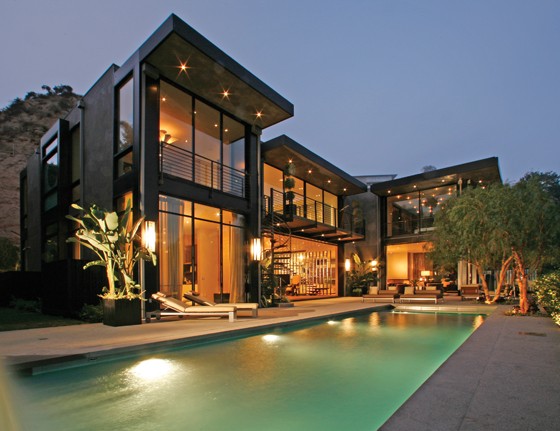 Photo by Glenn Campbell
Electronic House's 2009 Home of the Year sits among the Hollywood Hills, where the stars shine as brightly inside the homes as they do in the night sky. We're familiar with some of the A-list technologies here—CinemaScope theater, 7.1-channel surround-sound, intricate TV concealment, extensive automation—but we don't often see them shine together in such a spectacular location, with equally stunning results. This home can't settle for anything less than red-carpet treatment.
The residence was designed and built by Temple Home, whose co-owner, Xorin Balbes, has earned recognition for his restoration of famous Los Angeles-area homes. Balbes and architect Paul Ashley brought the vision, and left the audio-visual pyrotechnics to DSI Entertainment Systems.
"They developed it as the ultimate bachelor pad, and part of their thing was that they wanted all of the technology that a young Hollywood actor or director might want," says systems developer and DSI co-founder Eric Thies. "Obviously, there were a lot of potential buyers here that fit that category, so for a 7,000-square-foot house they wanted a lot of technology crammed into it."
As it turned out, this ultramodern beauty didn't become the real-life set for Entourage types, but the nest of a young couple about to start a family. They might not have celluloid cred in Tinseltown, but they have some very cool toys at their disposal.
Three areas are filled by surround sound, including a rattling 7.1-channel JBL Synthesis system in the theater and an understated 7.1 Sonance architectural speaker layout in the family room. We'll cut DSI some slack for only installing 5.1 channels of surround sound in the master bedroom—though the room features not one, but two televisions. There's even a separate video game room that features a triple-screen auto racing simulator and a flat-panel TV that taps into a local PC for gaming fun.
The theater presents movies on a 125-inch Stewart Filmscreen in the superwide CinemaScope format (2.35:1 aspect ratio), accompanied by a Runco projector and CineWide anamorphic lens that fills the screen without black bars. Combined with the JBL system, which includes Synthesis processing, amplification and equalization, the theater rates with the finest of Hollywood screening rooms.
Says Thies: "We wanted a true cinema system, asking what a young actor would put in a screening room. The 2.35 screen was a no-brainer, and 80 percent of commercial cinemas are JBL Pro. The Synthesis system is basically a home version of it, so no one's going to walk in to this theater and think we're cutting corners."
Read the Full Article at ElectronicHouse.com
View the Slideshow
Confused about what AV Gear to buy or how to set it up? Join our Exclusive Audioholics E-Book Membership Program!