SVS Raises Bar Prime Wireless Pro Powered Speakers & SoundBase Amp!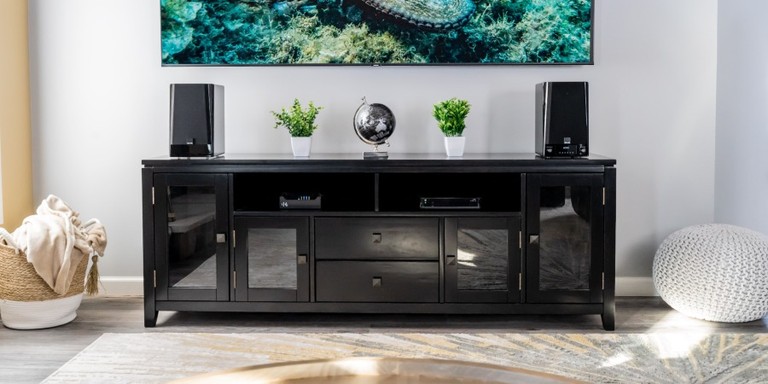 SVS Prime Wireless Pro
Summary
SVS Prime Wireless Pro Powered Speaker Pair
Drivers: 1" Aluminum Dome Tweeter, 5.25" Polypropylene Mid-bass Driver

Frequency Response: 42Hz – 25kHz (±3 dB)

Amplification: 200 watt (50 watt x 4) RMS Power

Digital controlled tweeter-to-woofer crossover: 2kHz (12dB/octave slope)

Dimensions: 11.61" (H) X 7.09" (W) X 8.96" (D)

Weight: approximately 12 lbs each
SVS Prime Wireless Pro SoundBase Integrated Amp
Power Amp: 300 watts RMS (150 watts x 2 into 4ohm) Class-D
Rated Bandwidth: 10Hz-20kHz (±1 dB)
SN Ratio: 90dB @1V input, 2 x 150W output
Dimensions: 3.23" (H) X 9.10" (W) X 8.81" (D)
Executive Overview
A few months ago, my friend Judy called me in distress. She had just moved into a new apartment and discovered that her soundbar had been completely broken during the move. She was stuck using her TV's built-in speakers, which muffled dialogue and distorted noticeably anytime they tried to reproduce any sound with low-frequency information. She was also using an Apple TV to stream music from her phone to her TV. Unsurprisingly, it sounded awful. She wanted to replace her $900 soundbar, but moving ain't cheap, and she only had about $450 to spend. There are certainly some decent soundbars in that price range, including the Sonos Beam, the Polk Audio Signa S4, and the Denon DHT-S517. But just as I was starting to make a list of soundbars to check out, she mentioned that she spends more time listening to music than watching movies and TV. She said she'd love to have a "real stereo" like the one her parents have, but she assumed she couldn't afford something like that. Anyway, she didn't have tons of room in her small Oakland apartment, and she did need something to improve her TV sound, too. I suggested that she consider a pair of powered speakers with a built-in DAC. She could send a digital signal from her TV via an optical Toslink cable, and continue using the Apple TV — connected to her television via HDMI — for streaming all of her music and video content. And I knew just the speakers to recommend. At the time, SVS had deeply discounted its original Prime Wireless speakers from $600 to $400, making them affordable for Judy. She snatched them up and later told me that music sounds "immeasurably better" on them than on her old soundbar. While the SVS speakers couldn't do Dolby Atmos, they still provided the upgrade she needed for TV sound. At that price, the Prime Wireless speakers wouldn't last long, and they seem to be unavailable now. But that's because SVS was making room for the new Prime Wireless Pro Powered Speakers ($899.99/pair), which were first announced back in January at CES 2022. Since then, prototypes of these new-and-improved speakers have made appearances at other trade shows including AXPONA, Munich High-End, and most recently, the Audio Advice Live show in Raleigh. It was there that Chief Audioholic Gene DellaSala had a chance to hear them, and he came away very impressed. Now the Prime Wireless Pro speakers are finally ready for prime time, along with the Prime Wireless Pro SoundBase ($699.99), an integrated amp that provides the same streaming connectivity as the Prime Wireless Pro Powered Speakers, but for folks who would rather bring their own speakers to the party.
SVS Prime Wireless Pro Speakers & Streaming Soundbase Amplifier Overview
SVS Prime Wireless Pro Powered Speakers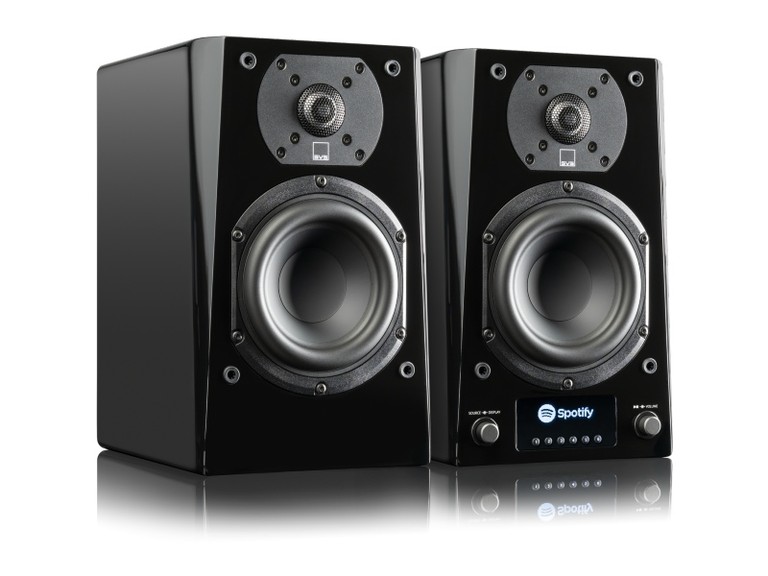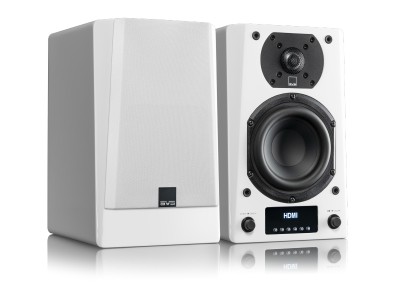 The Prime Wireless Pro Powered Speakers aren't just an updated version of the originals that Judy has been enjoying. While the first-gen Prime Wireless speakers used a 4.5-inch mid-woofer, the new Pro speakers use 5.25-inch Polypropylene mid-woofer cone capable of deeper extension and greater output. In order to accommodate the larger driver and optimize its performance, a larger, heavily-braced, FEA-optimized cabinet was required. So it's an all-new physical design. The primary powered speaker contains a robust 200-watt (50 watts x 4) amplifier, allowing for discrete bi-amplification. The secondary speaker is passive and connected via an included cable. With each of the mid-woofers and 1-inch aluminum dome tweeters receiving 50 watts of juice, the speakers are capable of "massive dynamic output without a trace of distortion, and a much bigger (sound)… than the cabinet size would suggest," according to SVS. The FEA-optimized diffuser over the tweeter was designed to deliver broad dispersion for a wide and convincing soundstage. Driver integration is handled by a precisely-tuned active digital crossover, which reportedly "maximizes (the) performance of each driver by controlling power delivery and frequency response with pinpoint precision." A sophisticated 24-bit/192kHz DAC and the speakers' built-in processing capabilities ensure that all streaming services deliver the highest-resolution playback that they're capable of, and SVS says that its team of engineers "painstakingly voiced the speakers to achieve near-flawless sound in any system or environment."
In addition to improvements in sound quality over its predecessors, there are big updates to the Prime Wireless Pro's suite of connectivity. Apple Airplay 2, Chromecast, AptX/AAC bluetooth, and Spotify Connect are all supported, along with the DTS Play-Fi app, which supports high-res playback from Amazon Music, Qobuz, Tidal, and others. Play-Fi also lets users distribute audio across the home to as many as 32 different Play-Fi products in 16 zones. Looking at the back of the primary speaker, the most significant new feature is an HDMI input with ARC/eARC, making the Prime Wireless Pro speakers a more capable soundbar replacement. It still has an optical Toslink input, along with analog line-level inputs, a 3.5mm AUX input, and an ethernet jack for folks with unreliable wifi. Unlike the first-gen Prime Wireless speakers, the larger Pro version promises to pump out enough deep bass to make adding a subwoofer truly optional, but the subwoofer output will surely be appreciated by bass-heads. (When a subwoofer is connected, an 80Hz high-pass filter is automatically activated in the speakers.) Most folks will probably control the speakers with their phones or via the front panel display on the primary speaker, but an infrared remote control is also included, and those of you who prefer to go hands-free can control the speakers with Siri, Alexa, and "Hey Google" voice commands via supported devices.
We weren't content with making the best sounding wireless speaker, but rather a solution that competes with the finest sounding speakers available at any price. Couple that with the amazing user interface and versatile connectivity options and Prime Wireless Pro appeals to both seasoned audiophiles and anyone just starting their Hi-Fi or home theater journey. High-Resolution streaming has elevated the importance of sound quality to more people than ever, yet the wireless smart speaker category is still dominated by products that can't deliver on the potential. SVS Prime Wireless Pro marries the convenience and simplicity of smart wireless speakers with breathtaking sound quality. Audio fans can finally have the best of both worlds.
— SVS President Gary Yacoubian
Prime Wireless Pro SoundBase
SVS calls the Prime Wireless Pro SoundBase "a reimagining of the stereo integrated amplifier for the streaming age." In a nutshell, the new Prime Wireless Pro SoundBase provides the same user experience as the Prime Wireless Pro powered speakers but with the loudspeakers of your choice. You could max out an all-SVS system by pairing the Pro SoundBase with the brand's own Ultra speakers and monster subwoofers, but you could just as easily use speakers from Elac, KEF, Klipsch, or PSB. Like the Pro powered speakers described above, this is a second-generation product, featuring the same HDMI eARC input, 24-bit/192kHz DAC, and extensive high-resolution wireless streaming options via DTS Play-Fi. Combine that with 300 Watts RMS of Class D amplification (150 watts x 2 into 4Ω) and you're ready to rock. Naturally, a subwoofer output is included as well. SVS says that the Prime Wireless Pro SoundBase is powerful enough to anchor a 2-channel stereo or home theater system, but also compact enough to be used in a desktop system. Like the Pro speakers, the Pro amp has a front panel OLED that can display source, artist name, song title, and volume settings.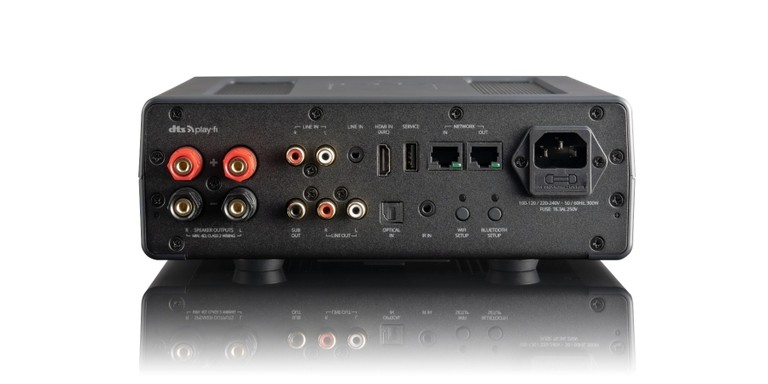 Users are hungry for a way to bring (the high-resolution streaming) experience to existing speakers. SVS Prime Wireless Pro SoundBase fully delivers on the potential of high-res streaming while bringing speakers into the connected era with immersive, reference-quality sound. Add the versatile connectivity and control options and it's a future-facing smart wireless integrated amplifier without compare.
— Gary Yacoubian
SVS Raises the Bar With New Wireless Pro & Soundbase Amp
Despite being brand new, the Prime Wireless Pro speakers have already been named the Best Value Wireless Loudspeakers 2022-2023 by EISA (Expert Imagine and Sound Association). The speakers also received an enthusiastic review from one of my favorite audio reviewers on YouTube, John Darko. That review can be seen here. Both the Prime Wireless Pro Powered Speakers and the Prime Wireless Pro SoundBase come with an unconditional 2-Year warranty.
It looks like SVS has seriously upped their wireless game with these new products with higher performance and connectivity options. These are some serious contenders for getting audiophile grade sound to your desktop or to enhance your TV sound when a soundbar just won't cut it for music.
For more information, visit SVS Sound.

Unless otherwise indicated, this is a preview article for the featured product. A formal review may or may not follow in the future.
Confused about what AV Gear to buy or how to set it up? Join our Exclusive Audioholics E-Book Membership Program!