Airmotiv 3b Speakers: Listening Tests
Airmotiv 3b Speakers: Listening Tests
I lived with the Airmotiv 3bs for a couple of months as part of my every day audio ritual and used them in a variety of different contexts from music to movie programming to video conferencing.  For their size, the Airmotiv 3bs played bigger, louder, and cleaner than most comparable speakers in their size and price range.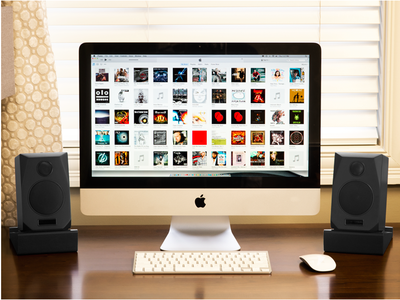 The Airmotiv 3b speakers take up very little room on a desktop
Let me dwell on the word "loud" for a second.  These little guys were able to play very loud—ear deafeningly so—and could fill a small to medium room with ease.  If you go past my aforementioned calibration steps and simply jack up the volume on the speakers and your source, you can do some serious damage to your hearing.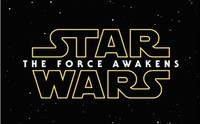 I did, in fact, jack up the volume just for kicks and played the Star Wars: The Force Awakens Trailer #3. At the 31 second mark of the trailer, there was so much air coming out of the front port that it physically blew small Lego pieces I had in front of the speaker about 3 inches across my desk.  You have been warned: With great amplifier power comes great responsibility. 
The Emotivas could deliver a physical punch if the material offered it. Playing The Smashing Pumpkins alternate cut of "The Beginning is the End is the Beginning" from Rarities and B-Sides demonstrated how the Airmotivs could convey the overall weight of this song.
Stereo imaging was exceptional.  Mass in C Minor by the Academy of St. Martin in the Fields from the Amadeus Soundtrack was beautifully rendered by the Emotivas.  There was a clear, textured soundstage with vocals centrally placed.  
Hans Zimmer's haunting score from Gladiator came through with very good timbral balance and dynamics.  Playing Gladiator via Netflix showed that the Emotivas could very well satisfy a computer-confined, space-cramped home theater junkie.  The Airmotiv 3bs combined all the aforementioned elements and laid out a coherent theatrical soundstage.  
Simple things like horse hoofs danced left to right seamlessly and with oomph.  The Emotivas also did a very good job with dialogue, rendering it intelligibly.  Scene after scene, I noted a good overall ability to render fine details.  Complex scenes, however, such as the chariot match depicting the Battle of Carthage in the Colosseum sounded good too; but many of the audible nuances that more expensive speakers would extract from that scene were blended together and less detailed. 
Turning up the volume on X-Men: Age of Apocalypse trailer conveyed life and dynamics through the Airmotiv 3bs without much strain.  The benefits of the-ported design were evident in action-packed material like that. When called to do so, the speakers delivered some really good you-can-feel-it punch. 
The Emotivas did not have a completely neutral midrange or transparent top end.  Let's face it, what inexpensive speaker does? Horns and cymbals were the largest casualties in this regard.  To my ears, the Emotivas tended to lean towards warmer side of neutral. That's OK.  Given the tradeoffs Emotiva's engineering needed to make in order to shrink the speaker down to this footprint, I felt this voicing served the Emotiva's overall sonic presentation and character well.  
While Emotiva did a wonderful job in battling the laws of physics, one ultimately cannot be a total law-breaker.  The Emotivas certainly won't play deep bass notes.  There is no option for connecting an external subwoofer to compensate for this.  Having such an option would have been a really nice feature, but truth be told this wasn't a deal breaker.  If you're considering these Emotivas instead of a set of their larger monitors then desktop real estate is likely your larger priority.
Confused about what AV Gear to buy or how to set it up? Join our Exclusive Audioholics E-Book Membership Program!
See also:
Recent Forum Posts:
Reyfox posts on March 19, 2016 10:41
These do sound like what I might be looking for. Something that doesn't take up a lot of desk real estate.
Curious as to what a comparison would be between these and say Audioengine's a2+ desktop speakers. Personally, I have zero interest in blue tooth connectivity.
Cos posts on March 15, 2016 18:13
I have had the Airmotiv 4 Powered Speakers for a while when I picked them up at one of their roadshows and could not be happier. They sound great, I like their ribbon tweeter, they play loud if needed and are built like a tank.

Unfortunately they do suffer some of the same problems as their bluetooth counterpart
1. No way to add a subwoofer
2. Bass response, while great for a speaker it's size, will not get the extreme lows

Overall they offer an excellent $ for Sound Quality Ratio
gene posts on March 15, 2016 16:19
Desktop audio is generally a letdown. But leave it to Emotiva to come up with a desktop speaker that defies conventional wisdom. Emotiva's AirMotiv 3b is two way, front-ported speaker that is great-souding, chest-thumping, and takes up minimal real-estate while also being kind on your wallet. What more could you ask for? How about both wired and Bluetooth wireless connectivity, a 60 watt stereo amplifier, aptX codec support, and 32-bit DSP.




Read: Emotiva AirMotiv 3b Bluetooth Speaker Review to see why this small-sized wireless powerhouse left us impressed.
Post Reply