Ruark Audio MR1 Bluetooth Speakers Review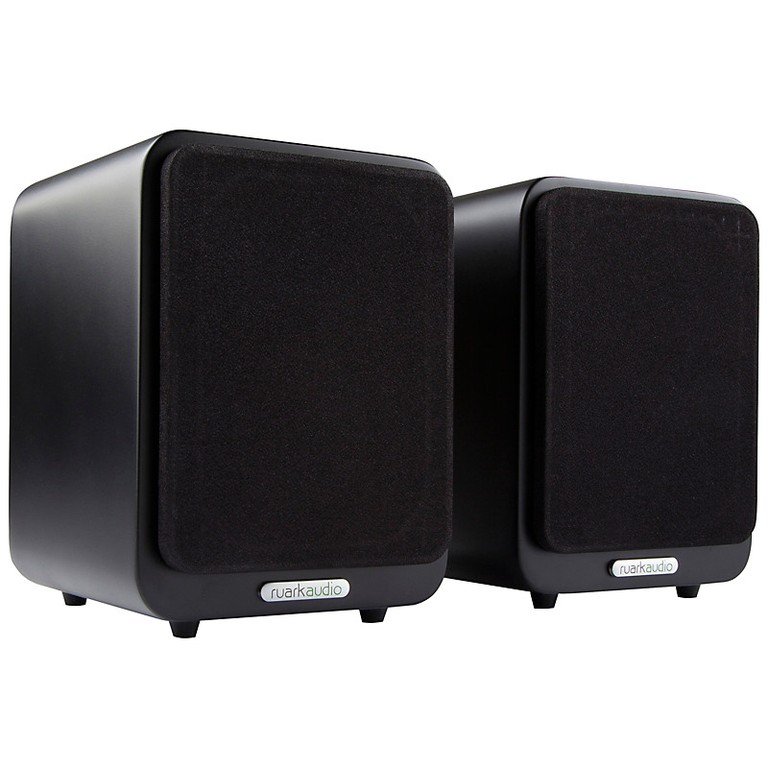 Summary
Remote control.
Subwoofer output.
Auto Standby function.
Multi-color status LED.
Compact remote control included..
Wireless audio streaming from Bluetooth devices.
aptX technology for CD-quality wireless audio.
Compact remote control.
Custom-designed drive units.
Power-saving auto-standby function.
Hand crafted bass reflex tuned and damped enclosures.
Long throw 3" woofer with powerful neodymium magnet system.
3/4" treated textile dome tweeter with neodymium magnet system.
Built in Bluetooth with aptX for CD quality sound with compatible devices.
Linear Class A-B Amplifier, 20 watts nominal output.
Audio grade components throughout.
Line-in audio input with switchable attenuation.
Multi-color LED shows status and function.
Loudness function for improved sound at low levels.
Available finishes: Rich Walnut veneer, Soft White and Soft Black lacquers.
Dimensions: (H) 6.7" × (W)5.1" × (D) 5.3" / each.
Weight: 3 Kg/pair
We live surrounded by a growing wireless market filled with many companies that keep innovating and designing products for our convenience and personal enjoyment. I've been able to see from small speakers to bigger, more complex systems from well respected manufacturers and Ruark Audio is certainly one of them. These speakers have received multiple awards for "Best Desktop Speakers" and although it's been almost two years since this company introduced their famous MR1 Bluetooth Speakers and they are still receiving good feedback from customers all over the globe and I thought they deserved to be mentioned.
We decided to get in a set ourselves for review and were quite surprised at the level of performance they were able to achieve from such a small package.  Check out our YouTube Video review below for a full report of our listening tests.
 Ruark Audio MR1 Bluetooth Speakers Review

Design Overview
We really like the handcrafted wood enclosures from these elegant little speakers. Their finishes in "rich walnut", "soft white", and "soft black" should be easily integrated into most home designs.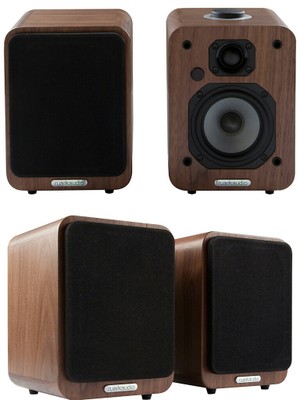 These speakers feature a control system which is easy to use. Just short press the volume control to turn the MR1 on and off and a long press changes the audio input between line-in and Bluetooth. A multi-color LED indicates the selected input, its status, when maximum volume has been reached (steady blinking), and stand-by mode (intermittent blinking).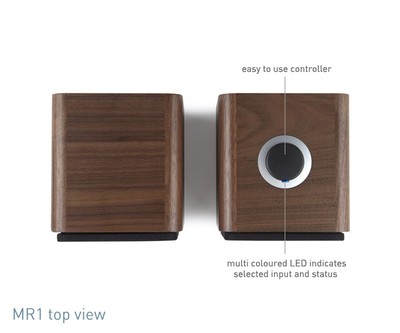 On the rear panel you will find outputs for the left hand speaker and a subwoofer. Yes, you can also add/connect an active subwoofer if you want to add low end punch. You can also pair these MR1's with a quality turntable for a retro way to play your best vinyl.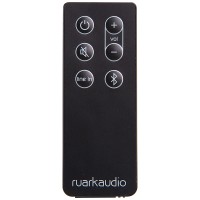 The MR1 features aptX audio coding technology that partners with Bluetooth so compatible devices can stream to MR1 with enhanced audio quality almost as good as a wired connection. We've tested this technology on the Fluance Fi50 bluetooth speaker and  RBH EP-SB wireless headphones and the sound quality was phenomenal.
As for amplification, a linear Class A-B stereo amplifier with a high capacity power supply has been incorporated to take care of both 3" mid/bass range drivers and both 3/4" tweeters, each featuring their own neodymium magnet system which is expensive compared to conventional ferrite systems and allows a substantially stronger motor structure from a compact design. An auto-standby mode will automatically enter sleep mode when no signal has been detected after a period of time - a particularly useful feature when using with TV's. They will also activate when the TV is turned on. Pretty convenient, isn't it?
A simple remote control enables all MR1 functions to be set and operated from the comfort of a chair or bed.
Note: An optional battery pack is also available. This way you can take the MR1's outside or where a power outlet isn't accessible. Take a look at the battery pack on the following picture.
Conclusion
So whether you're streaming audio from your phone or tablet, playing video games from your gaming system, or watching a video on your computer, these little speakers have the versatility you might need in your home (or with the separate battery pack - out of your home).  With a price tag under $500/pair they are a bit spendy but we are still pretty impressed with the Ruark's offering here.  Although they won't fill a room with party level sound (and we don't expect them to from their size) we were completely floored by the sound quality they offered from such a compact size.  They played loud and clean and most importantly sounded great doing so.  If you want to extend the bandwidth of these speakers, they have a subwoofer output to give you more bass and best of all, you can buy the separate battery pack to take this great sound with you on the go. 
Ruark Audio gives you a 30 day trial so if for any reason these speakers don't meet your needs, you can send them back without getting charged a restocking fee.
The only question  remains is how would you use these speakers?  Let us know in the dedicated forum thread.
Review Supplemental

By. Tica DellaSala (9 year old junior Audioholic) on 12/11/2016

I have these Bluetooth speakers in my room from Ruark Audio, model MR1. They are 2-way design which means they have a 3" woofer for bass and a .75" tweeter for high sounds. You can stream music from them on any device to them from your music or video apps. Sometimes I use them to play games when I'm not using them for music. They are 17 cm tall (7 inches) and about 13 cm wide (about 6 inches) and sit easily on a bookshelf.

The sound of the Ruark MR1 speakers is extraordinary especially since I was using my iPad mini for the source of music. For instance if you were listening to your favorite artist's concert and connected (to connect press a button at the top of the speaker and let it connect to your device) the speakers to your device, it would sound like you were actually there at the concert. For instance, when I was listening to music like Porcupine Tree – What Happens Now it was all clear and I felt like I was in the audience. Most of the other reviews online gave these amazing speakers a rating of 4.5 stars to all five stars. These speakers cost $500/pair and and also come with a remote. You can literally hear the sound all over the house at max level or even below that.

On a scale of one to ten with ten being amazing like going to your favorite place and one being like going to a funeral, I would give the Ruark MR1 speakers a 9. I would because at first it may be a little hard to connect depending on your device, but once you do it's worth it. While $500 a pair is spendy for a product like this, I do feel they are worth checking out if you've got the coin.


Unless otherwise indicated, this is a preview article for the featured product. A formal review may or may not follow in the future.