Bluesound's Latest Products Skip Atmos, Aim For Stereo Greatness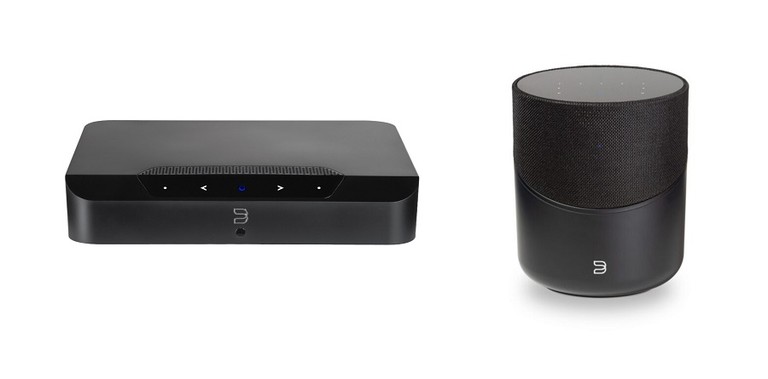 Bluesound Pulse M & Powernode Edge Amp
Summary
Executive Overview
Sonos and Apple have both recently launched new wireless smart speakers with support for spatial audio with Dolby Atmos. So far, we haven't seen anything comparable from Bluesound, the audiophile-favorite Sonos competitor owned by Lenbrook International, the Canadian parent company to NAD and PSB. Bluesound's Pulse Soundbar+ (currently on sale for $799) does Atmos, but the company's other products have made their mark by sticking to feature sets that appeal to typical audiophiles — things like support for 24-bit high-res audio, Roon Ready certification, and the ability to use existing speakers and/or electronics within a wireless streaming multi-room ecosystem. By combining audio DNA borrowed from sister company NAD with Bluesound's own robust, user-friendly streaming platform, the company has had great success, with its wildly popular Node streamer ($599) and Powernode streaming amplifier ($949) becoming go-to products with very little real competition at their price points. The Node turns any older stereo (or pair of powered speakers) into a fully-featured streaming audio system. The Powernode is a compact, 80-watt, just-add-speakers solution that lets audiophiles use whatever passive loudspeakers they prefer in a simple, all-in-one setup. Both the Node and Powernode offer digital and analog inputs, bass management capabilities, access to pretty much every streaming audio source in existence, and a surprising level of audio quality for the money. Now Bluesound has added two more products to its ever-expanding line of wireless, multi-room streaming audio gadgets. The Powernode Edge ($649) is a smaller, less powerful streaming amp for those with small spaces, sensitive speakers, and/or lower budgets. The new Pulse M Speaker ($449 each) offers a bit of the spatial audio experience — albeit without actual Dolby Atmos support — thanks to its unique "Omni-Hybrid" acoustical design. Let's look at the Pulse M first.
Bluesound Pulse M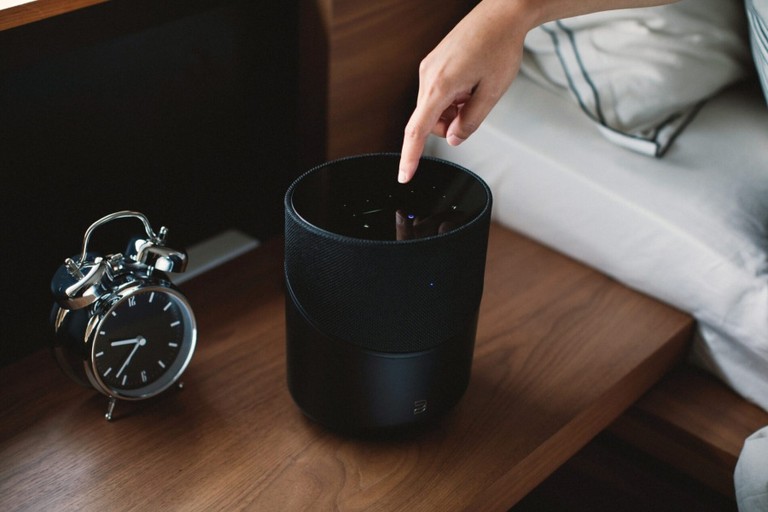 The Pulse M is the first of what I expect will be a whole new generation of Bluesound speakers. Unlike any previous Pulse speaker, the Pulse M features what Bluesound calls an Omni-Hybrid design, comprising an angled, up-firing 5.25-inch woofer and a pair of ¾-inch tweeters mounted and offset at 45 degrees from each other. The woofer fires up into a custom acoustic reflector designed to diffuse "unwanted sonic artifacts" while creating a 360-degree soundstage by "directing the driver's higher frequencies out and away from the speaker," according to Bluesound. The speaker employs a "DSP smart amplifier" with a "meticulously engineered power supply," serving up 80 watts of system power. Bluesound says the driver assembly and amplifier work together via "real-time monitoring and control of frequency bandwidth, dynamic range, and distortion." The result is said to be "clear and lush audio from nearly any listening angle." The Pulse M's Omni-Hybrid driver architecture necessitates the use of an unusual cabinet with an elliptical shape and a acoustically transparent fabric grille that wraps all the way around the speaker's circumference. It's a clean and decidedly modern-looking design in both the satin black and satin white finishes. The proportions are elegant, and thanks the speaker's tiny size, it will likely go unnoticed on a bookshelf, kitchen counter, or bedside table. The Pulse M measures 8 inches tall by 6 ¾ inches wide by 5 ⅞ inches deep. The optional WM230 wall mount accessory ($89 each) and FS230 adjustable floor stands ($159 each) provide additional placement flexibility.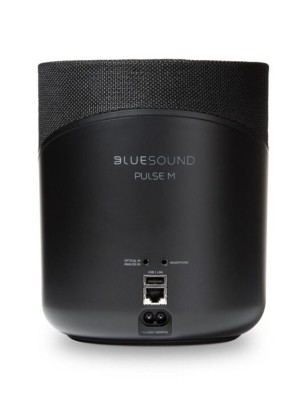 Like all Bluesound speakers, the Pulse M takes advantage of the company's superb BluOS Controller app, which is available for iOS, Android, Kindle Fire, Windows, and Mac, and which offers built-in access to more than 20 natively-integrated music services, plus thousands of internet radio stations. The top of the speaker has a proximity-sensing touch panel display offering quick-access controls for playback, volume, and 5 programmable presets. The speaker can also be controlled via voice control assistants Amazon Alexa, Google Assistant, and Siri, but those concerned about privacy should note that the Pulse M does not have any microphones of its own. Instead, the user can connect the Pulse M to the corresponding app and use a smartphone or other control device, such as an Amazon Echo, to deliver voice commands to the speaker via the network. Through simple commands, users can choose a specific track from a personal library, play a playlist from a streaming service, pause or skip a song, or say which room(s) they want to listen in. Music can also be played via a network-connected control device, or from a device connected via aptX HD Bluetooth or Apple AirPlay 2. Each speaker also features Ethernet and USB-A ports, plus a 3.5mm dual analog/digital input and a 3.5mm headphone jack. Drivers for popular home control systems are available as well.
Naturally, a pair of Pulse M speakers can be used as a stereo pair, delivering what Bluesound describes as "a true two-channel listening experience with an ultra-wide soundstage, even at off-axis listening angles." A pair of Pulse M speakers can also be used for surround-channel duty in a Bluesound home theater group — two Pulse Ms joined with a Pulse Soundbar+ or a Powernode (along with an optional subwoofer) for a simple, wireless home theater experience.
Bluesound Powernode Edge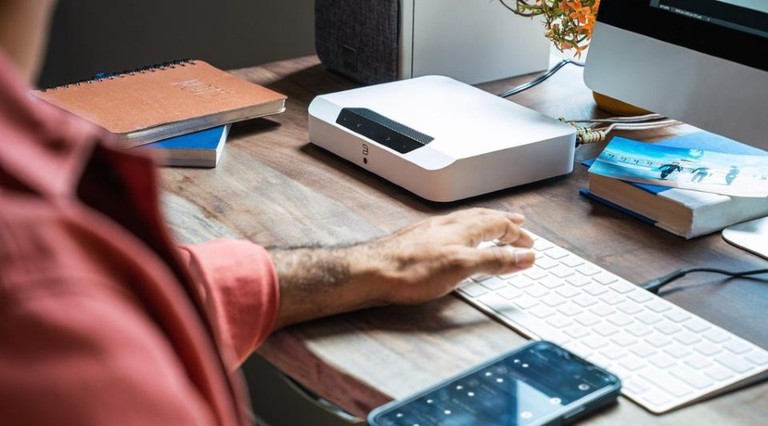 Speaking of the Powernode, let's take a look at the new Powernode Edge, which Bluesound calls "the perfect entry point into 'just add speakers' HiFi for the modern age, combining streaming sources, control, and amplification all in one sleek, yet affordable, device." Like the larger Powernode, the Powernode Edge crams an incredible amount of functionality into a chassis small enough to sit on a desktop or console table without attracting any attention to itself. The Powernode Edge measures just 8.6 inches wide by 1.75 inches tall by 7.6 inches deep, but despite its tiny footprint, the amp delivers 40 watts per channel of "audiophile-grade amplification" capable of driving 4-ohm speakers without breaking a sweat, according to Bluesound. Like all Bluesound products, it handles 24-bit audio with native sampling rates up to 192 kHz. MQA support is present and correct for Tidal subscribers (though the future of MQA is looking uncertain at best as of the spring of 2023). One of the best features of the Powernode Edge (along with the original Powernode, and the Node streamer) is its bass management capability. The unit can high-pass the main speakers and low-pass to the sub output, and all of the settings are handled inside the BluOS control app. This makes it really easy to add a subwoofer, whether it's Bluesound's own wireless Pulse Sub+ ($749), or any wired subwoofer of your choice. The Powernode Edge's 40 watts can go a lot farther if the amp isn't being asked to reproduce low bass in the main speakers, and high-passing the main speakers can result in greater dynamic output from the system overall.

Bluesound says that the 40-watt-per-channel DirectDigital amplifier in the Powernode Edge is conservatively-rated, which doesn't surprise me given sister-company NAD's track record of offering honest, real-world power ratings. A budget-conscious audiophile could pair the Powernode Edge with something like the CG23M 2.1 Stereo System from RSL Speakers. For $709, this package includes a pair of RSL's CG23M speakers and the company's award-winning Speedwoofer 10S MKII subwoofer, shipped to your door for free. Add the Powernode Edge for $649 and some speaker cables from Blue Jeans Cable, and you have a complete, easy to use 2.1-channel streaming audio system that will absolutely kick ass for a grand total of $1400. This system would take up very little space, making it a perfect option for a bedroom or office, but it should offer plenty of output for a typical living room space as well. You can add a CD transport or even a (phono pre-amped) turntable via the dual analog/digital input on the Powernode Edge's back panel, but I expect most users will stick to streaming via the built-in support for Spotify Connect, Tidal Connect, Roon, and so on.
While many users will use the Powernode Edge as the centerpiece of a compact stereo system as described above, it's also a perfect soundbar replacement, thanks to the HDMI eARC input. It can even decode Dolby Digital content (no Atmos, though). Alternatively, it can be used to power the surround channels within the context of an all-Bluesound wireless home theater setup. This application would be the perfect time to use the included multi-orientation wall bracket, which allows the Powernode Edge to be mounted to the wall behind a sofa, for example. Professional smart home installers can mount a bunch of them on the wall of a crowded AV closet, or take advantage of the Powernode Edge's 1U rack height and half-rack width. They can even be stacked on top of each other, according to Bluesound. For professional installers, full-feature drivers are available for Lutron, Crestron, RTI, Elan, and other popular control systems.
Conclusion
As I mentioned at the start, Sonos, Apple, and other mainstream smart speaker manufacturers are leaning heavily into Dolby Atmos and spatial audio in 2023. While I enjoy Dolby Atmos — especially real-deal Dolby Atmos home theater delivered by an elaborate layout of speakers — I can understand why Bluesound has focused on other functionality in a product like the Powernode Edge. I do wonder whether a smart wireless speaker like the Pulse M will prove competitive without support for the buzz word that is spatial audio, though the speaker's Omni-Hybrid design might accomplish something similar with ordinary stereo content. The Omni-Hybrid design certainly suggests that Bluesound may be headed in the direction of Dolby Atmos with future smart speakers, though we'll have to wait and see. Is support for spatial audio with Dolby Atmos a must-have feature in your next smart speaker, or are you more concerned with achieving great performance from two-channel music? Share your thoughts in the related forum thread below.  

Unless otherwise indicated, this is a preview article for the featured product. A formal review may or may not follow in the future.