Marantz NR1501 Build Quality
Marantz NR1501 Build Quality
The receiver is quite attractive. It's not as tiny and "toy-like" as some of those infamous Class-D receivers that were (are?) popular for those looking to save space and heat. In the case of the Marantz NR1501 it really does seem like they truly are saving space without sacrificing too much. The receiver is a full 2-inches shorter than its elder brother, the SR5004, and an inch less in depth to boot. It maintains that nice rounded front edge that puts a lot of other mainstream AV receivers to shame – the products just looks a high end piece worthy of recognition. We popped open the hood of the NR1501 and found a full-size EI power transformer and a large heat sink that really defied our imaginations of what could fit into such a small container. In addition, all of the channels use dual push pull transistors instead of a chip amp (in fact, no current Marantz receivers use chip amps).  Many manufacturers (like Yamaha, for example) are now saving costs by using chip-based amplifiers in their $600 and under receivers. Kudos.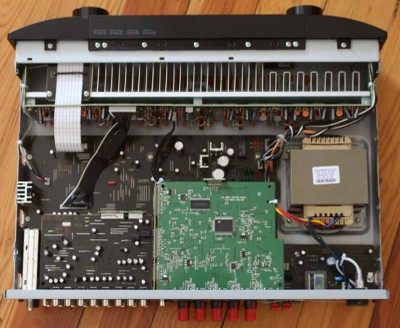 Marantz NR1501 Inside Views
Confused about what AV Gear to buy or how to set it up? Join our Exclusive Audioholics E-Book Membership Program!
Recent Forum Posts:
tkundhi posts on November 25, 2011 21:23
ohio, I've had a NR1501 for 2 years and am extremely happy with it. The shallow depth was my main reason for purchasing it. I needed an A/V receiver to fit into a shallow TV cabinet. I'm driving a set of B&W 601s & CC6 for the fronts and a Velodyne sub. No rears currently. I need to pick a a set of small LM1s for the rear.

On the video side I'm switching Satellite (HDMI), DVD (Component), iPhone (Component) to a Plasma via a single HDMI.

The system is great for the space and price. FYI, $599 will get you a MR1601 now. You can still pickup used NR1501 for a lot less.

t.
ohio posts on September 09, 2011 17:33
Bumping this, as I jynxed myself and now I do need to replace my D402. The subwoofer output no longer works, even after an attempted warranty repair.

I live in a small (450 sq ft) city studio, so I don't need power. Given my space constraints and neighbors, I've given up on big speakers and critical listening - I'm using a JMlab 5.1 mini-speaker system and mostly play straight from the iPod (can't remember the last time I even turned my SACD player on). I basically want another receiver like this JVC - decent HDMI and upconversion capabilities. Simplicity of cabling and operation are key.

When I move to a larger place, I'll get back to my old setup (top shelf receiver, real speakers, and a 110" projector). In the meantime, is there anything on the market that's an improvement on a NOS D402?
ohio posts on March 08, 2010 11:45
I'm surprised that about 2 years after JVC released the RX-D702 and D402 slimline receivers with Faroudja DCDi chips, the big competitors still haven't stepped to the plate with anything of better value. Chips have advanced far too quickly (and prices dropped too drastically) for those two to still be on forefront of video out of a slimline box.

The Marantz sure seems nicer on the audio side, but it doesn't take up any space to put a decent video processor in these chassis. I guess I should be thankful I don't have a good excuse to replace my 402.
anamorphic96 posts on February 15, 2010 15:39
Great review Clint. This was a receiver I was very curious about. I had a feeling it was more powerful than the specs would suggest.

Did you spend any time with the MRAC system. I'm a little curious as to how accurate it is and how the EQ portion performed.
Post Reply