Marantz MODEL 50 Integrated Amplifier & CD 50n Streaming HDMI CD Player!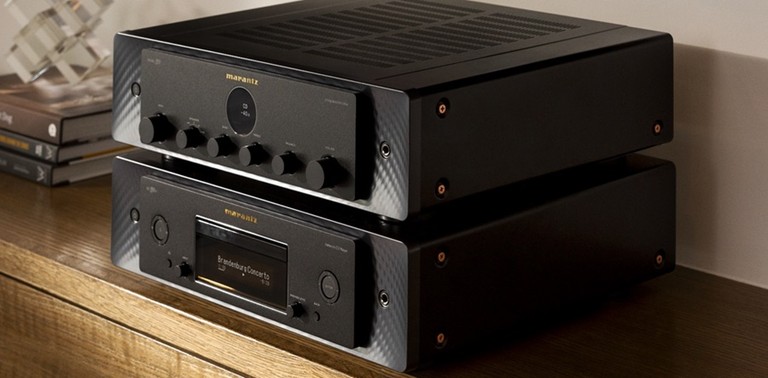 Marantz MODEL 50 Integrated Amp
Summary
NEW Marantz Model 50 Integrated Amp & CD50n CD Player/Music Streamer - WARM & Natural Sound!
Marantz CD 50n Network CD Player
32-bit ESS Sabre DAC
High-resolution support via USB up to PCM 384 kHz/32 bit and DSD 256 (Input dependent
HDMI ARC for enhanced TV audio to enjoy TV shows, movies and games
Digital Pre-Amp for flexible volume control
Access to streaming services such as Spotify, AirPlay 2, Tidal and more, with HEOS built-in
Marantz five-year warranty
Marantz MODEL 50 Integrated Amplifier
70 wpc @ 8ohms (both channels driven)
Large 8lbs torodial transformer and 2x 18,000uF 63V power supply capacitors
4 output devices per channel for low impedance drive

HDAM for optimum performance
Six analog inputs, including a high-quality MM Phono stage
Marantz five-year warranty
The argument between A/V receivers vs individual components is a hotly debated issue among audiophiles. Throw in the decision to go with an integrated amplifier or a separate preamp and processor and you'll see more disagreements than a political debate.
Two channel purists may argue that separates are the way to go. I've heard all the arguments… The soundstage is wider, the sound is clearer, the build quality is better, if you have power hungry speakers you can more easily up the amps, and on, and on. Then again, there is something to be said for the convenience, cost, and space savings of an integrated amplifier. I've heard Gene DellaSala say on numerous occasions that one of his favorite product categories is integrated amplifiers. Integrated amps have a chance to fuse high quality pre-amplification and power amplification into the same chassis with the shortest signal paths possible and perfect gain matching between the stages for low noise and distortion.
Let's say you have $2,500 to spend on your electronics. You can get an exceptional integrated amplifier like Marantz' Model 40n for this price, but what are you going to get if you went the separates route? Each component would likely cost $2,000 or more. 
Audioholics contributing writer Theo Nikolakis reviewed the Marantz Model 40n integrated amplifier and found it to be a "drop dead gorgeous" piece of electronics that promises to provide listeners with wonderfully rich and satisfying sound without the cost and footprint brought about by stacks of complicated equipment. 
Without question, the Marantz MODEL 40n is a gorgeous looking, beautiful sounding, all-in-one showpiece that's designed to serve as a two-channel-focused center of today's connected, modern entertainment and a bridge to traditional analog, digital, and vinyl sources with two-channels front and center.
--Theo Nikolakis
Theo goes on to say of the model 40n that it is the marriage of the sonic purity of a flagship two-channel integrated amplifier with all its simplicity, elegance, performance, and advantages, plus the richness of today's streaming content.
Marantz has now released details on two new products: The Marantz MODEL 50n CD player and Marantz MODEL 50 integrated amplifier. Let's look at the MODEL 50 amp first.
The Marantz MODEL 50 Integrated Amplifier

MSRP: $1,800 | Buy Now

The Marantz MODEL 50 integrated amplifier takes inspiration from the Marantz MODEL 40n.  Like the 40n, the MODEL 50 comes with 70w per channel of high-current Class A/B power.
The MODEL 50's exceptional current delivery stems from its High Current Output architecture based on parallel push/pull pairs of output devices, coupled with a substantial 8lb toroidal power supply and carefully laid out internal signal path topography designed to minimize internal impedance losses.
--Marantz
Marantz Model 50 Top View

This is quite a nice layout for an integrated amplifier of this price class. Note the large torodial power supply is isolated away from the critical analog circuitry for better noise immunity. The generous 18,000uF 63V x 2 capacitor bank ensures stable power delivery. Having 4 output devices per channel ensures the Model 50 will confidently handle low impedance loads better than many multi-ch AV receivers in this price range. In fact, the Model 50 sports power amp input connections should you decide to use it as a dedicated amplifier to power your main front speakers in a home theater installation using an AVR.


The MODEL 50 comes with Marantz's HDAM (Hyper Dynamic Amplifier Module) technology to which Marantz says offers "an outstanding combination of exceptionally low distortion, effortless power and all the accuracy, transparency and musicality that marks Marantz amplifiers out as the some of the most highly regarded designs in the category."
A very high-quality MM Phono stage is included with the amplifier, which should ensure great results when partnered with vinyl sources, but the MODEL 50 can also access a host of additional digital audio sources.
Marantz CD 50n Network CD Player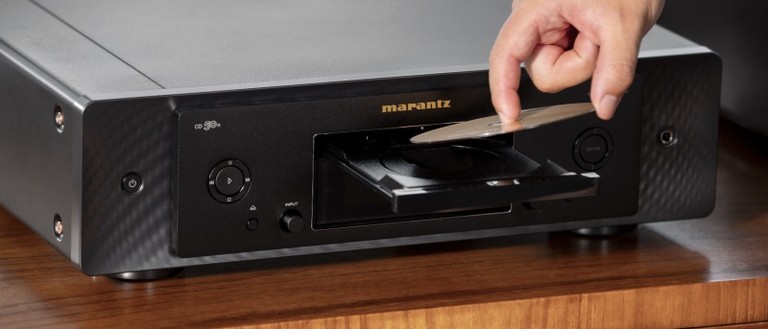 The CD 50n CD Player is designed to partner with the new Marantz MODEL 50 Integrated Amplifier. The resulting combination is what Marantz calls a "harmoniously designed and contemporary hi-fi system blending timeless elegance and outstanding performance with all the flexibility and cutting-edge technology that redefines modern musical luxury at its price point."
The new Marantz CD 50n is both a top-quality compact disc player and a high-resolution networked audio playback source, offering high-quality support for a wide range of digital music sources. It features a new SOTA ESS Sabre 9038Q2M DAC plus custom-designed Marantz Musical Digital Filters, which we have found gives a clear and detailed sound with most forms of digital audio.

The CD 50n CD player comes with multiple digital inputs (toslink and coax, USB A & B) plus network access via Ethernet or Wi-Fi and can also support high-resolution music files sent either directly via digital audio connections or streamed over your home network using its built-in HEOS music streaming platform.
Music streaming from mobile devices is also available via Bluetooth, Spotify Connect and AirPlay2, while home entertainment enthusiasts can even connect their TV audio into the CD 50n via HDMI ARC. Marantz says that the new 50n is "one of the most flexible CD players ever created". Based on its feature set and connectivity options, we'd have to agree. Purists could literally use the 50n CD player as a multi-source preamp via its variable analog outputs. Just connect a 2CH power amp and some speakers and you're good to go. Or, you could use the 50n as a one box solution to manage ALL of your digital sources and just feed one pair of analog connections directly to the Model 50 integrated amplifier.
What we think
 if you're looking to build a high quality two-channel system from an exceptionally versatile analog integrated amplifier and digital music source player that should be perfectly suited to contemporary living and capable of offering fantastic sound quality whatever you want to spin, stream or watch, then the MODEL 50 and CD 50n are right up your alley.
Both CD 50n and MODEL 50 would be ideal upgrades to any existing hi-fi system, but the two components have also been developed to work in perfect harmony with each other: their refined industrial design language reflects Marantz's continued quest for luxurious, premium audio experiences.
--Marantz
Both models feature crystal-clear fascia displays, including the iconic Marantz porthole display on the MODEL 50 amplifier, while the remote control supplied with each component can operate its sibling just as well, which is a huge bonus.
Both components are currently shipping and are available for $1,800 each at Marantz.com and from selected retailers like our channel partner Audio Advice.

Unless otherwise indicated, this is a preview article for the featured product. A formal review may or may not follow in the future.