IQ Audio M300 MonoBlock Power Amplifier Measurements and Analysis
IQ Audio M300 MonoBlock Power Amplifier Measurements and Analysis
All measurements were conducted using our Audio Precision APx585 8 Channel HDMI Audio Analyzer following our rigid Amplifier Measurement Test Protocol.
I did some quick spot-checking on the IQ Audio M300 amplifier gain structure to ensure it could be properly driven with a wide assortment of preamps or receivers.  This was not an issue with the M300's 28dB gain structure (same as THX rated amps).  It only took about 1.4Vrms to drive the M300 to full rated power (150 watts, 8 ohms).  Any receiver preamp out section should work fine with this amplifier.
Signal to Noise Ratio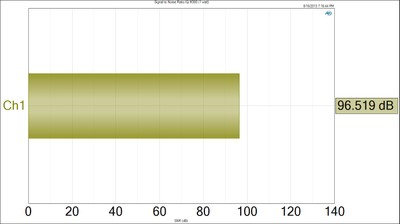 IQ Audio M300 SNR (A-wt) @ 1 watt
I was expecting poor noise measurements on the M300 since it's a Class D amp and I didn't have a pre-condition filter to prevent slew-induced input distortion and noise for my Audio Precision test gear.  I was pleasantly surprised to get excellent SNR results nonetheless.  With 115mV input, I measured 96.5dB at 1 watt A-wt and 85db with no filter.  At 150 watts, the SNR was 118dB A-wt.  That's impressively quiet and seemed to validate the manufacturer rating of 40-50uV. 
Frequency Response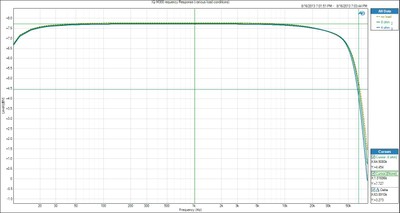 IQ Audio M300 Frequency Response under various load conditions
The ruler flat frequency response (-3dB at 60kHz and -1dB at 10Hz) of the M300 was yet another surprise to me.  We've measured a few Class D amplifiers in the past and they've almost always been optimized for a particular load impedance.  The Axiom Audio A1400-8 Class D amp for example would oscillate unloaded and vary its high frequency response dramatically based on the load it was driving.  This wasn't the case with the M300.  The frequency response did NOT change whether the amp was measured open circuit, or via an 8 ohm and even 4 ohm load. In fact the deviation was measured to be a mere +-0.094dB from no load to load.  Also the response didn't brickwall above 20kHz either.  This was a clear indication that the engineers who designed this amplifier executed the post filter feedback circuit with sheer brilliance. 
Power Measurements
Using our Audio Precision APx585 8-channel HDMI analyzer, I conducted a full barrage of power tests on the IQ Audio M300 amplifier. The M300 was tested on a dedicated 120V / 20A line. 
We tested power using three methods, all of which were taken at < 0.1% THD + N:
Continuous Full Power Bandwidth (CFP-BW) from 20Hz to 20Khz into 8 and 4-ohm loads
1kHz Power Sweep vs Distortion (1kHz PSweep) - popularized by the print magazines, this is an instantaneous power vs. distortion test at 1kHz. The problem with this test is it often masks slew-related and or frequency response problems some amplifiers exhibit at the frequency extremes, and thus inflates the measured power results. It does provide an instant gratification # for consumers to argue over on the forums, so we are now incorporating this test to please the masses.

Dynamic PWR - 1kHz CEA-2006 Burst Method testing. This is a dynamic power measurement adopted from the car industry similar to IHF method, only a bit more difficult for an amplifier and more representative of real musical content.
Keep in mind most review publications don't do continuous power measurements and they usually publish power measurements into clipping at 1% THD + N. Our measurements are very conservative as we use a dedicated 20A line with no Variac to regulate line voltage.  We constantly monitor the line to ensure it never drops more than 2Vrms from nominal which in our case was 120Vrms. 
For more info on amplifier measurements, see:  The All Channels Driven (ACD) Test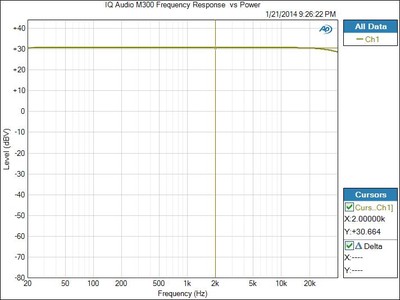 IQ Audio M300 Full Power Bandwidth Continuous Sweep (100 watts, 8 ohms)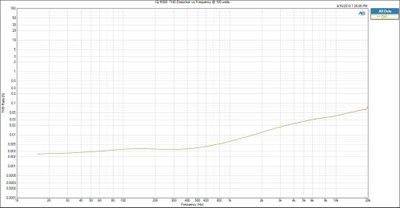 IQ Audio M300 Full Power Bandwidth Distortion Sweep (100 watts, 8 ohms)
 The IQ Audio M300 exhibited excellent bandwidth linearity even at high output levels; in this case 100 watts continuous.  Distortion did rise with frequency but it was still below 0.1% at 20kHz.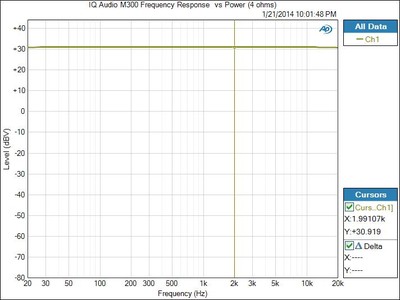 IQ Audio M300 Full Power Bandwidth Continuous Sweep (307 watts, 4 ohms)
The M300 delivered a whopping 307 watts continuously from 20Hz to 20kHz.  Now that is big power from a Mighty Mouse sized amplifier.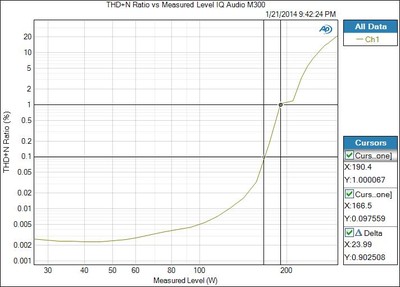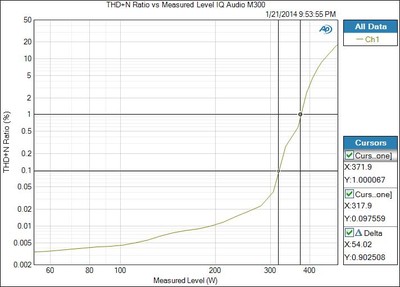 IQ Audio M300 1kHz Power Test
Top Pic: 8 ohm load;  Bottom Pic:  4 ohm load
The M300 produced great results with our 1kHz power sweep test.  Into 8 ohms, I measured 190 watts (1% THD + N) and 166 watts (0.1% THD + N), respectively.  At 4 ohms, I measured a whopping 371 watts (1% THD+N) and 317 watts (0.1% THD+N). 
We used the SMPTE IMD multi-tone distortion tests to see how the M300 amplifier reacts to non-harmonically related signals.  This is important since these artifacts can make music sound harsh or fatiguing.   The test signal consists of a 60Hz and 7kHz test signal summed together at a 4:1 amplitude ratio.  60Hz is an important frequency to show how well the power supply can reject residual noise coming from the AC line.  7kHz represents about the midband point of the human audio range and it's also a region where a lot of harmonic content is present in music.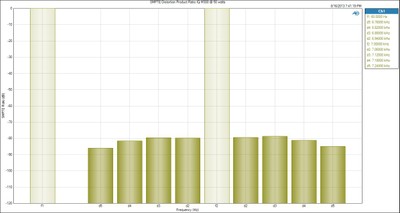 IQ Audio M300 SMPTE IMD Distortion Test; 8 ohms
The harmonic residuals were well below the fundamental indicating good power supply noise immunity.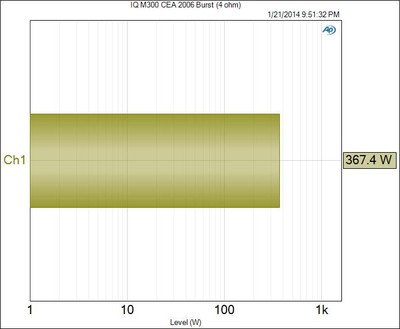 IQ Audio M300 Dynamic Power Test (1kHz); 4 ohm load
The CEA-2006 burst tests simulate musical program material.  The M300 produced some fine results for such a diminutive-sized amplifier.  At 8 ohms, it was able to deliver 195 watts at 1% THD + N.  Into 4 ohms, it belted out 367 watts at 1% THD + N.  
Because the M300 uses a Switch Mode Power Supply (SMPS) power supply instead of a linear supply, it has almost very little headroom at all beyond its continuous power rating.  This is a drawback of such a power supply and may explain why at times I felt the amp lacked dynamics when driving my reference speakers at loud SPL for highly dynamic program material.
| | | | | |
| --- | --- | --- | --- | --- |
| # of CH | Test Type | Power | Load | THD + N |
| 1 | CFP-BW | 150 watts | 8 ohms | 1% |
| 1 | CFP-BW | 307 watts | 4 ohms | 1% |
| 1 | 1kHz Psweep | 190 watts | 8 ohms | 1% |
| 1 | 1kHz Psweep | 166 watts | 8 ohms | 0.1% |
| 1 | 1kHz Psweep | 371 watts | 4 ohms | 1% |
| 1 | 1kHz Psweep | 317 watts | 4 ohms | 0.1% |
| 1 | Dynamic PWR | 195 watts | 8 ohms | 1% |
| 1 | Dynamic PWR | 367 watts | 4 ohms | 1% |
IQ Audio M300 Power Measurement Table


Note about CPF-BW:

I was unable to sweep full bandwidth at rated power below 20Hz as my APx585 produced erroneous results possibly due to limitations caused by the SMPS used in the M300.  When I tried to spot check discrete frequencies (10Hz to 20Hz) at rated power, the M300 went into obvious current limiting.
IQ Audio rates the M300 as follows:
150 watts < 0.02% ; 8 ohm load, 20Hz to 20kHz
300 watts < 0.02% ; 4 ohm load, 20Hz to 20kHz
Based on my measurements, I'd have to say the M300 amplifier is capable of delivering its stated power.  Weighing a meager 7lbs, it certainly offers the most power per pound I've seen in an audio amplifier.
FFT Distortion Analysis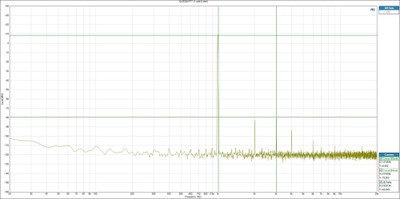 IQ Audio M300 FFT Distortion Analysis; 1 watt, 8 ohms
I ran FFT distortion plot at 1 watt which overall looked fairly clean.  The 3rd order component was dominant, but still almost 90dB below the fundamental.  The M300 didn't look so clean once the power level was driven up but that is to be expected of a Class D design, especially one using an SMPS power supply.   A precondition filter on the test gear is necessary for more accurate measurements in this case.
Confused about what AV Gear to buy or how to set it up? Join our Exclusive Audioholics E-Book Membership Program!
See also:
Recent Forum Posts:
jinjuku posts on March 07, 2014 09:40
Lets create another thread as this one is really about the amplifier reviewed.
cutedaddy posts on March 07, 2014 08:35
More on UcD technology by Bruno Putzeys of Hypex, the Netherlands, with a proprietary solution or two implemented to solve traditional class-D drawbacks:
Hypex Electronics BV - UcD
cutedaddy posts on March 04, 2014 07:04
@jinjuku and @haraldo

Thanks for your replies, i am honored.

Whether Hypex's UcD and NCore modules are overhyped i wouldn't know. That's why i would like to see a Class-D comparative testing article, really putting the measurements in perspective, on a nice comparative spreadsheet. Relevant measurements that is, but we can leave that to Gene, or someone else serious about testing.

As far as i can find, there are no serious (meaning "objective") reviews that doubt the claims Hypex is making about it's own modules, but, on the contrary, several that confirm the stated claims. In other words, Putzeys is NOT overconfident as far as i can judge.

Sure there's more class-D contenders, and sure class-D existed before Putzeys. Carver e.a. are great contributors to audio development. However, the UcD module originally patented by Philips was patented because it was a leap forward. Since, Putzeys has left Philips to join Hypex and has registered a whole number of new patents making even the Philips UcD obsolete by comparison. So yeah, Putzeys is a step ahead IMO.

About Channel Islands Audio: they have a lot to say about Bruno's modules, but the bottom line in my view is: they are USING THESE MODULES for their own products. Why? I'll tell you three good reasons why: 1. The modules are so good; 2. The modules carry a patent CIA would like to own, but they don't; 3. The modules are very competitively priced. So much so, CIA can make a huge profit. Of course they will have to uphold that they do a lot 'in house', or else what would be the justification of their pricing?

To me, Channel Islands Audio are too much involved to give any objective comment on the NCore. If it's nothing at all, why do they use it in the first place? If it's not a bother to do all these 'upgrades' in house, why don't they do their complete amplifier in house, but use Hypex modules instead? They don't have the right to speak AFAIC, i have yet to see ABX-tested any accomplishment completely their own.

The Hypex modules measure unrivaled and do very well in blind listening trials as well. Output impedance (=cone control)? Industry lowest. Completely discreet signal path, no IC's, who else has that? Regulators measure unrivaled as well. Gain structure, I/O buffering, plenty other features no one else handles so well. Please show me wrong, always curious to learn more.
gene posts on February 28, 2014 11:03
haraldo, post: 1014760
Thx Gene for a great review (as always)

You write:
At 4 ohms, I measured a whopping 371 watts (1% THD+N) and 317 watts (1% THD+N).

Do you mean?
At 4 ohms, I measured a whopping 371 watts (1% THD+N) and 317 watts (0.1% THD+N).
Yes, let me fix that. Thanks.
conanb posts on February 28, 2014 02:45
Audioholics should review one of the D-Sonic class D amps.
Post Reply