IQ Audio M300 MonoBlock Power Amplifier Sound Quality
IQ Audio M300 MonoBlock Power Amplifier Sound Quality
Scenario #1: Office Room Desktop Listening
I initially connected up the M300's to my desktop computer system featuring the EMP VT-40.2 Tube Amp / EMP E-41-SE/B bookshelf speaker system.  The E-41-SE/B's are a very special speaker sporting RBH's 4" phase plug beryllium-aluminum cone driver and a hot-rodded Scan-Speak 9500 tweeter I later added after my review. I bypassed the lousy computer soundcard with the Headroom Micro DAC and Headroom Micropreamp to drive the M300's.   
Scenario #2: Audioholics Showcase Theater Room Listening
I connected the M300's to my Marantz PM-11S3 Preamp outputs using the Oppo BDP-105 Blu-ray player and Marantz TT-15S1 turntable as the source devices.  The speakers were a pair of the new Status Acoustics Granite bookshelf system I currently have under review but I also tried them out on my $50k/pair Status Acoustics Titus 8T towers.  Cables were Kimber 8TC with spade terminations.
Listening Tests
Office Room
I honestly wasn't expecting much of a sonic difference driving the little EMP E-41-SE/B speakers with the M300's despite their much higher power rating than the EMP VT-40.2 20wpc tube amp in such a small room in a near-field listening environment, but the difference was significant..  The M300's really brought new life to my little EMP speakers.  These EMP speakers are very revealing but a bit lacking in bass response due to their size.  However, driven with the M300's, the bass they were producing was much snappier and had more weight.  The noise floor also seemed lower allowing me to extract details I previously wasn't able to do with the EMP tube amp.  I did feel the VT40.2 had a bit more warmth in the top end but that didn't mean the M300 was fatiguing by any means.  So far I was just using my paid subscription to Pandora.com for initial sound evaluations but it was time to move on to higher fidelity pastures. 
CD: Pat Metheny – Question & Answer
Track #1 "Solar" showed off the wonderful percussive genius of Roy Haynes.  The snares popped well and cymbals had a nice airy sound.  Metheny's guitar was forward and clear. Track# 3, "H&H," demoed more of the good stuff that I love about this jazz classic.  Bass line was tight and the M300's didn't run out of gas, sounding fully composed at insanely loud listening levels I'd dare not take my reference amp to for this system.  Instruments remained well separated and this song just begged for my full attention.
CD: Kem – Kemistry
I initially discovered the relatively new Soul/R&B singer Kem on my Pandora Michael Franks channel.    
The percussion sounded great in Track #1 "Matter of Time."  The M300 drove my EMP speakers with authority.  The soundstage was deep and expansive and the reverb in Kem's vocals sounded fabulous.  Track #9 "This Place" reminded just how incredibly accurate my desktop EMP speakers are at reproducing vocal timber.  The electric piano provided the accompaniment while Kem's vocals came through with authority and utmost clarity.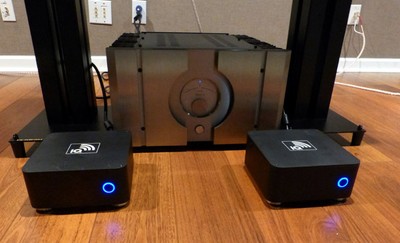 IQ Audio M300's dwarfed in size by the Pass Labs X350.5
I was quite surprised that the M300's connected to my Marantz PM-11S3 preamp were dead quiet.  Usually the Marantz causes a slight hum heard with my ear against the grille of the speaker that even grounding the chassis's together doesn't completely eliminate.  This wasn't the case with the M300.  Instead I "enjoyed the silence."  Check out just how little the M300's are next to the Pass Labs X350.5 two-channel monster amp I recently reviewed.
LP:  Richard Marx
Richard Marx rocks and is very underrated in my opinion.  Side 2 of his first album contained songs rarely (if ever) played on the radio and they were much harder-hitting than his more well-known radio pop songs. Track #5 "Have Mercy" starts out with some great drumming and a catchy hard rock guitar theme.  Richard's voice portrayed the same great clarity I've heard on my own reference amps.  I enjoyed the edgy sound of this song and felt like I was thrust into a live performance with the music enveloping all around me.  Track #6 "Remember Manhattan" is my favorite track on the album mostly because I really dig the bass line.  Bass extended deeper than I expected.  The M300s delivered a soundstage and depth that bellied their diminutive size.  I was nodding my head in disbelief as I cranked the volume up higher and the M300's accommodated me.  If you're not a Richard Marx fan, I can assure you will be after hearing the entire second side of this album.  Check it out!
LP:  Miles Davis: Kind of Blue (180G)
Still a benchmark for vinyl even by today's standards despite being over 50 years old, Kind of Blue is also the best-selling jazz album of all time.  Accompanying Miles are jazz legends such as Bill Evans on piano and John Coltrane on tenor saxophone.  Track #1 "So What" sets the mode for this album, which is just a feel-good laid back experience that is best accompanied by a good glass of red.  Jimmy Cobb's cymbal brushes were delicate and airy while the back and forth between Miles on trumpet and Coltrane on sax was exhilarating.  The M300's did a bang up job pumping the juice to my Status 8T speakers as I turned the volume up to lifelike SPLs.  I did feel the dynamics were somewhat constrained compared to my 1kwatt reference amps but I still couldn't believe these little darlings were handling my power hungry speakers with such grace and delicacy.  Track #2 "Freddie Freeloader" is my favorite song on the whole album.  It just oozes coolness and if you're foot isn't tapping on this tune, someone needs to check your pulse.  Bill Evan tickles the ivories with a surgeon's precision.  I got instant goose bumps when Miles' trumpet kicked in.  The M300's were demonstrating excellent bass control and poise, never sounding harsh or grainy.
SACD/ Blu-ray:  Jienat - Mira
This is my go to disc for testing dynamic capabilities of speakers, and amplifiers.   The multi-channel Mira Blu-ray recording is second to none in this regard but the two-channel SACD is excellent as well.
In Track #4 "DanceHall", you're enveloped in the middle of the room with singers all around you. The percussion was full of life and vibrancy in a way that you rarely ever hear in any recording.  Most playback systems are incapable of reproducing the dynamic range of this album. The M300's did a very good job delivering the power necessary for the Status 8T speaker system to accomplish this goal cleanly, but it lacked the punch and depth of my reference amps.  Still, I was quite surprised by their composure.  I never heard distortion or clipping.  The M300s were producing up to their power limits with such excellent behavior and composure.  Recall that when I tested this very track using the uber pricey and hefty Pass Labs X350.5 amplifier, the bass drivers from my Status 8T speakers were sucking the life out of the power supply on this track.  On smaller speakers such as the Status Granite bookshelf speakers, the 300-watt limit of the M300 mono amplifier wasn't an issue. 
Confused about what AV Gear to buy or how to set it up? Join our Exclusive Audioholics E-Book Membership Program!
See also:
Recent Forum Posts:
jinjuku posts on March 07, 2014 09:40
Lets create another thread as this one is really about the amplifier reviewed.
cutedaddy posts on March 07, 2014 08:35
More on UcD technology by Bruno Putzeys of Hypex, the Netherlands, with a proprietary solution or two implemented to solve traditional class-D drawbacks:
Hypex Electronics BV - UcD
cutedaddy posts on March 04, 2014 07:04
@jinjuku and @haraldo

Thanks for your replies, i am honored.

Whether Hypex's UcD and NCore modules are overhyped i wouldn't know. That's why i would like to see a Class-D comparative testing article, really putting the measurements in perspective, on a nice comparative spreadsheet. Relevant measurements that is, but we can leave that to Gene, or someone else serious about testing.

As far as i can find, there are no serious (meaning "objective") reviews that doubt the claims Hypex is making about it's own modules, but, on the contrary, several that confirm the stated claims. In other words, Putzeys is NOT overconfident as far as i can judge.

Sure there's more class-D contenders, and sure class-D existed before Putzeys. Carver e.a. are great contributors to audio development. However, the UcD module originally patented by Philips was patented because it was a leap forward. Since, Putzeys has left Philips to join Hypex and has registered a whole number of new patents making even the Philips UcD obsolete by comparison. So yeah, Putzeys is a step ahead IMO.

About Channel Islands Audio: they have a lot to say about Bruno's modules, but the bottom line in my view is: they are USING THESE MODULES for their own products. Why? I'll tell you three good reasons why: 1. The modules are so good; 2. The modules carry a patent CIA would like to own, but they don't; 3. The modules are very competitively priced. So much so, CIA can make a huge profit. Of course they will have to uphold that they do a lot 'in house', or else what would be the justification of their pricing?

To me, Channel Islands Audio are too much involved to give any objective comment on the NCore. If it's nothing at all, why do they use it in the first place? If it's not a bother to do all these 'upgrades' in house, why don't they do their complete amplifier in house, but use Hypex modules instead? They don't have the right to speak AFAIC, i have yet to see ABX-tested any accomplishment completely their own.

The Hypex modules measure unrivaled and do very well in blind listening trials as well. Output impedance (=cone control)? Industry lowest. Completely discreet signal path, no IC's, who else has that? Regulators measure unrivaled as well. Gain structure, I/O buffering, plenty other features no one else handles so well. Please show me wrong, always curious to learn more.
gene posts on February 28, 2014 11:03
haraldo, post: 1014760
Thx Gene for a great review (as always)

You write:
At 4 ohms, I measured a whopping 371 watts (1% THD+N) and 317 watts (1% THD+N).

Do you mean?
At 4 ohms, I measured a whopping 371 watts (1% THD+N) and 317 watts (0.1% THD+N).
Yes, let me fix that. Thanks.
conanb posts on February 28, 2014 02:45
Audioholics should review one of the D-Sonic class D amps.
Post Reply