digiZoid ZO2 First Impressions and Overview
digiZoid ZO2 First Impressions and Overview
What the heck is it?
Personal Subwoofer is not what the ZO2 is. In reality, it is a tiny headphone amp with a built in bass-boost. According to the designer, the ZO2 is a "analog sound enhancement device that happens to have high power headphone drivers at its outputs." This means that everything is kept in the analogue domain negating need for ADCs and DACs within the device  If that doesn't sound like something you might be interested in, I beg you to read on. This is the sort of product that I didn't think could even exist.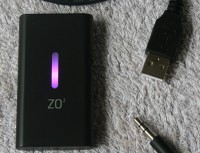 Measuring 2.75 by 1.5 by 0.38 inches, the ZO2 has a smaller surface area than a credit card and is just thick enough to mount a 3.5mm input and output. There is a front mounted light and a small button on the side. The button can be depressed or clicked (it doesn't make a noise but it isn't a scroll wheel) up or down. There is a side-mounted mini-USB port for charging with a very small red light on the side to let you know when it is charging (red light illuminated) and fully charged (red light off). The Li-Polymer battery has a recharge time of under an hour but will last for up to 17 hours of playback.
The top has a 3.5mm port for input and output. Inside is a Class-A headphone amplifier that uses an ultra-low noise pre-amp. The ZO2 has two settings - headphone out and line-out. The main difference is that the headphone out uses the volume control of your device. The Line-out (designed to be used when connected to a 3.5mm-to-dock connector cable or source without volume control) allows the ZO2 to control the volume. The ZO2 has a 32 step volume control.
First Impressions
The ZO2 is tiny and light. It really doesn't feel like it should be capable if amplifying anything. At less than an ounce, the cable on your headphones probably weighs more. The case has a "soft-touch" coat on the plastic which feels, for lack of a better word, weird. Not bad, mind you. Even after weeks of testing, I occasionally find myself looking at it to see if there is any sort of velvet on the outside.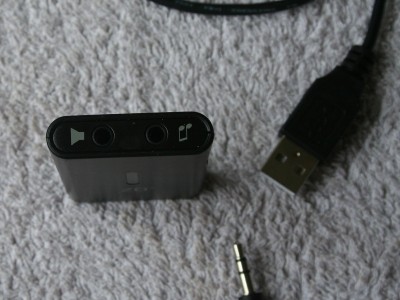 The digiZoid ZO2's front light is color coded. When you first turn it on, it will be in headphone mode. It's color-coded pink. Insert "why-the-heck-did-they-go-with-pink" joke here. In all honesty, once you select the mode, you never see the pink again so it isn't a big deal. Line out mode is color-coded purple though that color changes based on what volume you chose. After you set your volume, you go into bass-boost mode.
Integrating the ZO2 into your system is a snap. digiZoid includes a small 3.5mm jumper cable for your use. You plug the jumper into the headphone out on your phone/player and into the input (labeled with a musical note) on the ZO2. You then plug your headphone into the output on the ZO2 and you are good to go. digiZoid did well to flush-mount the 3.5mm jacks on the ZO2 so as to not impede use of headphones with larger connectors. Since they intend (based on their marketing material) the ZO2 to be used with high-end headphones, that was a smart design choice.
Confused about what AV Gear to buy or how to set it up? Join our Exclusive Audioholics E-Book Membership Program!
Recent Forum Posts:
Anderssen posts on January 14, 2013 22:47
Your reading comprehension sucks, JohnA. It is NOT an amp with bass boost. Read every available review and they all have great things to say about this product – and that it is much better than what a Fiio + EQ will give you.
JohnA posts on September 26, 2012 17:13
Post Reply