MX-450 Remote Introduction and Build Quality
MX-450 Remote Introduction and Build Quality

We said that the MX-450 was something worth having when we gave you our first look, so of course we had to see if we were right. The allure of a PC-free install is somewhat intriguing, but it has to be done well – or we'll just go back to the install protocol we know. The remote did not disappoint, install was quick and easy. Programming, including building the macros took less than 10 minutes, without a computer.
Build Quality and Ergonomics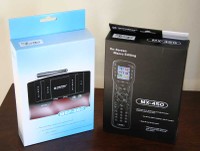 This Universal Remote comes in a plain, but sleek package. It could even be considered beautiful, especially when compared to most standard sized remotes. When you open this package you will find the remote, a small user's manual and the batteries needed to get the thing running. The build is no deviation from the norm, but nonetheless looks and feels better than most. The majority of the hard black plastic face of the remote is finished in a high gloss. This high gloss face forms a ridge down the center of the remote, as two curves on each side wave in, out, in and then out again. This forms an attractive double hour-glass look that adds to the look and the ease of familiarity with the remote. These four curve-ins are recessed a fraction of a millimeter and are further offset with a matte finish and reserve a special place for the volume, channel, and six other key buttons. All of the buttons pop just a little, as they are glossy, but a shade lighter than most of the face.
As I held the MX-450 the first thing I noticed was the weight. It is substantial – bordering on too heavy, but definitely better than some remotes that get knocked off of the arm of the recliner with the slightest breeze. Along with this substantial weight is a solid build. Nothing about it is loose or flimsy, everything is compacted together and there isn't much gap between face and body mount, button and face, or LCD screen and face.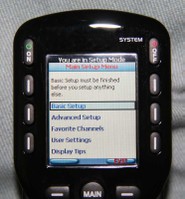 The full color LCD is great, especially given its utility in the programming mode. Like most remotes with an LCD screen, the screen times out after 10 seconds of no use. This feature is adjustable from 5 seconds to 60 seconds, but we wouldn't recommend more than 20 to maintain a decent battery life. This brings us to one downside of the MX-450, the lack of a recharging/docking feature. While with the short time-out of 10 seconds we observed great battery life, that 10 second time-out was just too short to get us through the reading of the info menu on any given show. Maybe we're slow readers. Of course you just hit any button to bring it back up, but which one? Mute and unmute? It just was bothersome.
The buttons used most are within a thumb's reach of the standard holding position: Select, Up, Down, L, R, Play, Pause, Volume + and -. This can only be expected. But as with most traditional layout remotes, we still found ourselves stretching to span that great distance between the standard holding position and the A button on at the top left of the LCD screen to cofirm the deletion of last week's episode of The Office after we'd watched it five times. Your setup will vary of course, but a small bit of agravation awaits the user of those top buttons, no mattter what they are assigned to. Which brings up the point that we could have assigned the A button of our DVR to a button closer to our lazy thumb. That is the beauty of this remote, you could do that reassigning on the go, no laptop – but we'll get to that in a second.
Confused about what AV Gear to buy or how to set it up? Join our Exclusive Audioholics E-Book Membership Program!
See also:
Recent Forum Posts:
ivseenbetter posts on April 09, 2009 12:45
Anybody know if this remote has the ability to use variables?
GlocksRock posts on February 12, 2009 11:51
Yeah, I guess I forgot about it's learning capabilities. If I get a cable box for my bedroom I'm going to also get a universal remote so I can go from 3 remotes to one. I don't mind having two right now, but I don't have enough room for 3, and I don't think I want to spend the money for a second Harmony One, so I'm considering a lower model Harmony, or one of the Universal Remotes.
Clint DeBoer posts on February 12, 2009 10:10
GlocksRock, post: 522825
I want to know if the Nyko Blue Wave is listed as a device, I know there would be no codes for the PS3 since it's all bluetooth.
I can't say whether it comes with a database entry for Nyko, but it's nearly irrelevant since it would take you approximately 5 minutes to learn the IR from the Nyko remote. These remotes learn quickly and easily. I'm glad you're using that - pretty cool device.
GlocksRock posts on February 12, 2009 08:53
I want to know if the Nyko Blue Wave is listed as a device, I know there would be no codes for the PS3 since it's all bluetooth.
Epetrone posts on February 11, 2009 23:19
Ps3

I have just started programming my 980 and there is no ir codes for my IR2BT box. The PS3 is listed as a device but no codes. what i am planning on doing is learning all the commands from my Harmony 880 this way i have the exact same functionality that i am used to. In your case you could learn your codes as well. Hope this helps.
Post Reply