Philips SRU8015 Full Review
Philips SRU8015 Full Review
Philips is well known for their Pronto line of remote control products, but they also make a rather large lineup of handheld universal remote controls. The new Prestigo line represents Philips foray into the consumer remote realm where PC-based programming is discarded in favor of preset codes and on-screen prompts. Where the new SRU8015 remote deviates is in its ability to guide the user through programming with a full color LCD screen - and without the aid of a real instruction manual. This remote will be a godsend for some, especially given its oddly low street price (in comparison to retail) and a cumbersome, less-useful adventure for others.
LCD remote controls seem to be all the rage, however most come with accompanying hard buttons or touch-panels to aid users in selecting and activating functions. With the SRU8015, all of that is cast aside for a "rotary wheel". At first this seemed like a nifty concept... but I eventually realized it was an idea that "could" have been great but was instead beaten to death by bad user interface design. In fact, the entire remote seemed to be very quirky in many areas - so much that I began to see why it was now available for less than half its original retail price - and, oddly enough, was nowhere to be found on the Philips website.
Build Quality and Ergonomics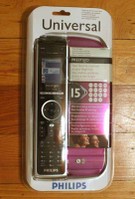 The remote comes in a retail package that hangs easily from a hook and shows off the remote's basic capabilities. You instantly get attracted to the unit's piano black finish and ample-sized LCD screen. The presence of a rotary wheel gave me the impression that I'd be able to control this unit much like an iPod - something that made me start to salivate with thoughts of a new way of navigating through menu systems.
The packaging touted "Fast, intuitive IR learning" and "Effortless setup and operation." It also listed off 15 types of components the Prestigo SRU8015 could control. The LCD screen had a removable sticker over it that simulated navigation of the Favorites menu systems - one of the highlights and strengths of this remote control. To say that the packing motivates consumers to want to take the product home and try it out would be an understatement. Except for the $180 retail price, I could see these flying off the shelves simply on looks alone.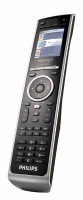 When I opened it up, the contents included the SRU8015, a Quick Start Guide, a multi-language user manual, and 3 AA Philips alkaline batteries. The remote control itself is very nice looking. It features a gloss black control surface that sits within an aluminum-colored shell. The front is tapered down like a futuristic sports car and the remote weighs nearly a pound - making it a substantial, but not uncomfortable, piece of hardware.
Philips opted to hide the dual IR emitters in the front of the remote to maintain its smooth lines. The SRU8015 is relatively thin throughout most of the body, save the emitter end and the battery compartment (which needs to squeeze in three AA alkaline cells). About the only negative about the feel of the remote was its almost ultra-smooth bottom. At times it actually slid around in my hand, rather than maintaining its position or form-fitting the contours of my natural grip.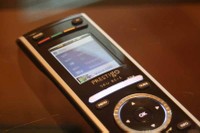 The front of the remote has the Power and AV (input) buttons along with the now-familiar red, green, yellow and blue buttons we keep seeing on Blu-ray players. Below that is the LCD screen - a large and high pixel-count display that truly shows off the graphics capabilities of this model. Three backlit buttons sit below the LCD and model number which provide access to the Setup/Home Menu, Favorites, and Special button area (labeled "More"). Below this is the menu navigation area which houses the "rotary wheel". Inside this wheel is a four-way directional arrow control and OK button. Below the rotary wheel is the notorious Checkmark button (more on this later).
The remote then provides volume, channel and mute functions, followed by navigation controls (for transports), and finally a numeric keypad. Both the numeric keypad and navigational buttons are way too small and hardly differ from each other at all. This makes navigating by touch rather difficult and you'll find yourself constantly looking to make certain you're activating the correct function. The controls are completely backlit with a white color - the way all remotes should be made (but often aren't) - and are easy to read. Each button had a solid activation point and it seemed clear that tactile feedback was sufficient to let you know a control was activated.
Setup and Programming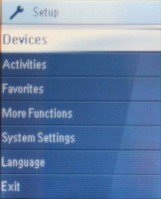 Programming the SRU8015 consists of setting up Devices, Favorites and possibly Activities. This, by the way, is the exact order all programming should occur. To begin with anything other than Devices means that you would not have that device available for Activity programming. To leave off Favorites until last means that you may not be able to have your TV boot up to your favorite channel each time. Programming overall was very straightforward however there were lots of non-intuitive conditions and requirements that tended to make the process much more tedious than it should have been. You can set the backlight brightness and also the duration it will stay on (when properly activated). You can also program custom functions learned from master remotes, allowing you to control anything that can send out an IR code. Be sure to define a device before adding custom codes so you can properly locate and activate the code as needed.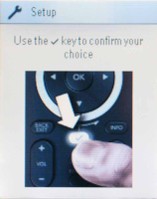 The way you select anything in the Setup menu is through the use of the dedicated Checkmark button. That's right, the OK button in the center of the rotary wheel is useless for setup - and the remote will let you know that it is useless every time you press it. It does this by displaying a graphic highlighting the Checkmark button located below the rotary wheel, as if to say "Look, dummy, how many times have I told you to use this button?" The problem is that it's completely contrary to best practices for a good user interface. In fact, I would guess it took more time to program the error message than would have to make the center button work to accept or modify Settings menu functions.
The remote has a handy Back/Exit button. Unfortunately, this doesn't help one bit when you make a typo in the Setup Menu system or when defining Activities or Devices. When in the System menu this button is absolutely useless.
Devices
To program a Device, hold down the Home/Setup button for 3 seconds. This enters the Setup Menu and allows you access to programming functions. Select Devices to access a submenu where you can 'Add a Device'. I was attempting to add the Logitech Transporter and, try as I might, I couldn't locate a matching device anywhere in the system. I created a new Device under Digital Media Receiver and learned all the commands from the Transporter into the SRU8015 one button at a time. I'd say it went quickly and the system is set up to automatically perform multiple learning functions in a row which keeps the processing moving forward as smoothly as possible. The remote never really gave me any errors and I was able to learn all of the important functions. Additional commands could also be added to the system and activated via the "More" menu system, but that is a tedious process and requires several steps. Immediately after programming I was able to test the remote and it indeed worked as well as the original Transporter remote.
Favorites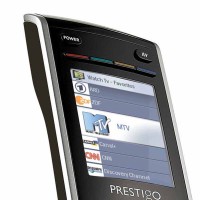 Favorites are channels that you'd like the system to recall quickly and via a separate icon-driven menu. I found I was easily able to set up digital and analogue channels using the Favorites Setup menu system. The process was simple: choose the station and then enter in the codes to call up the channel. To access digital channels I found that I needed to use the Enter button to recreate the dash which designated a digital or HD channel. As an example, I can call up ABC in HD by selecting "628-1". The screen which shows the favorites makes great use of the color LCD screen. Each channel has its own logo and when the rotary wheel is used to select each Favorite, that channel is enlarged and the channel graphic is displayed in higher resolution. Activation of Favorites is a bit slow, averaging one digit per second, so don't expect instant channel changes.
Activities (Macros)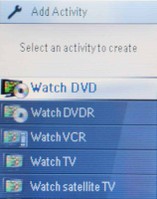 Programming Activities takes a bit more patience and planning. It takes planning because if you are not absolutely perfect in your setup, you'll have to start over and lose any work you had done up to that point. You also cannot edit or modify Activities, so it's important to get them correct the first time (lest you lapse into a repetitive stress coma and start babbling references to Keynesian economic theory). Mistakes I made include selecting the wrong icon for the activity, making a typo on an Activity name, and adding an insufficient delay time between power up and the following command execution. Any one of these will have you back to square one - and scratching your head at whoever thought it would be a good idea not to make these commands editable. When you have finished adding commands from the various Devices, the SRU8015 will allow you to select which device the remote should end up controlling. This means that when you activate an Activity macro to "Watch DVD", the unit can turn on the TV, turn on the DVD player, go to the correct display input, turn on the AV receiver, select the correct audio input, and finally end with the remote ready to control the DVD player.
Author's Note: On televisions with no discrete input commands (yes, these pathetic TVs still exist), the SRU8015 will be at a disadvantage. Since there are no variables, the system has no way of knowing whether the device is on any particular input. When input toggling is necessary, the Philips remote becomes almost useless and the user will need to toggle the correct input on their own. The best you can do is assign this function to a button or menu item that is easily accessible. In our testing this was one of the major drawbacks to this remote control.
Use and Functionality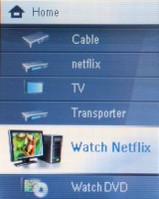 Using the Prestigo remote was very easy except for some noticeable issues. For one, while a cool idea, the rotary wheel caused major headaches during even rudimentary use. Placing the directional arrow/menu keys inside of the rotary wheel caused the remote to frequently shift Devices in the middle of use. Let's say, for example, I was using the DVD player and navigating through the Main Menu. As I was clicking around to select a chapter, my thumb ever so gently brushed the rotary wheel, causing it to select the Cable box Device. Guess what? I was no longer controlling the DVD player, I was now controlling the Cable box. This happened several times during the course of this review and it seemed like such an obvious problem I'm surprised the remote got through testing with this issue.
Another issue I encountered was that the backlight would only stay on for about one second whenever any button was pushed. One second - no joke. The only way to get the backlight t stay on for the expected duration (configurable as either 3, 5, 10, or 20 seconds in the Menu systems) was to activate the rotary wheel. This is a major (and quite obvious) bug that was apparently overlooked at time of release. It's reflective of a product that just feels like it was never fully vetted before the order was given to mass produce it. Once it arrived in quantity, it was obviously too late to make any changes.
I really liked the Favorites menu, though the channel numbers fired off at an almost interminably slow rate (roughly 1 second per digit). The LCD display on this remote is beautiful to behold. It's just too bad the system overall isn't more polished.
Conclusions
This remote is excellent for those looking for a fancy remote to simply "consolidate" the mess of remote controls that clutter your living room. If, however, you plan on having to select inputs, perform macros, or deal with any other potential custom features, you're going to get frustrated very fast. The only way to accomplish these tasks is, more often than not, to manually learn the commands from the source remote and create custom commands. Of course, these drop to the bottom (and cannot be re-ordered), so you'll be doing an awful lot of scrolling. Make one mistake and you'll have to start over. Complete an Activity macro and mistakenly forget one step (or need a longer delay between commands) and you'll be stuck starting over as there is no provision to edit anything you've done.
Make no mistake - this remote is beautiful and the screen is elegant and easy to read. I wanted this remote to be great. Unfortunately it seems like nobody at Philips actually test-drove this product before it came to market. Since it has no way of accepting new firmware the issues we noticed with it are here to stay - and there are far too many problems for us to recommend this remote to others. The fact that this remote actually won a 2008 CES Innovations Award gives me concern that the award is anything but prestigious. Save your money and hold out for Philips' higher end (Pronto) products, a second generation model that addresses some of the more glaring issues, or a comparable product from Logitech.
About Royal Philips Electronics
Royal Philips Electronics of the Netherlands (NYSE: PHG, AEX: PHI) is a global leader in healthcare, lighting and consumer lifestyle, delivering people-centric, innovative products, services and solutions through the brand promise of "sense and simplicity". Headquartered in the Netherlands, Philips employs approximately 128,100 employees in more than 60 countries worldwide. With sales USD 34 billion (EUR 27 billion)in 2006, the company is a market leader in medical diagnostic imaging and patient monitoring systems, energy efficient lighting solutions, as well as lifestyle solutions for personal wellbeing.
The Score Card
The scoring below is based on each piece of equipment doing the duty it is designed for. The numbers are weighed heavily with respect to the individual cost of each unit, thus giving a rating roughly equal to:
Performance × Price Factor/Value = Rating
Audioholics.com note: The ratings indicated below are based on subjective listening and objective testing of the product in question. The rating scale is based on performance/value ratio. If you notice better performing products in future reviews that have lower numbers in certain areas, be aware that the value factor is most likely the culprit. Other Audioholics reviewers may rate products solely based on performance, and each reviewer has his/her own system for ratings.
Audioholics Rating Scale
— Excellent
— Very Good
— Good
— Fair
— Poor
| Metric | Rating |
| --- | --- |
| Function | |
| Build Quality | |
| Ease of Setup/Programming/Integration | |
| Features | |
| Fit and Finish | |
| Performance | |
| Value | |
Confused about what AV Gear to buy or how to set it up? Join our Exclusive Audioholics E-Book Membership Program!
See also: