SACD / CD Players & Digital Music File Players
SACD / CD Players & Digital Music File Players
Vinyl may be fashionable at the moment, but CDs are still the king of physical media, at least with respect to popularity. Although there is no doubt that the compact disc is entering its waning years, the technical excellence and convenience of the format will guarantee its presence as a music delivery system for many years, if not decades to come. Some of the CD players on display at AXPONA seemed to be a response to a challenge on just how far this early 80's technology can be pushed. Like many other high end transports on exhibition, some of the designs may be a bit excessive given the limitations of the medium they are intended to reproduce. Nevertheless, many of these over-the-top players made me want to dig my CD collection out of storage and take some of old favorites for another spin.
Audio Research Reference CD9
Released last year, the Reference CD9 CD player and DAC by Audio Research has almost every bell and whistle you could wish for in a CD player and then some, thanks to the added DAC functionality. 192kHz/24bit upsampling almost goes without saying on these high end models, but in the case of the CD9, upsampling is available for all inputs, of which you have an array of choices. For digital S/PDIF inputs there is Toslink, RCA, and AES/EBU, and further in the digital realm you have a USB input. BNC and AES/EBU comprise the digital outputs. Analog outputs consist of an XLR and RCA pair. Listeners can adjust the sound to suit their tastes with the selectable digital filter for a fast or slow rolloff. CDs are top loaded on this $13,000 unit, and the CD9 comes in a brushed steel or black exterior.
Ayon CD-3sx
One of Ayon's most recent releases is the CD-3sx CD player, which is an upgrade over the Ayon CD-3s in its ability to handle DSD files. Ayon is an Austrian company which targets high end audio, and this feature rich, top loading $9,800 CD player is evidence of that. Using the finest components and materials available with a design philosophy to match, the CD-3sx includes an output stage governed by tubes as well as enough connectivity and functionality to be used as a high end preamplifier if desired. Of course, optional upsampling to 192kHz/24bit is onboard, and a nice finishing touch is analog controlled volume. 
Esoteric Grandioso P-1
At a list price of $44,000, the Esoteric Grandioso P-1 is the most expensive CD player I've ever heard of. Its power supply lays in a separate, similarly elegant chassis in order to make enough space so that each of the four circuits in the player gets its own DC power transformer. The main unit weighs 59.5 pounds and the power unit weighs 53 pounds; altogether that adds up to a 112.5 pound CD player, which also makes Esoteric's Grandioso P-1 the heaviest CD player I have ever heard of. As you would expect at this price point, extreme measures were taken to shorten the signal path and reduce vibration, and precision machining is involved in every area. The remote for this unit has a fine leather finish. Frankly, I'm not sure that this CD player is intended for mere mortal human beings. 
Marantz SA-14S1 Super Audio CD Player
A recent addition to the Marantz Reference family, the SA-14S1 is a $2,500 Super Audio CD player that can handle a variety of different discs and file types, including DSD over bitstream from a rear panel USB port. The SA-14S1 has reference class digital-to-analog conversion and can handle 192kHz/24bit resolutions. The power supply, digital audio stage, and analog audio stage are kept on their own circuit boards to minimize any interference. Another feature nifty feature is a high quality dedicated headphone output with its own volume control. The headphone output is designed to handle a wide range of headphone types including lower impedance headphones.
Marantz SA8005 Super Audio CD Player
Introduced only a few months ago, the Marantz SA8005 Super Audio CD player shares most of the functionality of the higher end SA-14S1 at half the cost. DAC flexibility, a fully discrete headphone amplifier with its own volume control, front panel USB-A port to connect mobile devices, a rear panel USB-B port for connecting your PC, and Marantz' discrete component HDAM technology are all on the menu. The SA8005 even uses the same reference class, high current CS4398 D/A converter. If you can live without the heavy duty chassis and superior disc-drive mechanism of the SA-14S1, the SA80005 should perform similarly for only $1,200.
MOON Nēo 260D
Launched late last year, the MOON Nēo 260D CD transport is one of Simaudio's more affordable CD players at $2,000, with an option of upgrading to a 32 bit DAC for an additional $1,000. One of the features which Simaudio highlights is the "M-Quattro gel-based 4-point floating suspension system" on which the CD drive is mounted for the purpose of vibration damping. The base model provides you with XLR and RCA analog outputs and S/PDIF RCA and AES/EBU digital outs. The 32 bit DAC upgrade nets you four digital inputs: two S/PDIF RCA jacks, a Toslink input, and a USB input. Simaudio touts a "1 picosecond" digital clocking system for the 32 bit DAC. For those of you who, like myself, lose track of your metric prefixes somewhere below micro, a picosecond is one trillionth of a second.
Digital Music File Players
There does not seem to be a universally accepted term for what I will simply call a 'digital music file player' for the present. 'Network music player', 'network transport', 'file player', 'digital music server'; those are just a few of the names given to these devices. Simply put, these are transport devices which playback data sound files, whether off of a network server or from local storage. Hopefully the audio industry will settle on some nomenclature for these devices in the near future.
T+A MP 3000 HV music player
The $12,500 MP 3000 HV from the German company T+A (Theory and Application) is a 'does it all' digital music player, with the exception of SACD and DSD playback. It is a CD player, a digital file player supporting most major file types at a 192kHz/32 bit resolution, an internet radio tuner, a FM tuner, and a serious DAC with an array of digital inputs, as well as digital and analog RCA and XLR outputs. Ethernet, WLAN, and USB ports allow the MP 3000 HV a wide degree of freedom for network connectivity as well. The construction quality is as you would expect for the price, with each electronic function group separated into its own compartment within a heavy-duty 50 pound aluminum chassis. The compartmentalization goes as far as to power the analog and digital circuitry with different power inputs, so this unit eats up two power outlet plugs. This intensely feature rich player may be expensive, but the list of things it can't do is a lot shorter than the things it can do, and it should serve well as the heart of any music system.
Aurender X100 Music Server
Aurander's new music server, the X100, comes in two flavors, the S ($2,980) and the L ($3,490). Both flavors have 4GB of memory and a 120GB solid state drive, but the X100S boasts a 1TB disk drive while the L ups that to a 6TB disk drive. A single USB audio output keeps connectivity simple; just plug it into your DAC. Two USB ports and an Ethernet jack comprise the inputs. The X100 can be controlled by your iPad via the Aurender app. Also, if its local storage isn't enough for you, the X100 can also access and playback music on network drives. It handles all major digital music formats at native bit and sampling rates. The large AMOLED front display and relatively narrow chassis size add to the convenience.
Ayon NW-T Network Transport
A new product from Ayon is the NW-T network transport, which is essentially a DAC with the ability to connect to other devices on your network like a NAS or computer through an Ethernet port. The chief difference between this model and other network transports is the tube-buffered digital output, by which the NW-T claims to give you an analog sound even before any preamp stage in your system. It handles most major music file formats and can upsample to 192kHz/24bit if desired. As with other Ayon products, high quality components are used with the shortest possible signal path to preserve sound quality. Naturally such a design does not come cheap with a list price of $6,125.
Blue Smoke 384/32 Digital Output and Black Box II
Blue Smoke demonstrated their Black Box II at AXPONA, which is a Windows 8.1 music server/PC attached to their 384/32 Digital Output, with the two pieces being kept separate to insure no interference with the sound. With 8GB of memory and a solid state drive, the Black Box II is essentially unlimited in playback, and with Windows aboard, compatibility with any file type is a given. The Black Box II can be controlled by iPad, Android, and Windows devices. The Black Box II, or any compatible computer, can be connected to the 384/32 Digital Output via a USB connection. The Black Box II's partner unit shown resting on top, the 384/32 Digital Output, is a powerful digital converter which takes data from the USB input and outputs the data as digital sound via S/PDIF and AES/EBU outputs. As its name suggests, it can handle 384 kHz sample rates at 32 bits, just in case you have a bionic sense of hearing. Black Box II price: $3,500, 384/32 Digital Output: $3,000.
Marantz NA-11S1 network audio player
On display in the Denon and Marantz room was one of the latest additions to Marantz' Reference line, the NA-11S1, a $3,500 network audio player and DAC. It can access your network through WiFi, Ethernet, or USB connections, stream music from all major internet radio networks, and playback every major file type including DSD (all of which can be handled at a 192kHz/24bit sampling rate). The NA-11S1 can be controlled with your iOS or Android smartphone via the Marantz Remote App, as well as with the included remote. With XLR and RCA analog outputs and Toslink, digital coaxial, and USB inputs, the NA-11S1 can also serve as a DAC. A nice touch on this feature rich network player is a high quality dedicated headphone jack with its own output stage.
Sony HAP-Z1ES HDD Audio Player
There were at least three rooms that I spotted the Sony HAP-Z1ES being used as a music source, which would normally be surprising considering how new this digital music player is. However, considering its relatively affordable price of $2,000 and functionality, we're not entirely shocked. Although we previewed the HAP-Z1ES last year, let's mention a few of the highlights of this seemingly popular unit: 1TB storage drive, all major music files supported including DSD, rear USB port for an additional drive, WiFi connectivity, an engine that converts any signal to DSD128 playback, an engine to restore sound peaks lost to compression, etc. The HAP-Z1ES has fairly limited connectivity with only one pair each of RCA and XLR outputs, an Ethernet port, and a USB port, but Sony likely isn't expecting it to be used in systems without preamplifiers. Given its prevalence at AXPONA and its current backordered status as of this writing, it appears that Sony has a hit in the HAP-Z1ES.
Weiss MAN301 Music Archive Network Player
A recent offering from Weiss, the MAN301 is another attempt at an all-encompassing digital music player, and a pricey one at $9,083 for the base model and $12,262 with an added DAC. An iPad is required to operate the MAN301. One thing to note about the MAN301: although it is basically a music playback computer, it does not store music onboard. It only plays back music from network drives, connected devices, CD, or digital audio inputs. However, being a computer with a full-fledged operating system and all the flexibility that comes with that, there is no file type it can't handle and internet radio streaming should be trouble free. Another advantage of its PC architecture is flexibility in the way it can connect to your network, especially with the inclusion of WiFi connectivity. Updating and improving the MAN301's software will be much less of a hassle too, as opposed to the cumbersome firmware update procedures of dedicated electronics. There are some real advantages to be gained with the approach which Weiss has taken to a network music transport in the MAN301, if you can afford it.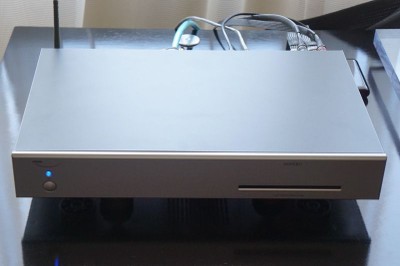 Confused about what AV Gear to buy or how to set it up? Join our Exclusive Audioholics E-Book Membership Program!
See also:
Recent Forum Posts:
oppman99 posts on May 31, 2014 15:22
I just don't understand the appeal of vinyl. IMO digital sounded better in every room that had both vinyl and digital sources. I thought the sq was much better at last year's show as well.
shadyJ posts on May 28, 2014 20:44
I think $73k for an amp is dumb. You could take a monster pro-amp like a powersoft digam k10, have it modified, and hire a guy to put it in an ultra fancy custom case for a lot lot lot less than $73k. I still think the Burmester is cool, but it's just a poor value.
haraldo posts on May 28, 2014 16:54
7
shadyJ, post: 1033282
13541
That big shiny thing at the bottom of that stack is the Burmester 909, it's a 600 watt x 2 @ 4 ohms amplifier. It also has a 1,250 watt x 2 @ 1 ohm spec. Burmester claims it is stable for a 1 ohm load. It costs $73,500. It's stupid and I want one.
What's stupid about that?
I'd like to buy a Goldmund amp … that makes the Burmester 909 look like a bargain … but I will never be able to afford it …. not even in my dreams ….
FozzieT posts on May 20, 2014 22:17
So, why the photo of the gorgeous Monitor Audio speakers, but no review? Did they suck?
shadyJ posts on May 19, 2014 23:58
13541.vB
That big shiny thing at the bottom of that stack is the Burmester 909, it's a 600 watt x 2 @ 4 ohms amplifier. It also has a 1,250 watt x 2 @ 1 ohm spec. Burmester claims it is stable for a 1 ohm load. It costs $73,500. It's stupid and I want one.
Post Reply