Audioholics On Location: Factory Tour #2 of Axiom Audio
Audioholics On Location: Factory Tour #2 of Axiom Audio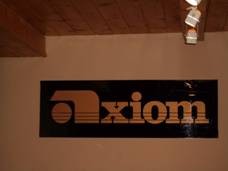 Back in fall of 2004 we took our first trip to Canadian Loudspeaker Manufacturer Axiom Audio to check out their new super subwoofers - the EP500 and EP600 , and their manufacturing and testing facilities via our factory tour .
Needless to say, we were most impressed with the company, products and the Axiom community. We learned that the folks that work for Axiom do so because of their passion for the art of loudspeaker design and their commitment to building the best products possible within price ranges most mere mortals could afford. However, by digging a little deeper and spending a bit more time with these people, one comes to the realization that they don't work within the typical confines of the employer/employee work model. Instead, they operate more like an extended family of audio experts who love working together, sharing free time with each other, and benefitting from the synergy they develop working in a free-thinking, unconstrained environment.
When I asked Ian Colquhoun, owner of Axiom Audio, how and where they come up with new product ideas, his response was "we do most of our new product envisioning on the dock" . Be that as it may, I made sure to bring my swim trunks. Luckily it was summer, making the freshwater lake almost bearable for this Florida-boy who is used to swimming in bathtub-like water temperatures in the Gulf of M exico .
On our last visit, Ian drilled us with the National Research Council (NRC) gospel of loudspeaker design, stressing that if a loudspeaker isn't linear in an anechoic environment, it doesn't hold a prayer in terms of accurately reproducing music.
Editorial Note on NRC Metrics and Design Criteria
According to the NRC Research, an important goal in loudspeaker design is that the end product, when anechoically measured, produces a flat on-axis response with an even but constantly declining (or tilting) off-axis response. Ian is a firm believer in the "family of curves" (established by the NRC) and their ability to predict subjective performance and identify objective loudspeaker performance. The family of curves is comprised of:

On-axis Frequency Response: direct sound; the first sounds to arrive at the listener's ears
Listening Window: an average of responses taken from a ±15 degrees vertical, and ±30 deg horizontal window directly in front of loudspeakers
Early Reflections: the first axial reflections from room boundaries
Sound Power (sometimes referred to as "total radiated sound power") is measured in watts, though when referenced to 10, can then be expressed in dB's. It's a metric that represents the total amount of sound that radiates from a loudspeaker, in every direction. It's useful when you consider the typically un-anechoic acoustic character of a typical home listening space.

NRC practice is to first measure a loudspeaker's on-axis response, then rotate the system in 24, 15°

increments horizontally, for a full 360° assessment. The procedure is then repeated, this time rotating the system vertically, once again, in 24, 15° increments for a full 360° assessment.

From all these measurements, an average is generated and from the resulting data, the sound power curve is produced. If needed, polar response & the directivity index (DI) can also be derived from the data.
With that in mind, we questioned Ian about the Axiom testing procedures in accordance to NRC standards. He informed us that Axiom first tests its products at the NRC in Ottawa and then take those "golden units" to their mini anechoic chamber to run baseline measurements. Axiom then compares all production models to the reference "golden unit" to ensure they measure within ±1dB.
In the very near future, Axiom Audio will be building their own full size anechoic chamber to conduct detailed, accurate product testing convenienty in their own facility. Ian assured me, however, that they will continue to do baseline measurements at the NRC facility for comparative purposes. Axiom's chamber will be an actual clone of the NRC anechoic chamber and will be calibrated against it.
In addition to their mini anechoic environment for testing production speakers, they do all their subwoofer testing in a 4pi environment (in this case outdoors on a pole above any boundary reflections with the woofers firing up at the sky and the microphone one meter away).
Pictured to the right is the new EP500 strapped onto a long metal boom, firing upwards, with the measuring microphone placed 1 meter above the acoustic center of the cabinet. This is roughly equivalent to an anechoic environment, but much more practical since an extremely expensive anechoic chamber with linear dimensions on the order of 70 feet (1130ft/sec/16Hz) isn't required to validate that the new EP600 truly does play down to 16Hz without the assistance of any room gain.
In the Lab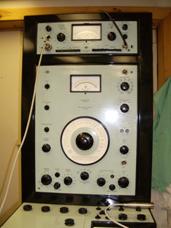 As we learned from our last visit, Axiom Audio's testing facilities and staff are well equipped and positioned to develop state-of-the-art loudspeaker technology and much more. It's the "much more" we are all so curious about. I had to literally pry information out of their engineers by bribing them nonchalantly with more wine and spirits while sunning ourselves on the dock.
In one of their test labs I noted some very interesting test and measurement gear such as some vintage Brüel & Kjaer gear (which we have been told is fully restored and operational) along with an Audio Precision SYS 2722 - the world's most advanced audio analyzer (which, incidentally, Audioholics also uses for their measurements and analysis in our product reviews). The AP SYS 2722 is the type of gear essential for designing state-of-the-art electronics and for writing the industry's most comprehensive reviews. It's no wonder that great minds think alike as we found much commonality between Axiom's design philosophies and our own.

Editorial Note on Brüel & Kjaer Test Equipment
Ian informed us he uses the B & K test equipment to compare with LMS for reference purposes. Since the B & K is analog, it sweeps and measures with much greater precision and accuracy than LMS, especially at high frequencies. The disadvantage to it is you cannot upload the test data to a computer for analysis or graphical usage.

Their B&K test equipment consists of the 2606 measuring amp, 1022 beat frequency oscillator and 2305 level recorder.
A mixing console (left) in their main sound room (right) where they conduct double-blind listening tests during the product development phase.
When Tom Cumberland (Axiom's chief Hardware EE) isn't competing in M anly M an powerlifting competitions, he is hard at work measuring amplifiers on their AP SYS 2722 audio analyzer, using similar measurement techniques with respect to power, SNR and distortion as we do on this very same system in the Audioholics labs. We look forward to comparing notes when conducting formal reviews of their new products.
The world's largest vacuum cleaner (left) would likely make Mega Maid from Spaceballs envious. This system is used to suck the dust and tailings generated by Axiom's CNC robots, each busily machining raw wood products into various loudspeaker cabinets.