The CES 2006 Experience Day One
The CES 2006 Experience Day One
Filed under: Editorials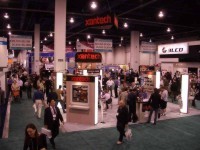 Let's see... what's there to say about CES… Well, take CEDIA, add a bunch of booth babes, quadruple the square footage, increase the number of people by an order of magnitude, shake, and serve with a little umbrella. Oh, did I mention there were a lot of people here? Last time we all wrote up our travel experiences but this time things went pretty much uneventfully. Yeah, I sat next to a semi-crazy woman that ordered every dinner on the menu, picked through them all, then complained when the Hot Tamales (the candy) were not the hot tamales (the yummy corn husk wrapped meal) she thought they would be. Yeah, one of the flight attendants was of indeterminate gender. Yeah, people were getting all geared (and liquored) up for Las Vegas. But, that is not all that interesting.
Oh, and I also sat next to Clint…which was interesting because we both have the same laptop. Well, my lap and his lap are different but we put the same computer there. We were also wearing the same shirt…which got freaky after a while because it looked like a cloning experiment gone horribly wrong. Now that we are here, we'll be going back with the same bags as well (freebee to press), so I suppose we'll have to coordinate outfits again. Maybe we can work up a mime routine and make a little beer money.
We checked into our hotel and immediately fell asleep. Redeye flight and all. The next morning, we met Gene and his wife's cousin/sister (not as weird as it sounds) for breakfast. Since Sin City has become a black hole from which no geek can escape, the line at the buffet was it bit long. Gene, ever the optimist, immediately wrote the entire day off saying that they'd never make his appointment (it was 8am, appointment at 10, line… about 25 people long) and that we might as well give up now. We didn't and the French toast was actually quite nice though the hot chocolate (no, no one brought their children) was a bit chalky. Gene did make his appointment, the day was not shot, and the sky did not fall.
CES is a little large… and by a little, I mean a lot… .and by a lot I mean we are staying at the closest hotel and the stuff we want to see is a good 20 minute walk away without getting stopped by random security guards. It is not that Las Vegas is not friendly, it is just that the security is apparently rejected WalMart merchandise return CSRs. I mean, it is not like they are bitter at all, nope. No chip on their shoulders and latent violent tendencies. Nope, not at all.
So, after a full first day here we headed back to the hotel to begin the posting frenzy… and suddenly we don't have Internet access. Which is weird because we had Internet access that morning. So we call the front desk and are promptly informed that the hotel doesn't have a wireless network like every Motel 6 in the country. They do have an Ethernet wire tucked behind the TV that you can use for a mere $10 a day PER COMPUTER. So, Clint became our posting slave. At 3am, we gave up and passed out.
The next morning, my wife called me to say that the forums are full of people fleeing Audioholics for other websites which prompts the following questions: "Who are you? What time is it? Leave me alone." After a failed attempt to meet with DTS, Clint and I retired to the press room where the Internet was present, though spotty. We've also been charged with holding a table and watching the food levels. You should have seen the near riot when they closed lunch and hour early yesterday. 2 billion fat, sweaty, stepped on, elbowed, AND hungry press is not a pretty sight. Well, honestly, it is never a pretty sight. Now, I'm just killing time writing this editorial while Clint finishes the last of the posting. Then it's lunch and back to the grind.
You know you are at CES when…
· Second hand smoke starts smelling pretty good compared to the mens' room (which we can only assume is maintained by unemployed Capital One barbarians.)
· A $3 bottle of water seems like a bargain
· You get slammed against the wall by a 75 year old security guard because she didn't see your badge out of her one good eye
· The shortest line for breakfast is at the bar
· The longest is at the Star Trek Experience
· Your biggest fear is that you pick up the wrong Dell laptop
· Extremely hot, scantily clad girls are fawning over complete dweebs
· The line for the boys bathroom is longer than the line to the girls
· Ray carries around shoes just so he can ask you to hold them (see: One Show to Rule Them All and in the Press Room Bind Him )
More to come…