Audioholics Unveils New Cable Technology - The GLOB™
Audioholics Unveils New Cable Technology - The GLOB™
Filed under: Cables and Power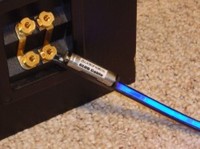 Audioholics GLOB
Finally a cable design that makes sense! Introducing the new GLOB™ Cable from Audioholics. GLOB™ – Generator Luminance Opto Biased cable is an innovative approach to cable design that incorporates state of the art materials engineering (and pretty illuminations) to ensure the most transparent cable in the industry. Unlike other cables that simply slap batteries on the dielectric, GLOB™ takes it to the next level by incorporating a proprietary Illumination Biasing System (IBS™ not to be confused with Irritable Bowl Syndrome) which encompasses the entire magnetic field flux density of the cable's eddy currents thus eliminating typical back EMF distortions generated by the loudspeaker. GLOB™ works in tandem with our proprietary black cable dielectric. Using a black dielectric is critical for ensuring none of the luminance properties of GLOB™ are reabsorbed into the cable causing induced distortion and noise due to Dielectic Absorption. Our IBS system also eliminates the worry of Strand Jumping and Resonance resulting in Audiogenic Distortion by ensuring the current density profile remains on each predetermined strand during the entire signal movement from amplifier to loudspeaker. We mark each strand prior to dielectric formation around the conductors and assign directionality. We spank any conductors that don't obey. This process helps reduce the Skin Effect problem inherent in non-IBS™ biased speaker cables.
For best results we recommend the following:
Freezing the cables prior to usage to ensure maximum effectiveness and duration of the GLOB™ system. Make sure you freezer is set to the coldest setting but allow cable to thaw for 24 hours prior to usage.
Mechanical Break In is recommended by uniformly bending every few inches of the GLOB™ system before usage. The audiophile should allow between 10-15 minutes for GLOB™ to uniformly distribute through the cable before engaging in a critical listen session. However, the unique electrical properties of the GLOB™ System have an unusually long Break In time and may take up to 60 days to reveal its full potential.
It is recommended that the GLOB™ system always point in an upward direction when the cables are placed on the floor. This will minimize the static electricity field, thus reducing Heisenberg-Gaussian distributed effects.
Note: Cables may be elevated but it is not recommended to elevate more than 3 feet off the floor otherwise kinetic energy polarization may occur.
For maximum effectiveness, the GLOB™ system must be replaced daily – sometimes twice a day during heavy usage.
Note: GLOB™ accessories may be purchased in bulk for additional savings.
The Battery pack for the IBS™ system is a standard 1.5V AA which can be purchased at any hardware store. However, for best results, rechargeable batteries are NOT recommended.
Note: We offer discounting on bulk purchases of batteries. Battery life is usually indefinite since the battery is not physically connected to the cable or loaded.
So try our new GLOB™ Cable today for a no obligation 30 day trail period! If you are not convinced that this cable does not reveal a higher level of system transparency, or adds the chocolatey warm midrange performance you have been lacking in your hifi system simply ship it back to us for a full refund minus GLOB™ accessories.
GLOB™ and IBS™ are registered trademarks and property of Audioholics L.L.C. Patents pending.
Disclaimer
BUYER BEWARE. Be sure to check out our extensive Cable Article Database to build immunity against Cable Snake Oil's.