SVS Prime Tower and Center Loudspeaker Listening Tests
SVS Prime Tower and Center Loudspeaker Listening Tests
I plugged my robust Crown XLS2000 amplifier into the towers, while my ever-trusty Marantz SR6003 AV receiver handled the center amplification, pre-amplification, and digital-to-analog conversion. All sources were HDMI-based, and all speaker cables were 12 AWG. Unless otherwise stated, all listening was done in "Source Direct" mode with speaker grilles removed.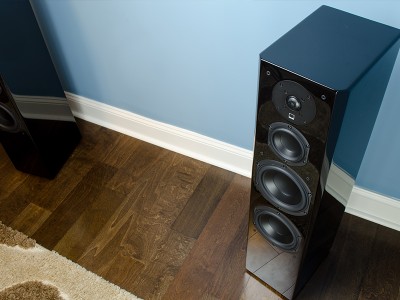 SVS Prime Tower Top View
Having topped my playlist for the entire week prior to the arrival of the Prime Towers, I eagerly put on "Chikyuugi" from the Saint Seiya SONG BEST album. The Prime Towers really drew me in with their ability to render a cold silence behind the poignant and pristine vocals of Yumi Matsuzawa.
The overall sound of the SVS Prime speakers was nothing short of entrancing.
The sense of space was hauntingly convincing, and the width of the sound stage seemingly extended beyond the walls of my room. However, I found that the rolling bass had a slight mid-bass emphasis which was likely due to room acoustics and was only mildly distracting.  I decided to play the track again with the aid of my subwoofer and the towers set to small. This time, the same bass notes were a bit more distinct and in-check. I can't exactly claim the speakers were the culprit, as room effects in the bass region tend to dominate what we hear, and standing wave modes will mask loudspeaker response.  If placing these speakers near a wall, I recommend experimenting with port plugs to address bass issues. I would have loved to hear these speakers in an acoustically treated listening space to really do justice to their extension!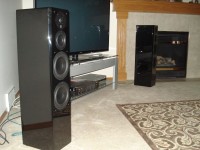 One of my oft-played albums of 2014 was Saint Vincent, and I had a suspicion its percussive nature would be a nice fit for the bass-rich SVS speakers. "Rattlesnake" produced deep, layered imaging and the speakers revealed a lot of beautiful detail all-around.
The overall sound was nothing short of entrancing. "Prince Johnny" rendered the sense of acoustic space in a mesmerizing fashion – when closing my eyes, I felt as if I was drifting atop a deep ocean of musicality. In "Digital Witness", the trombones sounded fantastic and were complemented by some of the most beautifully wide-and-tall stereo imaging at any price point. The tweeter seemed to add a certain element of sweetness to the sound that was by no means a negative.
Topping it all off was tactile, punchy bass that filled my large listening space very well. Finally, with "Severed Crossed Fingers" I felt the Prime Towers gave an excellent rendering of the lead vocals, as well as a sense of being in a very live and welcoming acoustic space. The bass in particular seemed to dig deeper than I expected from such compact floorstanding speakers. I was impressed that I was hearing all of this fantastic bass from a pair of towers costing under $1k/pair!
I then put on "The Unravelling" by The Roots from their latest album, And then you shoot your cousin. This track truly stood out on the Prime Towers as being haunting – the tweeter seemed to evoke an ethereal effect which seemed to float around behind the speakers. Now I'll admit, usually when a specific driver draws enough attention to itself, I might begin to suspect there's something wrong somewhere, but it sure didn't sound offensive to me.
I next wanted to see how the SVS Primes could deliver an epic feel. There is a track which accompanies and defines perhaps the most epic opening sequence ever to grace a video game, and that track is Nobuo Uematsu's "Liberi Fatali" from Final Fantasy VIII. I felt the midrange did begin to lose composure at high volumes, resulting in a loss of instrumental distinction. I guess that's the limitation of a 4" midrange on a value-priced product. On the other hand, bottom-and-top-end crescendos surprised me greatly for the price point – these are a pretty dynamic loudspeaker regardless of their price point.
Co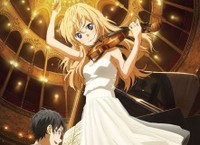 nsidering the dynamics, I was excited to test out Chopin's "Winter Wind", as recorded in the soundtrack for Your Lie in April. The low keys on the accompanying piano were present with aplomb, but it was the violin which truly shone. Dynamics were incredible, with the tweeter seemingly never straining on even the most intense passages with crests exceeding 100dB. The violin wasn't without some coloration, but it was inoffensive at worst and in many ways highlighted a sense of acoustic space within the recording. It was easy to simply get lost within the enormity of the sound stage presented by the Prime Towers. The sound edged towards bright, but limited itself to just the threshold where "sweet" best defines the sound. And oh, how sweet it was. Every note was resolved without missing a beat.
When I listened to this speaker's sibling Ultra series last year, "Baf Baf – Do you love being so… fired up?" by Taku Iwasaki was one of the select tracks that failed to blow me away, but I decided to give it a go on the Prime Towers. What I discovered was that the track sounded pretty pleasant overall, but at the same time there were details and energy not quite present, which might be there on speakers costing five to six times as much. It's clear that SVS has done a fantastic job in making a speaker hit a key price point, but it's also clear where the limits of said price point lie. On the flip-side, the warm and soothing tonality was forever-listenable, seeming never to approach that threshold where detail becomes harshness.  Again, few speakers (if any) at this price point offer such well composed, and high output performance.
The Prime center channel anchored clear vocals with a seamless transition from left-to-center-to-right.
One issue I did however find was that with stereo television sources (notably an NHL/NBA games and Gotham's "Harvey Dent" episode), the Prime Towers sometimes added a forward emphasis to them; however, it's not atypical for quality loudspeakers to reveal flaws in poor recording material. This characteristic certainly wasn't evident on well-recorded musical sources.  Do try to feed these speakers the best quality source material possible, especially when trying to impress your friends.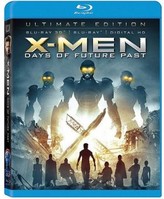 Having done a decent amount of listening to music on the towers in stereo mode, it was time to put the full three-channel front stage through its paces. This autumn, I've been following a series called Rage of Bahamut: Genesis. Its opening sequence was not only tight and punchy, but the center delivered awesome lead vocals coupled with a vivid guitar. As the episode began, the soundtrack was rendered gracefully, with instrument placement that only a discrete three-channel setup can provide. I decided to sit in the "far-off-axis seat" to see if the WTMW design worked as intended; and I found that I could barely, if at all perceive a difference in sound character at that seat. The center anchored clear vocals with a seamless transition from left-to-center-to-right. However, I did seem to detect a hint of upper-frequency emphasis at times.
I also had the pleasure of experiencing the DTS-HD Master track of X-men: Days of Future Past at near-reference levels through this front stage. Vocals kept a composed tonality and high level of clarity even at the high SPLs demanded by the highly dynamic mix and score. In the scene where Quicksilver was bouncing around the room, I felt the three SVS fronts had zero difficulty blending in with my EMP E5Bi surround speakers – a solid indication of good neutrality considering the difference in brand and design.
Watching sporting events on my HDTV revealed how the SVS speakers could render poor source material with less than stellar results.  While the sound of the puck, the slam of every hit, and even the gliding of skates were rendered superbly against a black background, every time an announcer would make an "S" sound, I found myself remembering the speakers. While some recordings have an inherently high level of microphone-induced sibilance, speakers should mitigate the effect where possible. Avoiding toe-in and making use of the included speaker grilles would certainly quell this issue and again, a poor source can often lead to lesser sound even through good speakers. 
Confused about what AV Gear to buy or how to set it up? Join our Exclusive Audioholics E-Book Membership Program!
See also: