Salk SongTower Build Quality
Salk SongTower Build Quality

Salk Sound is one of those manufacturers that have sort of crept onto the scene - at least to my mind. It starts with a post in a forum that sounds like, "Has anyone ever heard these speakers?" with a link. I often click on those links just to see what people are talking about. Most of the time that is the last I hear about those speakers. Not so with Salk. While you can't judge speakers on looks alone, if you could, Salk speakers would be near the top of the list. Any speaker as gorgeous as the ones that come from Salk is bound to attract attention. All of us married folk know that convincing your spouse of a speaker purchase is a lot easier if either the speakers are small and innocuous (ugh!) or look like works of art. Salk speakers are obviously the latter.
The SongTowers QWT are one of the least expensive in the Salk line starting at $1695 for satin black and $1795 for one of their "standard" veneers. Let me just say that the "standard" veneers are just as nice as many of the "premium" veneers from other manufacturers. If you are trying to match another color wood, the "standard" veneers can be dyed to match for an extra $50. The Salk speakers are all made to order so you'll be looking at a bit of a wait (30-45 days minimum) for their standard finishes. The joy, of course, of made to order speakers is that you are not limited to just the finishes in stock. Salk will use whatever veneer you'd like at a $300+cost added to the base price. That really isn't that much compared to other manufacturers. They'll even discuss with you the advantages and disadvantages of your veneer choices. But that isn't all. Salk sees the speakers they make as not theirs, but yours. They are making speakers for you. If you like a particular design but want to make some changes, they'll do it. Even if they think that the changes will be detrimental to the sound quality (like moving or removing the port), they will explain to you the sonic repercussions of your choices but if you insist, that's all it takes. There aren't many manufacturers of any size that will do that for you (unless you are some big shot). I guess to Salk Sound, we are all big shots.
First Impressions and Build Quality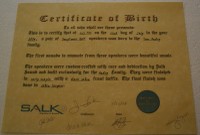 You get the impression, from the onset, that the SongTowers are custom. While most speakers arrive in specialized boxes with molded foam endcaps, the Salks come in unmarked boxes shoved full of straight pieces of foam. Don't take this to mean that the packaging was inadequate - far from it. There was no empty space in the box and the speakers were well protected. I'd estimate that there was an inch and a half minimum of foam around the speakers with some areas having much more. The speakers and the plinths came in separate boxes and both arrived undamaged. You also receive a hand signed "birth certificate" with your speakers. All of the people that worked on the speaker (supposedly) sign the document. I'm sure there is more than one Salk owner with this framed in his listening room.

Unwrapping the speakers, the care and quality of the finish is evident. I opted for the Natural Curly Maple which has a very light yellow hue with a very interesting rippled grain. The plinths and that front plate around the drivers are raised and a glossy black. At the bottom of the front of the speaker is a milled aluminum plate with the Salk logo. I really like the way this looks and much prefer it over the typical plastic logo on the grill. The rear has the two five-way binding posts unceremoniously sticking out of the back (most speakers have them mounted in a plastic housing). At first I wasn't a fan of this as I was afraid that the speaker lying on its back (which I was going to have to do to remove the drivers) would damage them but the design of the plinth elevated the speaker enough as it was lying on its back so that posts were protected. I was surprised to find that the speakers were not bi-ampable. I've seen speakers at a much lower price point that are. Personally, I don't have an issue with this since I think it takes a very specific speaker design to require separate amps but most consumers would expect two pairs of binding posts. Since Salk builds their speakers to order, you could request bi-ampability though it would come at an additional cost. There is a large flared port at the bottom of the back of the tower. The front of the speaker sports the two Seas CA15RLY 5" woofers and the Hiquphon OW4 tweeter (a drop-in upgrade from the standard OW2 that adds $100 to the price of the speaker) in an MTM configuration.

The speakers are very tall (as you would expect with an MTM design in order to get the tweeter to ear height) at ~47" high. The tweeter is ~37" off the ground which is just about perfectly ear level for my seated position. The speaker itself is deep, but not very wide which makes placement a little easer than the other way around. The plinth on the sides and front only flare out an inch but the speaker feels very steady and solid. At 55lbs, your child or dog is going to have to really work hard at knocking these things over.
The finish on the SongTowers is impeccable with absolutely no flaws that I could find. The raised black area around the drivers and the plinths are a gloss black (called "black satin lacquer" by Salk) but not the high gloss "piano" finish that you see on some other speakers. The black finish is very nice and smooth and while reflective, doesn't seem to attract the amount of dust and smudges that the high gloss does. The "spikes" provided by Salk weren't really spiky - they have a sort of sparkly metal finish and are rounded at the tip. The threaded post actually detaches from the "spike" fairly easily. A little thread-locker would probably correct this. There are no provided rubber feet though the rounded tips should be fairly safe on hardwood floors.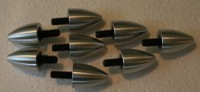 The problem is that the spikes won't pierce a carpet which is sort of the whole point of the spikes. These seem to be mostly just for looks from what I can tell. Salk does have more traditional carpet spikes that are adjustable and much sharper available upon request (for an additional cost). The bottom of the speaker has a short raised piece which gives the speaker the appearance of floating off the plinth. This also means that if you added on some aftermarket outriggers, you'd end up with the appearance of floating off them as well. If the raised portion was part of the plinth and not the speaker, outriggers would be much more of an option.

Attaching the plinth is fairly easy though the screws are HUGE. A socket set is definitely recommended. Remember that the short side of the plinth goes towards the front of the speaker. The overhang of the back protects the binding posts if the speaker is laid on its back. The edges of the speaker are fairly sharp but not as bad as I've seen with some other Internet direct speakers. The black front plate is nicely rounded as is the top of the plinth. Personally, I am much more impressed with the looks of this speaker in person than I was when I saw it online. I thought the black faceplate looked a little weird from the online pictures but in person it looks very nice.

The grill is attached by magnets that hold it securely in place with no wobbling or vibrations during play. The magnets are flush with the back of the grill and the metal contact points are invisible on the front of the speaker. I really liked how the grill snapped securely into place with no real side to side movement possible. I never had to worry if the grill was centered because there was only one position for it. It also never seemed to mark, mar, or scratch the black finish on the faceplate. Salk recommends critical listening being done with the grills off as it can affect the sound (especially off axis). When taking measurements I noted that there was a slight change in the response with the grills on, but whether or not this would be audible is subject to debate.
Taking the speakers apart is only possible from the front by removing the drivers. I confirmed that the woofer was in fact the Seas CA15RLY though the tweeter was the Hiquphon OW4 instead of OW2. As we mentioned, Salk says that the OW4 is a drop-in upgrade/replacement for the OW2. The cabinet is constructed out of 3/4" MDF with three large braces up the length. The braces are all slightly inset into the cabinet and glued into place. At 55 lbs a piece, the SongTowers are well braced and very inert.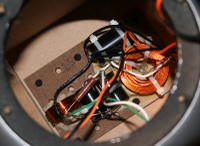 All the internal wiring was done with 14 AWG silver coated oxygen-free copper wire. The Hiquphon OW4 tweeter is enclosed in its own plastic backbox obviously provided by the manufacturer. The wiring for the tweeter is soldered on directly. The crossover uses very high quality air core inductors properly oriented to avoid crosstalk coupling, and audiophile polypropylene capacitors. At first I thought Salk was using hot melt for holding the parts down. It turns out that this was not hot melt but heavy-duty construction adhesive. A few years ago they started having problems with shipping damage. The cabinets arrived just fine, but heavy air coils were being ripped off of crossover boards (especially by UPS). They experimented with many different solutions until they came up with this adhesive. Once the adhesive off-gases (in about 24 hours) it bonds so well you have to use a chisel to remove components from the crossover board. This, coupled with the liberal use of tie-wraps has virtually eliminated crossover shipping damage. In fact, they have had zero failures in the two years or so they have used their present system!
Confused about what AV Gear to buy or how to set it up? Join our Exclusive Audioholics E-Book Membership Program!
lost33 posts on March 05, 2009 21:02
Hey Bob!!!

haahaahahahahahahahaha!

Zip, zero, nadda….

and I just got done listening to the RAVE 2008 reference tracks disc and once again I had the 'ususal' ethereal experience with many of the tracks on this disc…

And for those that really like and search for really great recorded material to test you speakers:

1. Stravinsky Firebird Suite Eiji Oue Minnesota Orch…the SongTowers make listening to classical music a JOY.

2. Your Joy - Chrisette Michele — WOW what an awesome recording of someone I have never heard of..the presentation is like she is there in the middle of the soundstage ..like the speakers are GONE….absolutely stunning!!

3. Mars - Dean Peter…what a wonderful surprise..so full on all kinds os esoteric sounds…from very low amplitude to WHAMO….this will make you smile for sure..

4. Surf's Up! Brian Wilson,,,Holy Crap This kind of simple music never sounded so great…..just another WOW…

5. Bizet - Carmon Fantasie Anne-Sophie-Mutter, Vienner Phil - James Levine
I never really liked classiscal music and now I have realized I have missed out on alot….and look forward to listening a lot more…oh did I also say its really sound great on the SongTowers!

6. La Grange….dang its GOOD..

Many thanks to lonewolf42 for oepening my eyes up to lots of new stuff!!

What a great combo….great material and great speakers and so little time!!

Hope some of you look into some of those cited tracks…and enjoy!!

All the best
Alex
BoB/335 posts on March 05, 2009 04:46
I was just going to ask you how much you were getting paid for that.
lost33 posts on March 04, 2009 21:35
Hello,

I purchased a pair of SongTower QWT's with the dome tweeter sight unseen and unheard.

I have had them for 2 weeks now.

I have been amazed each and everytime I listen to them. They are the best speakers that I have heard in this price range. We did listen to most of the fine speakers in this price range, but due to Nuance search for his perfect speaker I was convinced this speaker, design etc was somthing special.

The entire experience from talking to many forum members and with Jim Salk himself was a really nice cordial one. Jim really likes to make his customers happy and has gone out of his way to answer everyone of my calls and emails..imagine sending an email to the owner of other high end speaker CEO's!! Matter of fact I just emailed Jim and in less than 10 minutes he emailed me back. What a real nice person!!


That said I have modest electronics and a rather small listening room and have spent a day or so playing with toe-in and seperation distance. I also have a 58" plasma piece of glass in between them. I was worried about the soundstage and imaging etc…

Well I am very happy to say the overall experience with the SongTowers have been close to a 10 out of 10. By careful placement making sure the speaker fronts are well in front of the plasma HT screen the imaging has been fantastic…I have always walked away just amazed at what relatively small speakers lilke these can do with all sorts of material….classical, guitar, rock, etc…and vocals WOW do they do these well!!

The soundstage is absolutely amazing in my listening room and I was so worried that this room would not be a good one!!! Happy, happy!!

I have played many of the audiophile RAVE discs and demo discs that have some extremely great recordings and I just cant tell you how well these speakers reproduce this material. Garbage in is still garbage out…but with well recorded material is sent to these transducers, its magic.

The sound of instruments is very accurate, the drivers in this speaker have to really good to allow this to happen, the response is very quick, I guess those small 5" drivers can move very fast and the drum / percussion is really tight and wonderful. Heck even FM radio sounds better! Different but better.

The ONLY thing that these speakers can not really do well is reproduce those really low end 'rollers'…..those things that go really low, below 30HZ I would say, those low growling thhings like you hear in FLIM and the BBs material and the old Edgar Winters "Frankenstein" cut at the end where the synths go down to the bottom of what we can hear….

That said 95% (guess) that we (I) listen to the Songtowers produce muscial base that is wonderful….Duende and Diana Krall cuts have bass violin that is so dang accurate and tight it like they are right there in the room….its THAT GOOD.

If your on a budget, have a smaller room, and think you would never find a set of speakers that would be 'world class' in this size / price range….look no further!!

The SongTowers are what Jim descibed to me as the 'perfect storm' of a speaker, the sum of the parts is exceptional.

All the best
Alex

NOTE: I am not getting paid by Jim or anyone to say these things…
They are that good!!
Swerd posts on February 27, 2009 19:34
BoB/335, post: 529956
I ran across this thread while looking for reviews on Song Towers as I am contemplating purchasing a pair.

Seems I read somewhwer that the hole resembling a port at the rear of a ST is a "vent" and not a port and can therefore be placed close to a wall at the rear. Is that true?
Yes, that's true. Someone asked that in the thread where I posted my ST listening impressions.
Dennis Murphy answered
.
Others (including myself) have also tried the same thing and heard similar results. This is the opposite of the usual conventional wisdom that has it that placing speakers closer to the wall behind them makes them sound boomy or muddy, and that moving them away from walls decreases the boom. Apparently this feature is also seen in other speakers with transmission line cabinets.
BoB/335 posts on February 27, 2009 14:26
I ran across this thread while looking for reviews on Song Towers as I am contemplating purchasing a pair.

Seems I read somewhwer that th hole resembling a port at the rear of a ST is a "vent" and not a port and can therefore be placed close to a wall at the rear. Is that true?
Post Reply