RTJ 410 and RTJ18 Modular Sub/Sat Measurements and Conclusion
RTJ 410 and RTJ18 Modular Sub/Sat Measurements and Conclusion
The measurements section won't be our typical Audioholics measurements.  Unfortunately, the circumstances prevented us from measuring this system as we had liked.  It was hot, in typical Florida summer style.  The videos we shot had taken too long. Jeff needed to get home in a timely manner, and was going to be driving through the night.  I pushed Jeff to let me try. I really wanted to get some measurements.  At least a handful of angles.  Gene's new house really needs an exorcist.  We ran into little problems throughout the weekend, and this was no different.  By the time we finally had sound coming out, we discovered problems in the measurement setup we had concocted, and it was too late to fix them.  I was able to get only one measurement of the 410 module, with a microphone aimed dead on.  The subwoofer was measured ground plane such that we could show how the room gain control works to extend the bass response.  It gave me a chance to see the speaker's distortion performance.  This measurement section will include a single on-axis measurement of the 410, a few measurements of the subwoofer at one level, and an in-room measurement of the speaker as calibrated.  I hope to generate complete data on this speaker at a future date.  Past efforts by Jeff have measured well, and the larger waveguide in this speaker promises to improve on those past efforts.  Hopefully, I can see that for myself and convince Jeff to drive another 9 hours each way to see me.
As for the in-room measurement, what we saw was a typical in-room response full of resonances caused by various reflections and room modes. The natural downward slope and relative smoothness suggest consistent directivity.  The rate at which the response falls between 100hz and 10khz suggests that directivity is well controlled, but not overly narrow, as it follows close to the typical target curve, if not a little flat.  Above 10khz, the response falls faster, suggesting narrowing directivity, typical of most speakers.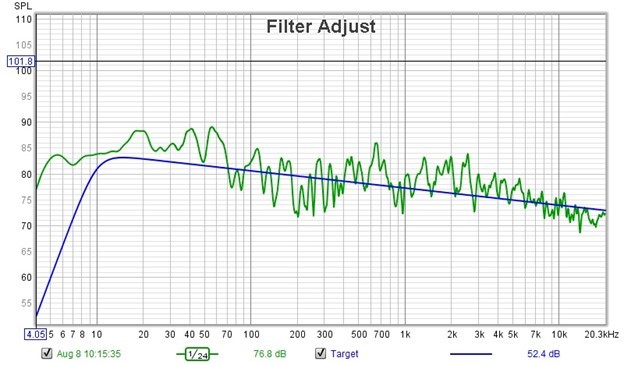 The in-room extension is unreal.  I've long known that sealed box subwoofers could get better extension in room because of the slower rate at which the response falls off (2nd order).  However, most sealed subwoofers we deal with have limited output and a fairly low excursion.  While it may technically be possible to get very low extension, it's typically at such low levels it is not useful.  Here, what we saw was a response that was rising toward around 10hz, where it then slowly fell, leading to high output single digit extension.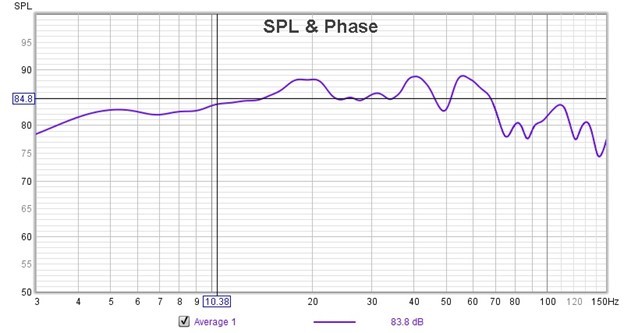 What is most impressive about the response we see in Image 3 is that there is no clear end in sight for that extension.  I have that graph starting at 3hz and the bass is only down around 4-5dB.  That is with no EQ extending the response.  The sealed boxes allow very deep extension in room and the four 18's have enough output to allow a pretty aggressive room curve if so desired.
Now, I managed to get some outdoor free space measurements.  The speaker was placed on a stand around 5 feet off the ground.  The stand we used, given the size of the speaker, raised heavy loads much like a small fork lift, rather than our typical style of stand.  This worked to get the speaker off the ground, but unfortunately didn't allow easy rotation nor was high enough off the ground.  The acoustic center of the speaker was just 7 feet off the ground.  When measuring the speaker at 2 meters, we couldn't get a clean enough signal.  I moved the mic to 1 meter, which improved things dramatically.  Measuring this speaker in the future will demand a different approach to get good results.  This allowed me to capture the on-axis response with a clean impulse response out to around 9ms.  By then windowing this measurement and splicing in the bass response of it and the bass module, we can see that the on-axis response is very smooth.       

There are a few resonances and the shape isn't totally flat, but it tracks a good response shape for a speaker of this type.  There are a few resonances in the response that a bit of DSP could address.  None of these are majorly concerning, the response still falls within a +/- 2dB window, and fixing these tightens that to fit within a +/- .5dB window.  For custom installers, this kind of intrinsic correction is readily possible and appropriate.  What isn't correctable and was unexpected is the directivity.  While not horrible by any means, you can see a shift in directivity between the midbass drivers and waveguide.  This is caused by the diameter and spacing of the 10" midbass drivers, causing a narrowing in their directivity starting around 200hz and becoming most prevalent at around 700hz.  This causes a rise in the DI and a dip in the power response.  This is even evident in the predicted in-room response.  This actually threw me during tuning and I initially corrected this, only to find it made the speaker sound worse, not better.  This is not unheard of.  Interestingly, other than this slight issue, the speaker's directivity is so well controlled that the directivity index is basically flat.  This is really unusual to see a DI that is so flat and well extended.  It is basically around 6-9dB from 400hz to 15khz.  There is a bit of widening in the directivity around 5-10khz where the DI is at its lowest, around 6-7dB.  Most speakers would have a rising DI, and often not nearly as linear.  
Conclusions
What can you really say to conclude a review about a speaker like this?  It's a tough review scenario to be in, I didn't have extended hands on time with them. Their size and weight prevented that, and they aren't some sexy new speaker.  It's a speaker specifically designed and optimized for dedicated home theaters.  They aren't pretty or sexy. You would need a very understanding spouse to have these on display.  Yet, for their intended purposes, they have few peers.  They have the directivity control needed to provide broad smooth coverage of even the largest home theaters.  They have unmatched output, capable of well in excess of 120dB, ensuring they can readily hit reference levels in even the largest consumer home theaters.  RTJ is offering matching surround and in-ceiling speakers that ensure a complete timbre matched system.  RTJ's sealed subwoofers are nearly unmatched.  They have among the highest output of any consumer sealed subwoofer on the market, but beyond that, they are also among the best sounding.  Very clean, with no noticeable suspension or motor noises.  That makes these an impressive lineup for the custom installer.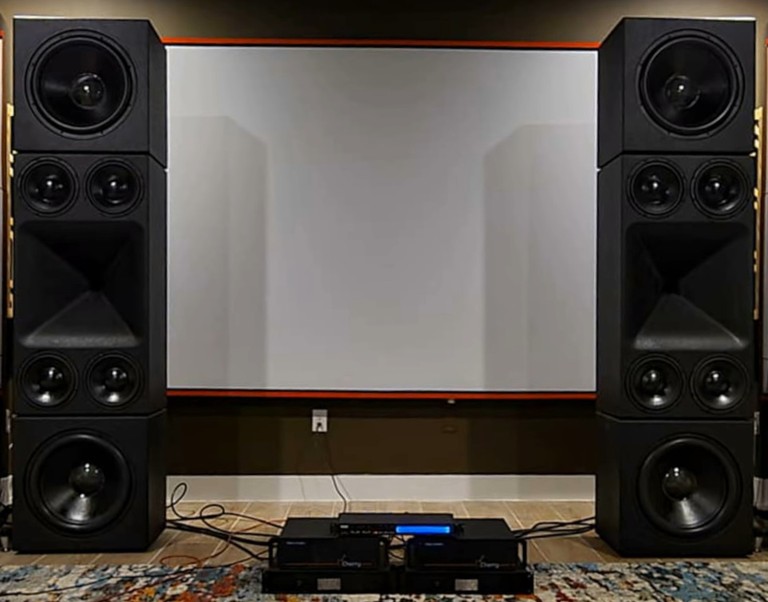 While the price is much higher than past efforts by Jeff Permanian, they are priced competitively with the rest of the market.  For example, Grimani System's sells the Alpha speaker, which is a similar size/output/class of speaker.  This speaker is fully active and has an MSRP of $28,000 each. The RTJ 410 retails for $7995 each, but is a passive speaker and doesn't include amplification.  Jeff's preferred amplifier for these speakers is the Cherry Audio Megachina MkII which I previously reviewed.  That starts at $6100 for the stereo speaker. That is around $11,000 per channel with amplification.  The Grimani speaker has a more sophisticated waveguide, fully active with DSP crossover, and a higher finish standard and that is largely what you get for the extra money.  Still, you can see the value proposition that RTJ is offering for custom home theater.  These are by far the best speakers that Jeff has ever made. They offer a stupendous value to the market, and I enthusiastically recommend these.  If you are in the market for a high output home theater with excellent sound quality, you really can't go wrong with these speakers.  
Monstrous RTJ Speakers Make Don Dunn Dance & Rant Audio
The Score Card
The scoring below is based on each piece of equipment doing the duty it is designed for. The numbers are weighed heavily with respect to the individual cost of each unit, thus giving a rating roughly equal to:
Performance × Price Factor/Value = Rating
Audioholics.com note: The ratings indicated below are based on subjective listening and objective testing of the product in question. The rating scale is based on performance/value ratio. If you notice better performing products in future reviews that have lower numbers in certain areas, be aware that the value factor is most likely the culprit. Other Audioholics reviewers may rate products solely based on performance, and each reviewer has his/her own system for ratings.
Audioholics Rating Scale
— Excellent
— Very Good
— Good
— Fair
— Poor
| Metric | Rating |
| --- | --- |
| Build Quality | |
| Appearance | |
| Treble Extension | |
| Treble Smoothness | |
| Midrange Accuracy | |
| Bass Extension | |
| Bass Accuracy | |
| Imaging | |
| Soundstage | |
| Dynamic Range | |
| Fit and Finish | |
| Performance | |
| Value | |
Movie2099 posts on March 28, 2023 09:08
Would like to have the RTJ18 go up against the Perlisten D215. Would also like to see a show down of the RTJ410 go up against the JBL M2.
Kvn_Walker posts on March 28, 2023 06:38
3Hz. Yikes. o_O
ryanosaur posts on March 28, 2023 06:19
Nice write up, @Matthew J Poes ! Glad to finally see this come together.
gene posts on March 28, 2023 03:36
AYPXqgT1YgY
gene posts on March 28, 2023 03:36
3FaIJNWmS_E
Post Reply
Confused about what AV Gear to buy or how to set it up? Join our Exclusive Audioholics E-Book Membership Program!