Infinity Primus P363 Floorstanding Loudspeaker Design Overview
Infinity Primus P363 Floorstanding Loudspeaker Design Overview
The Infinity Primus P363s were double boxed with plenty of foam padding to ensure a safe arrival to our sound lab to conduct this review. There were no fancy socks or white gloves included with these speakers. Apparently Harman didn't get the memo on how consumers often associate these accessories with "high end." The P363's were encased in plastic wrap to protect the finish. The P363's came with plastic feet installed that physically raise the cabinet about an inch off the floor. They also provided the option of using rubber feet, but I stuck with the plastic ones. I'd probably recommend people with hardwood flooring to use the rubber feet since they would make for more solid footing to the floor while also better protecting the finish.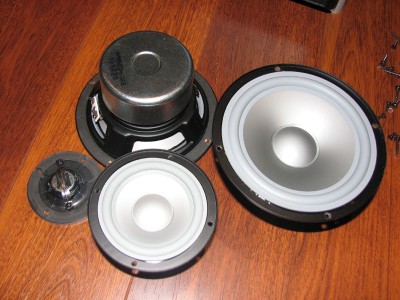 Infinity P363 drivers
The Infinity Primus P363 is a rather compact 3-way tower design, standing about 3 ½ feet tall and sporting 4 drivers. They are designed and engineered by Harman in California but manufactured in China to keep costs down. The P363's employ Infinity's patented MMD "Metal Matrix Diaphragm" which is just a fancy name for a coated aluminum cone. I examined the cones and found them to be extremely stiff (good thing) while also being well damped to ensure a gradual break up mode. The dual 6.5" drivers produce the bass in this speaker up to around 350Hz where the mid frequencies are handed off to a 4" MMD midrange driver. These drivers employ stamped baskets with no venting and also use bucking magnets adding unnecessary weight and cost. If this were just for those still using a CRT display, it would be a waste, but more and more manufacturers are claiming that these magnets redirect flux back into the pole piece. The drivers employ 1" voice coils and a rather stiff suspension and spider to prevent excessive cone movement. There is not a lot of motor force here, but a speaker at this price isn't expected to produce gobs of bass at meaningful output levels. The tweeter is an MMD ¾" hard dome with a rather anemic-looking neodymium motor structure. Luckily it is crossed over fairly high (around 3.3kHz) so it's not tasked with producing the lower treble frequencies at high power, which it's simply incapable of doing. Infinity also incorporated a wave guide or shallow horn to increase tweeter sensitivity and control directivity in an effort to better integrate the frequency response between the midrange and tweeter. I am a fan of the MMD cone material Infinity uses on these drivers, but would have liked to see the shielded magnets dropped in favor of allocating that budget towards beefing up the motor structures and voice coils a bit.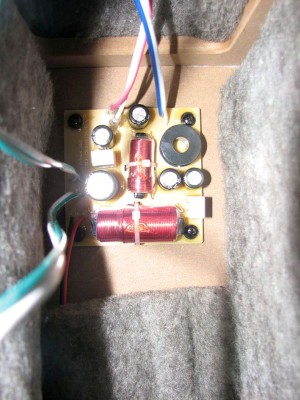 Infinity P363 Crossover
There is nothing particularly special about the parts Infinity chose in these crossovers. They are the same crossover boards from the P360 predecessor employing a 2nd order network on the bass drivers (consisting of an iron core choke and electrolytic caps), 2nd order high pass filter on the midrange and a 4th order response between the midrange and the tweeter at 3.3kHz utilizing an air core inductor. While the parts usage was arguably ho-hum, it was nice to see that Infinity paid attention to proper bandwidth limiting on the drivers. We've seen more expensive speakers run with nothing but a padding resistor on their tweeter and no crossover at all on the midrange driver which introduces a host of performance problems. This was NOT the case with the P363's. Personally I'd like to see Infinity replace the electrolytic with mylar caps as they not only offer a performance advantage, but also a longevity one as well. The crossover board was mounted on the back of the cabinet and connected to a single pair of 5-way binding posts on the rear bottom end of the cabinet.
Infinity P363 Internal View thru front baffle: driver mounts (left pic), bottom cabinet (right pic)
The cabinet is constructed of 5/8" MDF but the front baffle is thinner due to the cutouts for the silver plastic driver covers that are presumably meant to increase the speaker's visual appeal. Harman marketing didn't get the memo on how front baffle rigidity is the most important part to make thick on a cabinet. I'd prefer to see Infinity ditch these silver driver covers and just stick to an entirely black and thicker front baffle with the drivers all flush mounted. I measured areas that were less than ½" thick right where the drivers mount. Luckily, Infinity was smart and employed thick stick bracing framed around the circumference of the cabinet in those areas to add rigidity. The cabinet was conservatively lined with rather thin gray insulation along the walls but was completely hollow at the bottom of the cabinet where sound foam is needed most to help dampen standing waves. The cabinet is vented with a 1" deep, 2" circumference port on the front baffle below the bottom driver. The midrange driver was encased in its own plastic cup and was heavily insulated.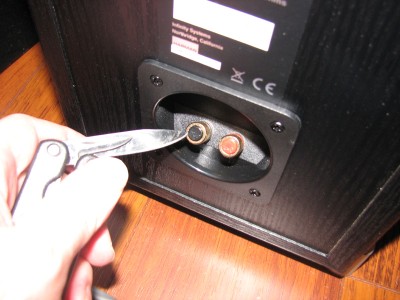 Infinity P363 Binding Posts
The P363's came with rather generic style connectors. It also had annoying plastic plugs glued into the back of the binding posts making it impossible for me to use banana plug cables. After spending nearly 15 minutes trying to pry them out, I had to use my drill to drill them out of the binding posts. This was very frustrating to me as it was the first time I've ever seen plastic protecting caps glued into a binding post so snugly. Harman told me they do this to be compliant with a European CE regulation. The ¾" spacing between the posts means the Euro AC plug with its two round prongs can be plugged directly into a speaker's binding posts. The plastic plugs prevent this. Why anyone in Europe would ever think of plugging their AC cord into a speaker is a question no one has ever been able to answer. But, I'd venture to guess there's a less tumultuous way Infinity could have accomplishing this since I've never encountered this problem before on other review speakers.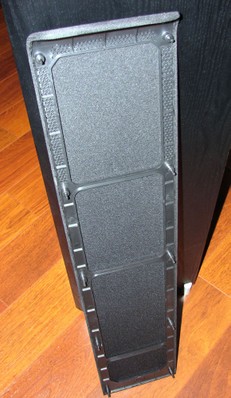 Infinity P363 Grille Covers
The grilles of the Infinity P363 towers are constructed of flimsy plastic but the cloth is wound tight around the frame to minimize losses. They cover almost the entire front baffle (including the port) and wrap around the top edge of the cabinet. The grilles aren't the magnetic type that's becoming more popular these days with speakers, and the plastic pegs make for a very snug fit onto the front baffle. In fact, you really have to give quite a tug to remove them.
The P363's are currently only offered in the pictured black vinyl finish, which is rather pedestrian looking but serves its purpose. With the grilles on, the Infinity P363 won't draw much attention to itself.
Set-Up

I tested the Infinity P363 speakers in the following two scenarios:
Audioholics Showcase Theater room - two-channel utilizing the reference gear and premier listening space in the Audioholics Showcase home

Friend's House to compare to his EMP E55Ti speakers
Listening Scenario #1 Audioholics Showcase Theater Room
For the first listening session, I positioned the P363 towers about 5ft from sidewalls and around 8ft from the back walls and spread apart about 10ft from each other which was about two feet shy of the distance from my primary listening position. After experimenting, I found they sounded their best with moderate toe-in. I used my Marantz PM-11S2 200wpc integrated stereo amplifier and the Denon DVD-A1UDCI Universal Blu-ray player as the source connected via balanced cables. All interconnects were furnished by Blue Jeans Cables (1694A Coax) and Kimber 8PR speaker cables with WBT compression banana plugs. The speakers in this case were run full-range with no bass management. For comparative purposes I also used my Denon AVP-A1HDCI A/V processor, Denon POA-A1HDCI 10 channel amplifier to run the P363's bass managed to my reference Velodyne DD-15+ subwoofers crossed over at 80Hz.
Listening Scenario #2: Friend's Home Infinity P363 vs EMP E55Ti
I directly compared the Infinity P363 and EMP E55Ti speakers side by side on a Harman/Kardon HK 3490 stereo receiver using SPK A and SPK B outputs to switch between speaker pairs. Volume was properly adjusted each time to ensure the speaker pairs were level matched during the comparison. The cables were Kimber 8PR's and the source was the Denon DVD-1920CI connected via Sonicwave toslink to the HK 3490.
Confused about what AV Gear to buy or how to set it up? Join our Exclusive Audioholics E-Book Membership Program!
Recent Forum Posts:
davidscott posts on September 13, 2018 18:19
Thanks good review and I pretty much agree having owned these since 2013 and am happy with them. Thanks again for the informative review and sorry about posting to an old thread.
Dave
Dapitas posts on July 26, 2016 10:04
Being I have a the Primus line home theater speaker setup and the 363's were on your agenda, I had to read. I agree with a lot of what was written. I took your recommendations for better insulation for the speakers. I used the mountain Mist Poly, wow I can honestly say this was the best tweek I have made to the 363's, repacked the plastic chamber for the mid-range speaker as well. The vocals and the high end cleaned up surprisingly well. Changed out the originals screws with brass ones, using 10 gauge speaker wire as per Audioholics advise, treated my room with acoustic panels (Home-made) and I am very Pleased with the results. I also did this tweek with the rest of my speakers and found that all were lacking a good packing, o_O. Using Denon 3310ci for receiver and using it in 7.1. The sub is the 312 12", with it I also found a lack of stuffing. The back wall of the sub was bare. Packed it and it has helped tighten it up. This will hold me over until I can step up to the next level, Thanks for the article and advise.
ooobbbccc posts on June 23, 2013 03:05
Are you serious these caps are glued on? Because I have similar caps at the back of my Denon 2312 and I was able to pull them off using my thumbnail.
jej826 posts on May 23, 2013 23:27
These speakers are 8ohm

Right from Infinity website.

FULL SPECSLoudspeaker Features/Specifications

<tbody style="line-height: 1.3em; color: rgb(114, 114, 114); margin: 0px; padding: 0px; border: 0px; outline: 0px; vertical-align: baseline; background-color: transparent;">
Frequency Response
38Hz - 20kHz


Nominal Impedance
8 ohms


Sensitivity (2.83V @1m)
93 dB


Crossover Frequencies
350Hz, 3,300Hz; 24dB/octave


Finish
Black wood-grain


Dimensions (H x W x D – Metric/English)
39-1/4" x 8-1/4" x 13" (997mm x 208mm x 330mm)


Weight (Metric/English)
48.5 lb (22kg)

</tbody>



audio0412 posts on January 19, 2013 11:56
hi

i read the review and from what i read, i had a pair of these for about a year..the weak link for this system is the tweeter. Though very efficient at high frequency it could use some upgrade down the road with a better unit. Any recommendations are appreciated!!!

-
Post Reply