Infinity Primus P363 Floorstanding Loudspeaker Conclusion
Infinity Primus P363 Floorstanding Loudspeaker Conclusion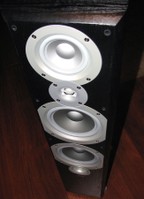 It's been a long time since I've had my hands on a pair of Infinity speakers. In fact, the last time was prior to Harman's acquisition of the brand. Infinity is obviously a different company now. Their focus is more mainstream and budget conscious. This doesn't mean that there isn't some solid engineering behind these speakers. It's far more challenging to make a budget product sound good than a costlier ones. That being said, I'd love to see what Harman could do with Infinity on a higher end line-up to bridge the price gap between Infinity and Revel.
Infinity seems to have taken a well-balanced approach in designing the Primus P363 speaker system. Sure I had some nits to pick, but the fact that these speakers were able to hit high SPL levels in my nearly 6,000 ft3 room without bottoming out or sounding completely shrill was truly amazing. I've had tower speakers costing $4k/pair that couldn't play as loud. I felt the true strength in these speakers was in their fairly neutral and very fluid midrange response. It was obvious to me the midrange driver was the true workhorse and really shaped the overall sound of the system. I was impressed with the vocal clarity I was hearing coming from a single 4" driver. The P363's produced great high frequency detail, though they were a bit sibilant at times depending on source material. The P363's sounded very consistent when I moved my head side to side thanks to the good driver integration and attention to off-axis performance Harman engineers paid when designing these speakers.  At the retail price of $758/pair, there are certainly other options to consider. But, realizing the P363's can usually be had for $400/pr on sale (sometimes even cheaper), they are truly a remarkable value. If you can catch the local deal Fry's often offers for $200/pair for these babies, RUN out and get them even if they are for a remote system or office. There are currently no floorstanding speakers on the planet for that price that could compete in my opinion. Recommended!
The Score Card
The scoring below is based on each piece of equipment doing the duty it is designed for. The numbers are weighed heavily with respect to the individual cost of each unit, thus giving a rating roughly equal to:
Performance × Price Factor/Value = Rating
Audioholics.com note: The ratings indicated below are based on subjective listening and objective testing of the product in question. The rating scale is based on performance/value ratio. If you notice better performing products in future reviews that have lower numbers in certain areas, be aware that the value factor is most likely the culprit. Other Audioholics reviewers may rate products solely based on performance, and each reviewer has his/her own system for ratings.
Audioholics Rating Scale
— Excellent
— Very Good
— Good
— Fair
— Poor
| Metric | Rating |
| --- | --- |
| Build Quality | |
| Appearance | |
| Treble Extension | |
| Treble Smoothness | |
| Midrange Accuracy | |
| Bass Extension | |
| Bass Accuracy | |
| Dynamic Range | |
| Performance | |
| Value | |
Confused about what AV Gear to buy or how to set it up? Join our Exclusive Audioholics E-Book Membership Program!
Recent Forum Posts:
davidscott posts on September 13, 2018 18:19
Thanks good review and I pretty much agree having owned these since 2013 and am happy with them. Thanks again for the informative review and sorry about posting to an old thread.
Dave
Dapitas posts on July 26, 2016 10:04
Being I have a the Primus line home theater speaker setup and the 363's were on your agenda, I had to read. I agree with a lot of what was written. I took your recommendations for better insulation for the speakers. I used the mountain Mist Poly, wow I can honestly say this was the best tweek I have made to the 363's, repacked the plastic chamber for the mid-range speaker as well. The vocals and the high end cleaned up surprisingly well. Changed out the originals screws with brass ones, using 10 gauge speaker wire as per Audioholics advise, treated my room with acoustic panels (Home-made) and I am very Pleased with the results. I also did this tweek with the rest of my speakers and found that all were lacking a good packing, o_O. Using Denon 3310ci for receiver and using it in 7.1. The sub is the 312 12", with it I also found a lack of stuffing. The back wall of the sub was bare. Packed it and it has helped tighten it up. This will hold me over until I can step up to the next level, Thanks for the article and advise.
ooobbbccc posts on June 23, 2013 03:05
Are you serious these caps are glued on? Because I have similar caps at the back of my Denon 2312 and I was able to pull them off using my thumbnail.
jej826 posts on May 23, 2013 23:27
These speakers are 8ohm

Right from Infinity website.

FULL SPECSLoudspeaker Features/Specifications

<tbody style="line-height: 1.3em; color: rgb(114, 114, 114); margin: 0px; padding: 0px; border: 0px; outline: 0px; vertical-align: baseline; background-color: transparent;">
Frequency Response
38Hz - 20kHz


Nominal Impedance
8 ohms


Sensitivity (2.83V @1m)
93 dB


Crossover Frequencies
350Hz, 3,300Hz; 24dB/octave


Finish
Black wood-grain


Dimensions (H x W x D – Metric/English)
39-1/4" x 8-1/4" x 13" (997mm x 208mm x 330mm)


Weight (Metric/English)
48.5 lb (22kg)

</tbody>



audio0412 posts on January 19, 2013 11:56
hi

i read the review and from what i read, i had a pair of these for about a year..the weak link for this system is the tweeter. Though very efficient at high frequency it could use some upgrade down the road with a better unit. Any recommendations are appreciated!!!

-
Post Reply