Pinnacle Black Diamond BD 1000 Tower Loudspeaker System Review
Pinnacle Black Diamond BD 1000 Tower Loudspeaker System Review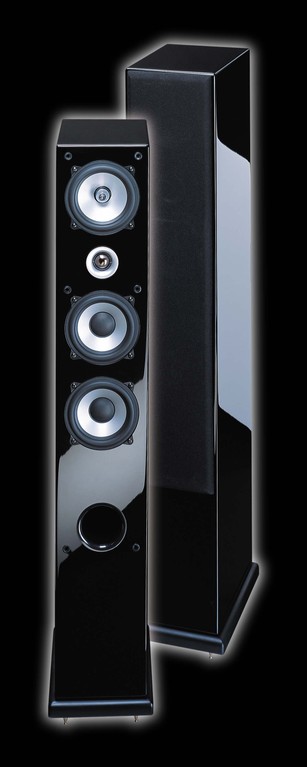 Pinnacle BD 1000
Product Name: BD 1000
Manufacturer: Pinnacle
Performance Rating:
Value Rating:
Review Date: August 27, 2010 11:24
MSRP: $ 1299/pair
System Type: 3-Way, 4-element, 4th Order Front Vented
1" liquid cooled silk dome tweeter with neodymium magnet
5.25" polymer cone midrange with rubber surround and die cast phase plug
(2) 5.25" polymer cone woofers with rubber surrounds
Frequency Response: 34 - 20 kHz (+/- 3 dB)
Crossover Frequency: 200 Hz & 5 kHz
Recommended Amplifier Power: 15 - 200 Watts RMS per channel
Operative Power Range: 15 - 150 Watts, 300 Watts Peak
Sensitivity: 88 dB @ 1 Watt / 1 Meter (2.83 Volts Pink Noise)
Nominal Impedance: 8 Ohms
Dimensions: 6 1/2" Wide x 40 3/4" High x 10 1/2" Deep (with grille and isolation cones attached)
Finish: High Gloss Piano Black
Warranty: 10 years transferable on parts & labor
Weight: 33 lbs. each
Pros
Blends into any room décor
Impressive sound for its size
Surprisingly good bass extension
Cons
Tends to sound compressed at high listening levels
Some poor design choices in crossover
Pricey (see notes)
Introduction
Pinnacle has done a decent job with the execution of their BD 1000 3-way, 4 driver slimline tower speaker system both aesthetically and performance-wise. They understand the tradeoffs in providing a small form factor tower speaker system and know their audience of buyers for such a product. A few tweaks to the crossover, and usage of a smaller non horn-loaded tweeter could have potentially improved product performance but I suspect many folks will appreciate the overall sound of this product as is. If you're looking for an unobtrusive, relatively affordable compact tower speaker system that gives you plenty of boom and sizzle with excellent midrange clarity, then this is your speaker.
Confused about what AV Gear to buy or how to set it up? Join our Exclusive Audioholics E-Book Membership Program!
Recent Forum Posts:
ms142ms142 posts on August 31, 2010 20:23
Suggestion for crossover mod

Thanks Gene and Audioholics for your detailed review. I happen to have a pair of BD1000 and was trying to mod the crossover before reading your review because the balance is tilted too much to the tweeter. As a musician, I've found that the violin and the piano sound somewhat distorted at higher frequencies, and your measurement confirms what I hear.

Since I don't have the schematics, I wonder if you could suggest some new values for the resistors padding the tweeter that can tone down the output without changing the crossover point? Is it simply a first-order high pass filter and an L-pad? I noticed there are three resistors on the board with values 1.8, 3 and 3.9 ohms. Thanks very much!
Coult_45 posts on August 29, 2010 15:02
Post Reply