Fluance ES1 Floorstanding Loudspeaker Measurement and Analysis
Fluance ES1 Floorstanding Loudspeaker Measurement and Analysis
The measurements were conducted in conformance with Audioholics Loudspeaker Measurements Standard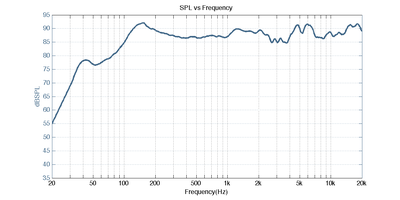 Fluance ES1 On-Axis Frequency Response
The on-axis frequency response of the Fluance ES1 was conducted with the measurement microphone at 2 meters with a 2.83V excitation signal.  The results are scaled to 1 meter mathematically.  The manufacturer rates this loudspeaker's sensitivity as 90dB at 1 meter with a 2.83V input according to their website or 86dB+/- 3dB according to the loudspeaker tag.  This discrepancy is likely attributed to measurement techniques or interpretation of results.  At some frequencies the ES1's exceeded 90dB sensitivity however there is significant variability in the response of the speaker.  Audioholics measures sensitivity as the average sound pressure level (SPL) from 300 to 3kHz.  The ES1's Audioholics rated sensitivity is decent at 87.6dB.  Listening tests clearly confirm a peak at approximately 150Hz as confirmed by the impedance peak at the same frequency.  This resonant peak is due to the enclosure volume and tuning configuration in conjunction with the mid-woofers resonant frequency (Fs).  This is a very high resonant frequency for a 5-inch mid-bass in a 2-way design.  The average high frequency output of the loudspeaker from the crossover at 3.5kHz to 20kHz is substantially higher than the average sensitivity from 300 to 3kHz contributing to the bright treble impression.  Since the loudspeaker can be bi-wired, it may be possible to add an L-pad attenuator to the tweeter if high frequency response is too forward.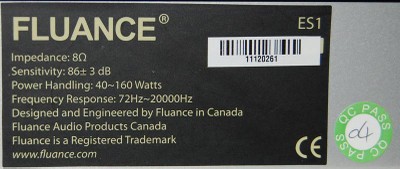 Fluance ES1 Tag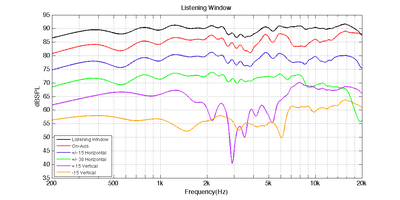 Fluance ES1 Listening Window
The listening window response for the ES1 was conducted with a 2.83V input signal at 2 meters from 7 locations.  The measurement provides a picture of how the loudspeaker performs from seating locations that are not directly on axis with the speaker.  The top curve is the average of the other positions and provides an average of how the speaker performs throughout the listening area.  The off-axis response within the listening window area is pretty uniform in the horizontal plane.  The 15 degrees vertical measurements have suck outs due to lobing error based on the driver arrangement.
Fluance ES1 Polar Response
The polar response graph shows how a loudspeaker performs at various angles.  The polar response graph above is generated by measuring a loudspeaker at 7.5 degree intervals around a circle on the tweeter axis from 2 meters.  The Fluance ES1 has excellent polar response from 0-60 degrees.  The color variations at given angles versus frequency are solely due to the uneven frequency response and are not due to changes in off-axis performance.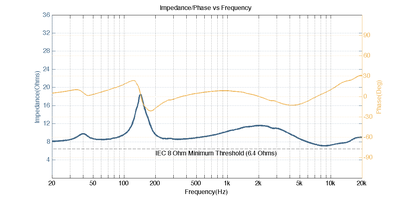 Fluance ES1 Impedance
The impedance of the Fluance ES1 remains above the IEC 8 ohm minimum threshold of 6.4 Ohms throughout the entire audio band.  At approximately 9kHz, the loudspeaker reaches a minimum impedance just below 7 ohms.  This loudspeaker represents an easy load for the majority of amplifiers on the market.  Due to relatively high sensitivity, a 100-watt amplifier is a good match to drive this loudspeaker to very loud volumes.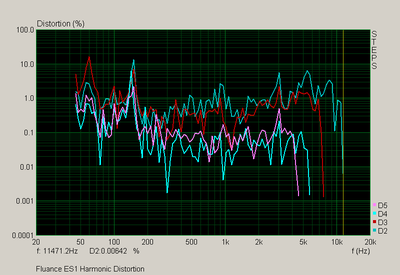 Fluance ES1 Harmonic Distortion
The harmonic distortion graph was generated using a 90dB stepped sinusoid sweep measured at 2 meters.  The above harmonic distortion is marginal with 3rd order distortion products reaching over 2% in the high frequencies.  This may be attributed to cabinet resonance issues.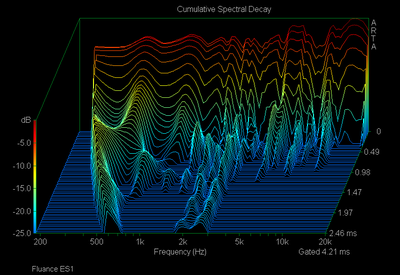 Fluance ES1 Cumulative Spectral Decay
Cumulative spectral decay is derived from the impulse response measurement made with a 90dB excitation signal at 2 meters.  The cumulative spectral decay shows how sound at various frequencies dies out as a function of time.  It is important to note that the left most ridge is not valid and is a product of the measurement technique.  A strong ridge is noticed between 2kHz-3kHz and the subsequent harmonics.  Although the extruded aluminum cabinet is suspected, this measurement does not pinpoint the source.
Fluance ES1 Group Delay
The group delay graph shows the rate of change of the slope of a loudspeaker's phase.  As a rule of thumb, values below 1.6ms in the mid to high frequencies will likely not effect perception of sound quality.  Increasing group delay in the low frequencies is not as objectionable as it is in the mid to high frequency ranges.  
Confused about what AV Gear to buy or how to set it up? Join our Exclusive Audioholics E-Book Membership Program!
Recent Forum Posts:
Joel Foust posts on August 28, 2013 13:44
Well, my first loudspeaker didn't sound too good either It was given to me as a Xmas present several years ago. It sits around as something someone who knows what they are doing with a guitar can play with. I haven't dedicated enough time to become good enough at guitar to warrant something more expensive; I need that money for more stereo equipment!
guessqjj posts on August 28, 2013 03:45
Thanks for giving us a size reference with your Fender acoustic





africord posts on August 27, 2013 16:22
Acoustic Guitar Size Reference

Thanks for giving us a size reference with your Fender acoustic. An interesting choice for an audiophile, care to share how you selected that piece of gear? I'm no snob, I play a Sigma with a Fishman Natural II pickup and d"Addario EXP Phosphor Bronze medium gauge strings.
haraldo posts on August 27, 2013 06:24
Interesting review, thx Joel


It seems like they put some high quality parts in here, but the cabinet rings like a bell, referring to the Cumulative spectral decay
I think they should find a way to better damp the Aluminimum


So significant ringing at 25dB+ must be very audible…..


I would not consider a speaker like this….
3db posts on August 26, 2013 15:21
Its working


Post Reply