Fluance ES1 Floorstanding Loudspeaker Sound Quality Tests
Fluance ES1 Floorstanding Loudspeaker Sound Quality Tests
Set-Up
The Fluance ES1 pillar loudspeakers arrived double boxed with custom adequate Styrofoam collars supporting the speakers along with extra material at the top and bottom.  After unboxing the loudspeakers in my office, I screwed in the five carpet spikes and placed the speakers about 6 feet from my listening chair to get an initial impression.  During this process, I realized that the spikes and the carpet in the office were not very compatible.  Worried about the ES1's falling on their face, I placed a piece of medium density fiberboard under each speaker to stabilize them a little more.  On plush carpet, the ES1's need a little help.  On a solid surface the ES1's footing is sufficient so long as no one bumps into the loudspeaker.
Listening Environment
As part of the review process, I first connected loudspeakers to the system in my home office.  This affords me the opportunity to generate an initial impression listening to background music for long listening sessions while I work on other things.  The office listening system consists of a do-it-yourself Buffalo III SE DAC with volume control connected directly to an ATI AT1505 amplifier.  I use a MacBook Pro running Audirvana connected to the DAC via USB for all music tests.  I do not typically use any form of equalization but do have the capability to use extensive equalization using Audirvana plugins.  The speakers are positioned approximately 6.5 feet apart with the listening position 8 feet away in a 12'x13' room.
The main listening room is a large 24' x 20' great room with hardwood floors throughout.  The room itself is not acoustically treated.  A 12' x 10' area rug with thick foam padding sits between the loudspeakers and listening position.  This space is pretty reflective but has worked very well for my reference open baffle dipole loudspeakers.  Traditional loudspeakers have a tendency to sound a little harsh in the high frequency range due to reflections, but reducing the listening distance reduces this effect.  The system signal chain for testing the Fluance ES1's was an Oppo BDP-105 connected directly to an ATI AT6012 amplifier using unbalanced connections.  The volume control in the BDP-105 was used for all listening impressions.  For high-resolution music sessions, a MacBook Pro running Audirvana was connected to the BDP-105.  The speakers were approximately 8 feet apart and just slightly toed in.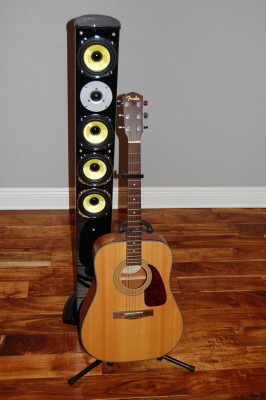 Fluance ES1 Towers
Sound Quality Tests
Looking at 4 bright yellow mid-bass drivers in a 51-inch tall cabinet, I initially expected sensitivity, low frequency extension and significant dynamic capability.  To my surprise, the lower registers were completely absent and overshadowed with an overabundance of clean high frequency reproduction.  While the sensitivity and dynamic capability met expectations, the low frequency extension did not.  The manufacturer rates this loudspeaker's frequency response from 72-20kHz; this loudspeaker should be used with a quality subwoofer.
Norah Jones – Waiting from The Fall

When Norah Jones starts singing in this track, it is easy to immediately determine the character of a loudspeaker.  If something is out of balance, I can usually hear it in this track.  In the first 30 seconds, the words were crisp and clean with excellent imaging.  After 30 seconds, I simply had to turn the volume down.  This tweeter sounds really good at this price point and you are definitely given the opportunity to assess this.  The percussive strike of the piano only confirmed my initial impression.  I agree with Fluance's assertion regarding the ES1's as higher fidelity if it means pumped up high frequencies.  Since Audirvana has graphic equalizer plugin capabilities, I enabled an equalizer and reduced the high frequencies by 3 to 6 dB from 5kHz to 20kHz.  This substantially improved my listening experience and facilitated a much better response to my ears.  Since listening impressions are subjective, I will note that I tend to prefer a slightly downward sloping response curve with low frequency output slightly exceeding high frequency output.  I prefer a 3 dB to 6 dB downward slope from 20Hz to 20kHz depending on the listening environment. 
In further tests, I disabled the equalizer in Audirvana and integrated a HSU VTF-3 mk2 subwoofer at 80Hz with the subwoofer output set approximately 3dB above the 20kHz measurement using a calibrated RTA.  This definitely improved the listening experience for me.  I experimented with different listening positions and found that sitting further away from the loudspeaker improved the presentation.
David Chesky - New York Descargas from The Body Acoustic

Given the abundance of clean sounding treble, I gave this well recorded album a spin with the subwoofer still in place.  Here the high frequency reproduction aids in providing a nice airy soundstage. This recording is full of horns, a piano, an upright bass and congas.  The instruments sounded light and pleasing with plenty of depth.  As expected, some of the body of the instruments is missing due to recessed midrange relative to the high frequencies.  There was a little hint of extra mid-bass punch that is not familiar to me in this recording but was not at all offensive.  This type of recording works well for the ES1's.
At this point I wanted to see what I could get out of the ES1's before they cried for help.  With an underrated 150WPC ATI AT1505, I played them at levels with transient peaks well over 100dB in-room from the seating position without any hints of problems.  These speakers appear to easily handle power and do not sound strained at loud playback levels.
Radiohead – Karma Police from OK Computer
This song has a great balance of complexity, solid bass lines and some pretty decent sound staging.  The ES1's with the subwoofer in place sounded pretty good on this recording too.  At a few busy points in this song, the high treble became unpalatably bright, but it was only for short intervals.  That same mid-bass punch that was heard on the Chesky record was also present on this song.  It is strange because it doesn't sound like it shouldn't be there.  However, it is not in high quality headphones or my reference system.  It is best described as the punch that definitely starts above 100Hz.
Blu-Ray:  Master and Commander
This blu-ray is an audiophile movie classic.  Since I was using a capable subwoofer during these tests, I thought it would be fun to play a movie with plenty of cannon induced low frequency thumps to the chest.  The dialog and cannonball destruction were easily handled at very high playback levels by the ES1 loudspeakers.  The high frequency extension of the ES1's seemed at home in movies and actually enhanced the experience compared to speakers that are tamer.  However, the tradeoff is that I could only handle it for a short time.  I went back down into the 80-85dB range within the first half hour.  If the ES1's are going to be used primarily for movies with a subwoofer, by all means this is a good speaker for home theater playback.  This is especially true if your home theater receiver has some form of room correction.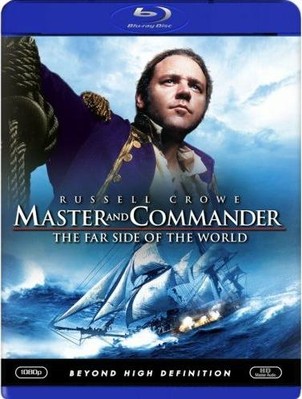 Blu-Ray: Master and Commander
Confused about what AV Gear to buy or how to set it up? Join our Exclusive Audioholics E-Book Membership Program!
Recent Forum Posts:
Joel Foust posts on August 28, 2013 13:44
Well, my first loudspeaker didn't sound too good either It was given to me as a Xmas present several years ago. It sits around as something someone who knows what they are doing with a guitar can play with. I haven't dedicated enough time to become good enough at guitar to warrant something more expensive; I need that money for more stereo equipment!
guessqjj posts on August 28, 2013 03:45
Thanks for giving us a size reference with your Fender acoustic





africord posts on August 27, 2013 16:22
Acoustic Guitar Size Reference

Thanks for giving us a size reference with your Fender acoustic. An interesting choice for an audiophile, care to share how you selected that piece of gear? I'm no snob, I play a Sigma with a Fishman Natural II pickup and d"Addario EXP Phosphor Bronze medium gauge strings.
haraldo posts on August 27, 2013 06:24
Interesting review, thx Joel


It seems like they put some high quality parts in here, but the cabinet rings like a bell, referring to the Cumulative spectral decay
I think they should find a way to better damp the Aluminimum


So significant ringing at 25dB+ must be very audible…..


I would not consider a speaker like this….
3db posts on August 26, 2013 15:21
Its working


Post Reply