Fluance ES1 Floorstanding Loudspeaker Design Overview
Fluance ES1 Floorstanding Loudspeaker Design Overview

 Initially, I was very curious about the guts of the ES1 cabinet.  Specifically, I wanted to know where the extra weight came from as we are dealing with an extruded aluminum enclosure with a medium density fiberboard baffle. At 31.9 pounds, the ES1 is hardly a heavyweight but it seemed heavier than expected having experience with extruded aluminum.  I removed one of the four mid-bass drivers exposing the inside of the extruded aluminum cabinet and it was clad with vertical strips of medium density fiberboard attached to the sides and back of the extruded aluminum.  Manufacturing curved cabinets in wood products is very time consuming and expensive.  Fluance has come up with an inexpensive method to manufacture curved cabinets in aluminum using fiberboard to modify the resonant properties of the cabinet.  The cabinet is not free of resonance, but the presence of the composite material definitely helps.  It is advantageous to design a loudspeaker cabinet that is curved inside because it reduces standing waves and re-radiation of the speakers back wave through the speaker cone.  Since the ES1 is composed of flat fiberboard panels, these benefits are not fully realized .  However, the curved structure does increase the strength of the cabinet and is aesthetically pleasing.
This loudspeaker is exceedingly thin and tall.  They look pretty unobtrusive next to a flat panel television and fit in well with the look of modern electronics.  Due to the height, footprint and relatively low weight of the loudspeaker, the ES1 is extremely prone to tipping if bumped on either hard floors or carpet.  This speaker is absolutely not compatible with toddlers without further consideration.  The ES1's center of gravity is slightly forward from the speaker's centerline making it easier to tip forward than any other direction.  Each speaker sports 5 quality gold plated floor spikes that do what they can to stabilize the speaker but a wider base or outriggers would be helpful here.
The ES1 has the highest quality 5-way binding posts I have ever seen in this price range.  The loudspeaker supports bi-amplification via 4 binding posts.  The jumper wires between the low frequency and high frequency inputs are large diameter and tinned.  Since the jumper wire occupies the bare wire connection, it is difficult to securely connect the tinned jumper wire and bare speaker wire in the same connection.  I simply made my own jumpers out of standard speaker cable when testing with the bare wire input.  The banana terminal inputs worked flawlessly and were much easier than messing with the bare wire terminal.  It is important to note that the attention to detail in the workmanship is second to none; even the solder joints were well executed.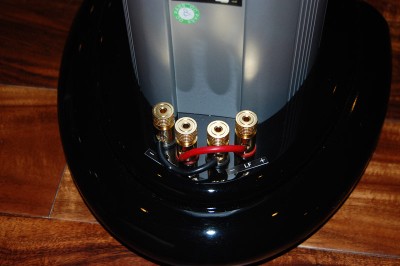 ES1 High-Quality Binding Posts
The cabinet face, top and base plate are finished in a well-executed piano black.  The 4 yellow woven fiberglass mid-bass drivers and silver faced tweeter faceplate are readily visible against the black backdrop when the loudspeaker grills are off.  The grills are standard but attach to 5 chrome studs that add a nice touch when the grills are off.  The cabinet is ported to increase power handling and low frequency output.
Fluance ES1 Drivers
Four identical 5-inch yellow woven fiberglass mid-bass drivers ornament the front baffle of the ES1.  The mid-bass drivers are made from a stamped metal frame that is chromed to improve appearance.  All speakers in the ES1 are magnetically shielded.  The mid-bass driver quality is on par with what is expected at the low price these speakers are offered for.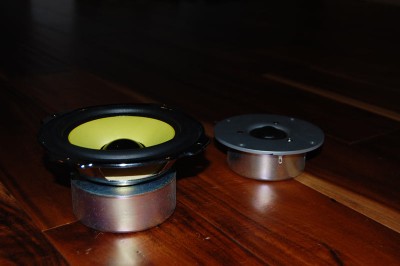 ES1 Mid-Woofer and Tweeter
The 1-inch ferro-fluid cooled silk dome tweeter is, in my opinion, the star of the ES1.  If the faceplate were made of metal instead of plastic, I could have easily been fooled into thinking it was a very expensive tweeter based on its build quality alone.  At this price point, most tweeters are 1/3rd the weight of the ES1's tweeter.  While weight does not mean everything, the construction and design just look like something you would find on a much more expensive speaker. 
Three mid-bass drivers are positioned below the tweeter and one above. The vertical array of mid-bass drivers is physically large and requires some distance for proper summing.  These are not speakers you want to sit a few feet from. 
Confused about what AV Gear to buy or how to set it up? Join our Exclusive Audioholics E-Book Membership Program!
Recent Forum Posts:
Joel Foust posts on August 28, 2013 13:44
Well, my first loudspeaker didn't sound too good either It was given to me as a Xmas present several years ago. It sits around as something someone who knows what they are doing with a guitar can play with. I haven't dedicated enough time to become good enough at guitar to warrant something more expensive; I need that money for more stereo equipment!
guessqjj posts on August 28, 2013 03:45
Thanks for giving us a size reference with your Fender acoustic





africord posts on August 27, 2013 16:22
Acoustic Guitar Size Reference

Thanks for giving us a size reference with your Fender acoustic. An interesting choice for an audiophile, care to share how you selected that piece of gear? I'm no snob, I play a Sigma with a Fishman Natural II pickup and d"Addario EXP Phosphor Bronze medium gauge strings.
haraldo posts on August 27, 2013 06:24
Interesting review, thx Joel


It seems like they put some high quality parts in here, but the cabinet rings like a bell, referring to the Cumulative spectral decay
I think they should find a way to better damp the Aluminimum


So significant ringing at 25dB+ must be very audible…..


I would not consider a speaker like this….
3db posts on August 26, 2013 15:21
Its working


Post Reply