B&W CM8 Floorstanding Loudspeaker Conclusion
B&W CM8 Floorstanding Loudspeaker Conclusion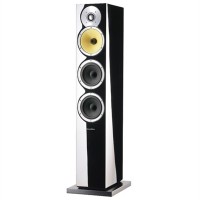 The B&W CM8s earned my ultimate respect for sounding quite excellent within their stated design claims. They don't pretend to be truly full-range reproducers. Indeed, with bass rated to only 69 Hz, one might expect them to sound thin or lacking.
Such was not the case at all, however. Considered unto themselves, the CM8s were totally satisfying speakers. It was clean, honest and neutral at all times. I could detect a trace of midrange nasality from time to time, but it was ever-so-slight and never a distraction. Within its bass range, the reproduction was detailed, "fast," and natural. The highs produced from the 1" aluminum dome with its Nautilus tapered chamber were consistently smooth and airy, without any sense of hotness.
The care taken in their design, manufacture, and choice of quality materials was evident at every point along the way where the user interacts with the product. This product has been thought through from start to finish and it's both rare and pleasurable to experience that. As I mentioned previously, I've been intimately involved with the development and manufacture of consumer electronics for quite a long time, and I recognize the quality choices that B&W has made along the way in bring the CM8 to completion.
The CM8 a fine-sounding speaker system and a worthy addition to B&W's reputation for excellence.


B&W CM8 Floorstanding Loudspeaker Review
MSRP: $1,100/ea

B&W Group North America
54 Concord Street
North Reading, Massachusetts 01864
Tel: +1 (978) 664 2870
Fax: +1 (978) 664 4109
Web: http://www.bowers-wilkins.com
About B&W
Named for founders John Bowers and Roy Wilkens, B&W is one the the world's largest and most highly-acclaimed audio companies. From their first loudspeaker—the P1 of 1966—the company has consistently been at the very forefront of audio innovation with a long string of notable achievements such as the Matrix™ enclosure, their stunning Nautilus technology and their exclusive use in the renowned Abbey Road Studios as recording monitors.
The Score Card
The scoring below is based on each piece of equipment doing the duty it is designed for. The numbers are weighed heavily with respect to the individual cost of each unit, thus giving a rating roughly equal to:
Performance × Price Factor/Value = Rating
Audioholics.com note: The ratings indicated below are based on subjective listening and objective testing of the product in question. The rating scale is based on performance/value ratio. If you notice better performing products in future reviews that have lower numbers in certain areas, be aware that the value factor is most likely the culprit. Other Audioholics reviewers may rate products solely based on performance, and each reviewer has his/her own system for ratings.
Audioholics Rating Scale
— Excellent
— Very Good
— Good
— Fair
— Poor
| Metric | Rating |
| --- | --- |
| Build Quality | |
| Appearance | |
| Treble Extension | |
| Treble Smoothness | |
| Midrange Accuracy | |
| Bass Extension | |
| Bass Accuracy | |
| Dynamic Range | |
| Performance | |
| Value | |
Confused about what AV Gear to buy or how to set it up? Join our Exclusive Audioholics E-Book Membership Program!
Recent Forum Posts:
ratso posts on August 04, 2012 08:48
nice review, and yes it is nice to see some of the bigger names being reviewed here. but… i hate to say this, because it could open a big nasty can of worms. but the next time can we omit the word "chinese" being used in a derogatory way here? you could have just told us "there is good mdf and bad mdf", etc.
AcuDefTechGuy posts on August 03, 2012 10:44
Just more info:

CM8
Cartons = $54 each speaker
FST midrange = $123 each driver
Tweeter = $147 each driver
Woofers = $ 71 each driver
Plinth (body) = $117 each speaker
Crossovers = $163 each speaker
Grilles = $100 each speaker

And yes, very nice to see more reviews of the big brands.
Nuance AH posts on August 03, 2012 08:54
No measurements?
templemaners posts on August 02, 2012 14:30
I tried 2 different browsers and 2 different computers, but didn't see the jump to bar on the Intro page, but it showed up on the listening and conclusion pages Matt put up.

Thanks for the links.

Side note on the actual speakers - the press photos make them look a lot wider than 6.5".
gene posts on August 02, 2012 14:26
templemaners, post: 898390
I don't see anything of the review past the introduction page.
anytime we change the publish date and post, it takes an hour or so for the page to cache out and show the other pages. It should appear, soon.
Post Reply