XTZ Cinema Series M6 & S5 Speaker Conclusion
XTZ Cinema Series M6 & S5 Speaker Conclusion
The XTZ Cinema Series represents the willingness of talented speaker designers to think outside the box.  Their uncommon multi-tweeter approach certainly requires a more complex design, but also yields a number of acoustic payoffs such as better power handling for the broadest dynamic range, a more optimal crossover point between the woofers and tweeter, and because each tweeter isn't working as hard due to sharing the responsibility of high-frequency reproduction, there will be less of a chance of  tonal inaccuracies caused by heat.  The M6 is solid from the first-class cabinet on the outside, all the way down to the ground-up design of the long-throw drivers on the inside for low-distortion and maximum output.  At the back of the room, the S5 offer tremendous flexibility for a number of surround applications and listening preferences, and changing the characteristics of the S5 is as simple as moving a jumper.  Of course, all of this wouldn't mean anything if the Cinema Series commanded boutique pricing.  Instead, the direct-to-consumer model keeps the pricing at under $4500 for the full 5 speaker system.  We're very excited to see more options for consumers looking for hi-end performance at a midrange price, and can't wait for future products from XTZ, including the Cinema Series subs which look like they could be real monsters.  Until then, we certainly recommend that you take a closer look at the current XTZ Cinema Series offerings for dynamic performance in a modestly-sized package.  Considering XTZ offers a risk free 60 day trial period (with FREE shipping both ways), you certainly have nothing to lose and everything to gain by trying these speakers out in your own home.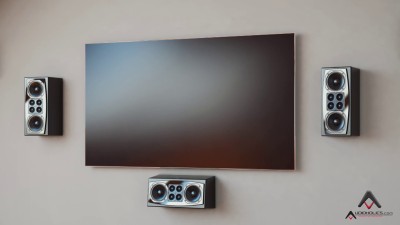 XTZ Cinema Series M6 flush-mounted 
XTZ Cinema Series Speakers
MSRP: $1000/each (M6), $700/each (S5)
The Score Card
The scoring below is based on each piece of equipment doing the duty it is designed for. The numbers are weighed heavily with respect to the individual cost of each unit, thus giving a rating roughly equal to:
Performance × Price Factor/Value = Rating
Audioholics.com note: The ratings indicated below are based on subjective listening and objective testing of the product in question. The rating scale is based on performance/value ratio. If you notice better performing products in future reviews that have lower numbers in certain areas, be aware that the value factor is most likely the culprit. Other Audioholics reviewers may rate products solely based on performance, and each reviewer has his/her own system for ratings.
Audioholics Rating Scale
— Excellent
— Very Good
— Good
— Fair
— Poor
| Metric | Rating |
| --- | --- |
| Build Quality | |
| Appearance | |
| Treble Extension | |
| Treble Smoothness | |
| Midrange Accuracy | |
| Bass Extension | |
| Bass Accuracy | |
| Imaging | |
| Soundstage | |
| Dynamic Range | |
| Fit and Finish | |
| Performance | |
| Value | |
See also:
Confused about what AV Gear to buy or how to set it up? Join our Exclusive Audioholics E-Book Membership Program!
Recent Forum Posts:
haraldo posts on December 30, 2014 14:53
Mr_Owlow, post: 1052766, member: 69826
I listened to these again, and the brand new Master M2 at the Gothenburg HiFi show this weekend. They do have a forward presentation, and Marshall describes the sound well. They are very revealing speakers, so on sibilant recordings they sound harsh, on mellow recordings they sound mellow. The Master M2's sounded spectacular, the female voices they chose, (Sarah McLachlan, Tracy Chapman and some others) were incredibly well rendered, with a truly High End sound. They played some songs by a group called Banyan too, and instrumental tracks sound great as well.
Did you hear what's the problem with the M2's …. As far as I know they were promised to get onto the market more than 1.5 years ago, but they're still not listed on the XTZ web shop, and there seem to be delays after delays… Was it mentioned anything in the Göteborg HiFi show when they will appear on the market.
I'd really consider to buy the Master M2 :-)
djreef posts on December 30, 2014 12:48
OK, so then I misunderstood. I thought the graph included the monster subs located on each side of the system as per the picture.

Jesus I gotta leave this site alone so early in the morning.

DJ
gene posts on December 30, 2014 12:44
djreef, post: 1065388, member: 39828
I'm having a hard time understanding how a HT setup can get a 4.5 stars with such anaemic LF response. Did I miss something? Is that just not important anymore in a 5.1 channel setup?

DJ
Satellite speakers are meant to be mated with subs. The speakers in question have a very large dynamic range and output above 80Hz which was a design goal of the speakers.
djreef posts on December 30, 2014 12:41
I'm having a hard time understanding how a HT setup can get a 4.5 stars with such anaemic LF response. Did I miss something? Is that just not important anymore in a 5.1 channel setup?

DJ
haraldo posts on November 06, 2014 15:19
I never listened to any of the models, but….
The XTZ speakers get rave reviews around here, wherever you turn… up to the point that it's been claimed that there's something wrong with the price, they're being seriously underpriced; especially these ones, which turned out to be the reference for one of the main audioholic magazines around here
http://www.xtzsound.com/en/products/speakers/divine-100-49-walnut#
Just have a look at the drivers………
Post Reply