Power Sound Audio XV15 Subwoofer Introduction
Power Sound Audio XV15 Subwoofer Introduction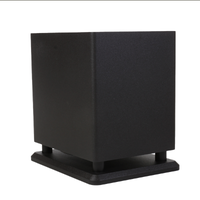 The XV15 subwoofer sits in the middle of the three model Power X lineup offered by Power Sound Audio which has just started shipping product as of summer 2012. Power Sound may be a new name in the world of powered subwoofers but its founders Tom Vodhanel and Jim Farina are no newcomers to the internet direct subwoofer market. Both men played key roles at SVS in a past life. In fact Tom is the "V' in SVS. Needless to say considering the experience that these two possess there is a certain amount of expectation from their new product line. Their Power X line includes a compact sealed 15" the XS15, the XV15 vented subwoofer reviewed here, and a top dog XV30 which is a dual vented 15" brute. The goals for the Power X line are maximum performance and sound quality for a very reasonable price. Additionally all of the parts and assembly of the subwoofers take place here in the U.S. except for the amplifiers which proved difficult to source while maintaining a reasonable cost. Power Sound also goes to the effort of posting some measurement data on their subwoofers on their website including things like basic response and CEA-2010 averages which is rare.
The XV15 is the middle child of the line-up, a 92lb, 15" vented subwoofer motivated by a 500w plate amplifier that carries a price tag of just $799 with shipping included. It is said to deliver response down below 20Hz in room. The XV15 is delivered in a very large and very heavy box that probably weighs in total around 110lbs and likely just squeeks under the limits set by the major carriers for regular ground shipping. Opening the top revealed that the packaging consists of a single heavy gauge outer box with the XV15 suspended away from the outer surfaces by eight large and stiff foam corner protectors of roughly 2" thickness. The XV15 is further protected by a thick plastic bag that has the accessory pack containing the power cord and the owner manual taped to the top of it. Removal of the XV15 from the box and involves the usual opening of the top followed by removing the accessory pack and flipping the box onto its top, from where the box can be lifted off, the foam corner pieces removed from under the subwoofer and finally the bag untapped and lifted off. Truthfully this is not the most robust packaging I have ever seen on a unit of this size and weight. But the unit did arrive in good condition.
After lugging the XV15 into my theater room I was grateful that the port and base plate provided convenient hand holds for carrying. It is manageable by one guy but moving it would be a lot easier with two. At first judging from the pictures online that I had seen I assumed that the XV15 finish would be a very rough black finish similar to truck bed-liner. Very durable and tough but not very civilized. On that account I was wrong. The finish, which is described by Power Sound as a "sand" texture, is much better looking than I thought it would be. It is a dark, slate gray/black that has a very smooth texture similar to a fine grit sand paper and is almost satin in appearance. It looks much better in person than in the pictures. Don't get me wrong this is no furniture grade finish that you will yearn to put on prominent display. This will be a large subwoofer to most and it is a basic, square, black object. But that said the finish is well applied, is of high quality and should disappear into a dark room easily.
Design Overview
The XV-15 is a bass reflex design utilizing a single 15" down firing long throw woofer loaded into a base plate and a 4" heavily flared port which fires from the back panel where the amplifier is also mounted. Firing the driver downwards into the base plate can band pass load the output of the driver slightly and increase the output in the upper bass frequencies by a small amount. Additionally arranging the driver this way also serves to protect it from mishaps and small critters or children. Judging from the measurements shown later and the information from Power Sound the tuning of the vent system is somewhere in the 18Hz range.
The 15" driver used in this system is constructed on a 12 spoke cast aluminum frame and uses a heavy pressed paper fiber cone with an inverted dust cap. The surround is a large half roll of Rubatek foam which should allow generous excursions. The voice coil is a 2" diameter copper flat wind with an 8" poly cotton spider providing centering and returning force. The motor is comprised of a triple stack of y35 grade magnets of about 5" diameter and a vented pole piece to remove heat from the gap. This driver appears to be sturdy, heavily built for a subwoofer selling in this price class and capable of withstanding large excursions. Power Sound indicates that the driver is capable of 2" peak to peak stroke.
Power Sound Audio XV15 Driver
The amplifier of the XV-15 is a lightweight and efficient Class D BASH hybrid type that is said to combine the best of class AB and class D topologies and is rated at 500 watts rms and 1000 watts peak output. The amplifier is Energy Star compliant and in standby mode is said to consume only 1 watt. In use the amplifier seemed to be very efficient as claimed as it barely even got warm to the touch even while being subjected to high duty cycle test signals. The inputs provided consist of a pair of RCA style unbalanced connections with the left input marked as the LFE, and no outputs of any kind. Controls consist of the input sensitivity, phase, low pass filter and auto/on/off selector only. Additionally Power Sound mentions a laundry list of advanced protection and tuning circuits in this amplifier design: Thermal, DC offset, short circuit and load protections, plus driver current and voltage monitoring and advanced frequency specific compression.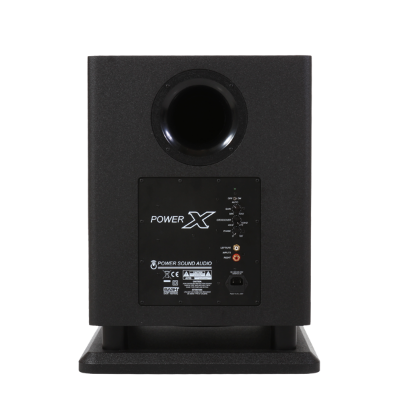 Power Sound Audio XV-15 Back View
The XV15 enclosure is constructed of CNC cut 1" MDF panels and a 1.5" thick base plate. The lone finish available is a dark, fine textured black that is quite durable and resistant to smudges, scratches and fluids. The base plate attaches to the top section of the enclosure by 4 legs which have a bolt passing through them to tighten the pieces together. The port extends deeply into the enclosure interior to within a few inches from the opposite wall and is flush mounted as is the amplifier plate. The driver is not flush mounted but being under the enclosure and very seldom seen there really wouldn't be much point to it anyway. Internally the enclosure is lined with what looks like fiberglass insulation. Unfortunately while the amplifier was removed and the interior of the enclosure was inspected I neglected to actually take any pictures! The XV15 never showed any signs of enclosure panel vibration, rocking or any noises related to internal resonances or vibration when probed with high power test signals outdoors. It was inert throughout. The XV15 is a very solidly constructed subwoofer as evidenced by the 92lb weight and the components are all of excellent quality for this price range. I am a bit baffled by how Power Sound has managed to assemble this subwoofer in the U.S. with primarily U.S. components and managed to ship the 92lb sucker all for $799 while still making some sort of profit for themselves.
Confused about what AV Gear to buy or how to set it up? Join our Exclusive Audioholics E-Book Membership Program!
See also:
Recent Forum Posts:
Tom V. posts on September 05, 2014 13:06
billy p, post: 1048418
Yeah… the standard finish is quite nice, I've seen it in person….much nicer IMHO than the traditional flat or faux black finish you often get on competitors products. Curious to hear read your thoughts once you have it all set up.
Just a FYI, we can send out samples of the wood veneer AND the Black Satin free of charge. Just send me a note to one of our email boxed.
Tom V.
Power Sound Audio
billy p posts on August 28, 2014 10:40
Yeah… the standard finish is quite nice, I've seen it in person….much nicer IMHO than the traditional flat or faux black finish you often get on competitors products. Curious to hear read your thoughts once you have it all set up.
smurphy522 posts on August 28, 2014 08:45
Unboxing the XS15se

Well I got the sub (very fast shipping BTW!) Here are some photos of the unboxing. While it was not double boxed it seems to have travelled well.

13899.vB13900.vB13901.vB13902.vB13903.vB
billy p posts on August 26, 2014 23:02
That would be the gentleman in the above post TV…IIRC he mentioned that chat line(pop up window) has become his preferred line of communication when dealing with the public.

Congrats on the new sub…
smurphy522 posts on August 26, 2014 16:38
I too popped onto the site as I was looking into possible units to replace my Carver sub with. I spoke with a knowledgeable source who suggested a XS15se in lieu of the VX15se I was initially there to get more detail on. Based on my media room size 2400 cu ft and the fact it is sealed with no opened walls (only a door), my new receiver (Denon AVR-X4000) and mains (Infinity Kappa 7 mk IIs) the sealed sub would be plenty and benefit greatly from the smallish-sealed room. I rarely listen at reference levels so that may have driven the suggestion as well.

Anyhow I was greatly impressed with the knowledge from the Chat person (can't recall the name).

Looking forward to picking my PSA sub, receivers (Denon AVR X-4000 and X3000) and my Panasonic projector (PTAE8000) up from the local Fedex store tonight!
Post Reply