Power Sound Audio XV15 Subwoofer Conclusion
Power Sound Audio XV15 Subwoofer Conclusion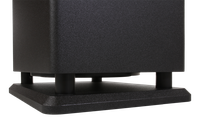 Power Sound has come out swinging with the XV15 and if the rest of their line-up is as good as the XV15 is I'd expect they will be doing quite well for themselves in their first year of operation. The previous experiences that the founders of Power Sound had producing powered subwoofers is evident in the XV15 in the protection circuits, the internal equalization and the overall design. It is not a small sub or the prettiest on the block but there are plenty of choices that fit into that mold and that market segment is not who this subwoofer was designed for to begin with. Don't get me wrong I actually liked the finish and look of the XV15 a lot more than I thought I would, but it is still a large black box at the end of the day. What the XV15 does do is make large amounts of bass for not a lot of money. In that regard the XV-15 brings it with a 15" heavy duty driver, 500 watt amplifier and solidly built ported enclosure all tuned together into a well functioning complete system. Not to mention the 5 year bumper to bumper warranty. The fact that it utilizes primarily US sourced components and assembly is icing on the cake for a person like me who cares about such things. Apparently $799 can buy an astonishing amount of performance in the subwoofer kingdom these days.
The Power Sound XV15 easily meets the required output thresholds to receive the Audioholics Bassaholic Large Room rating, but was just a little short of making the more difficult Extreme room rating. It would have been the least expensive unit to do so by far. The Large room rating indicates that this sub is recommended as maintaining adequate headroom in rooms or spaces of between 3,000 to 5,000 cubic feet and/or for users who usually listen at moderate to high volume levels. For further information in how we make these recommendations see the full article here.
See: Audioholics Subwoofer Room Size Rating Protocol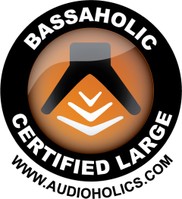 Power Sound Audio XV15 Review
Power Sound Audio
[email protected]
Phone: (330)349-0943
MSRP: $799 (Shipping Included)
The Score Card
The scoring below is based on each piece of equipment doing the duty it is designed for. The numbers are weighed heavily with respect to the individual cost of each unit, thus giving a rating roughly equal to:
Performance × Price Factor/Value = Rating
Audioholics.com note: The ratings indicated below are based on subjective listening and objective testing of the product in question. The rating scale is based on performance/value ratio. If you notice better performing products in future reviews that have lower numbers in certain areas, be aware that the value factor is most likely the culprit. Other Audioholics reviewers may rate products solely based on performance, and each reviewer has his/her own system for ratings.
Audioholics Rating Scale
— Excellent
— Very Good
— Good
— Fair
— Poor
| Metric | Rating |
| --- | --- |
| Bass Extension | |
| Bass Accuracy | |
| Build Quality | |
| Fit and Finish | |
| Ergonomics & Usability | |
| Features | |
| Dynamic Range | |
| Performance | |
| Value | |
See also:
Confused about what AV Gear to buy or how to set it up? Join our Exclusive Audioholics E-Book Membership Program!
Recent Forum Posts:
Tom V. posts on September 05, 2014 13:06
billy p, post: 1048418
Yeah… the standard finish is quite nice, I've seen it in person….much nicer IMHO than the traditional flat or faux black finish you often get on competitors products. Curious to hear read your thoughts once you have it all set up.
Just a FYI, we can send out samples of the wood veneer AND the Black Satin free of charge. Just send me a note to one of our email boxed.
Tom V.
Power Sound Audio
billy p posts on August 28, 2014 10:40
Yeah… the standard finish is quite nice, I've seen it in person….much nicer IMHO than the traditional flat or faux black finish you often get on competitors products. Curious to hear read your thoughts once you have it all set up.
smurphy522 posts on August 28, 2014 08:45
Unboxing the XS15se

Well I got the sub (very fast shipping BTW!) Here are some photos of the unboxing. While it was not double boxed it seems to have travelled well.

13899.vB13900.vB13901.vB13902.vB13903.vB
billy p posts on August 26, 2014 23:02
That would be the gentleman in the above post TV…IIRC he mentioned that chat line(pop up window) has become his preferred line of communication when dealing with the public.

Congrats on the new sub…
smurphy522 posts on August 26, 2014 16:38
I too popped onto the site as I was looking into possible units to replace my Carver sub with. I spoke with a knowledgeable source who suggested a XS15se in lieu of the VX15se I was initially there to get more detail on. Based on my media room size 2400 cu ft and the fact it is sealed with no opened walls (only a door), my new receiver (Denon AVR-X4000) and mains (Infinity Kappa 7 mk IIs) the sealed sub would be plenty and benefit greatly from the smallish-sealed room. I rarely listen at reference levels so that may have driven the suggestion as well.

Anyhow I was greatly impressed with the knowledge from the Chat person (can't recall the name).

Looking forward to picking my PSA sub, receivers (Denon AVR X-4000 and X3000) and my Panasonic projector (PTAE8000) up from the local Fedex store tonight!
Post Reply