SVS SB12-NSD Subwoofer Review Conclusion
SVS SB12-NSD Subwoofer Review Conclusion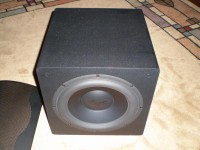 I enjoyed my time spent the SB12-NSD. It has many positive attributes such as the compact form factor, excellent build quality and well rounded performance. The SB12-NSD exhibited excellent pitch definition and neutrality while having enough headroom in the typical kick drum range to provide some fun factor as well. The performance turned in with music in particular I felt was great and along with the measurements taken outdoors indicate that it would make a very effective subwoofer for a nearfield monitor system in a project studio or for smaller spaces. Being a small, lightweight sealed subwoofer you cannot expect the SB12-NSD to bowl you over with pants flapping deep bass output, which it does not. Multiple SB12-NSD's or perhaps one of SVS's larger and more expensive vented offerings will be required for that type of powerful deep bass extension. However the SB12-NSD does have a surprising amount of headroom for its size which accompanied by the exceptional limiting employed by SVS allows the SB12-NSD to operate up to the limits of its capabilities even in large rooms without having to worry about damaging it or having your experience degraded by bad overload noises. This was shown during movie nights where the SB12-NSD was clearly a little short on firepower for loud playback in my large 4,000+ cu ft room, yet still managed to provide an engaging and enjoyable experience. Note that if the SB12-NSD (or any other subwoofer) were employed in a smaller system/room than mine, which is rather large and difficult to fill, it would likely take on a much more muscular, powerful character.
At $649 shipped this is SVS's least expensive and smallest subwoofer, but it still performs in a big way. If you need extra headroom and deep bass output you may want to scratch up an extra $120 and move up to the larger vented PB12-NSD, but many people will have a smaller room or want a smaller form which is easier to fit into their living space and this is where the SB12-NSD excels. The extra cost savings is nice as well. Whenever possible I recommend that at least two subwoofers placed in separate locations be at least considered as in many cases it can help to smooth the overall in room response and increase maximum headroom capability. SVS just so happens to offer a nice discount on a pair of SB12-NSD's and in my opinion this is where the SB12-NSD would really start to shine. Due to the compact size it should open up more placement options for multiple units than if larger subwoofers were used and in many cases multiple smaller subwoofers can turn in a better overall performance than a single more powerful and expensive unit. Multiple SB12-NSD's spread out would provide an excellent cost effective bass foundation for a moderate sized room while occupying a minimal amount of space. Highly recommended.
The SVS SB12-NSD receives the Audioholics Bassaholic Medium Room rating, which means that this sub is recommended as maintaining adequate headroom in rooms or spaces of between 1,500 to 3,000 cubic feet and/or for users who usually listen at moderate volume levels. For further information in how we make these recommendations see the full article here.
See: Audioholics Subwoofer Room Size Rating Protocol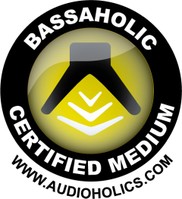 SVS SB12-NSD Review
SVSound.com
Toll Free: (877)-626-5623
MSRP: $649 (Shipping Included)
The Score Card
The scoring below is based on each piece of equipment doing the duty it is designed for. The numbers are weighed heavily with respect to the individual cost of each unit, thus giving a rating roughly equal to:
Performance × Price Factor/Value = Rating
Audioholics.com note: The ratings indicated below are based on subjective listening and objective testing of the product in question. The rating scale is based on performance/value ratio. If you notice better performing products in future reviews that have lower numbers in certain areas, be aware that the value factor is most likely the culprit. Other Audioholics reviewers may rate products solely based on performance, and each reviewer has his/her own system for ratings.
Audioholics Rating Scale
— Excellent
— Very Good
— Good
— Fair
— Poor
| Metric | Rating |
| --- | --- |
| Bass Extension | |
| Bass Accuracy | |
| Build Quality | |
| Fit and Finish | |
| Ergonomics & Usability | |
| Features | |
| Dynamic Range | |
| Performance | |
| Value | |
See also:
Confused about what AV Gear to buy or how to set it up? Join our Exclusive Audioholics E-Book Membership Program!
Recent Forum Posts:
TulsaSKD posts on September 24, 2012 15:40
Would anyone know how this sub compares to the Velodyne Optimum 10?
Clark123Le posts on September 04, 2012 03:08
It even out performs some vented designs w/re



jinjuku posts on September 03, 2012 17:45
Looks like a direct answer to Emotiva's 12" sealed sub.
Ricci posts on August 23, 2012 12:44
In a nutshell you add +9db to the outdoor 2 meter "rms" CEA-2010 measurements and compare with the (peak) SPL levels needed for the room ratings.

the CEA-2010 measurements presented here are taken at 2 meters outdoor groundplane and are "rms" not peak values. This is equivalent roughly to a 1 meter anechoic (free space) SPL measurement.

The indoor SPL levels are considered to be a corner loaded subwoofer which puts the sub in 1 meter 1/8th space which adds +18dB over a 1m anechoic (free space) measurement. We are considering the listening distance from the subwoofer as being roughly 4 meters in most cases which drops the spl by 12dB (18-12= +6dB at this point.) A peak SPL report of the same signal reported via an rms calculation method will produce about 3dB higher numbers. (Add 3+6= +9dB) So that is why we are adding 9dB to the reported CEA-2010 numbers to compare them with the indoor peak SPL numbers required.

Note that if a sub just barely misses in one frequency band by a single dB or less, for example falling short by 0.7dB at 31.5Hz only, we will go ahead and give it the benefit of the doubt as long as it meets the other criteria since it is a drastic 6dB drop back to the next smaller room size.
mpstein posts on August 23, 2012 11:58
Mike,
I'm sorry but now I'm a little confused on this issue as well.

From what I understand, the sb12 scored a raw score of 96.3db at 25hz. From there, are you adding in the +12db from putting it in the corner as well as adjusting it +6dB for the conversion?

Is its total score 102.3 or 104.3?

Thanks,
-Matt
Post Reply