RBH Sound I-12/e Ported Subwoofer Review
RBH Sound I-12/e Ported Subwoofer Review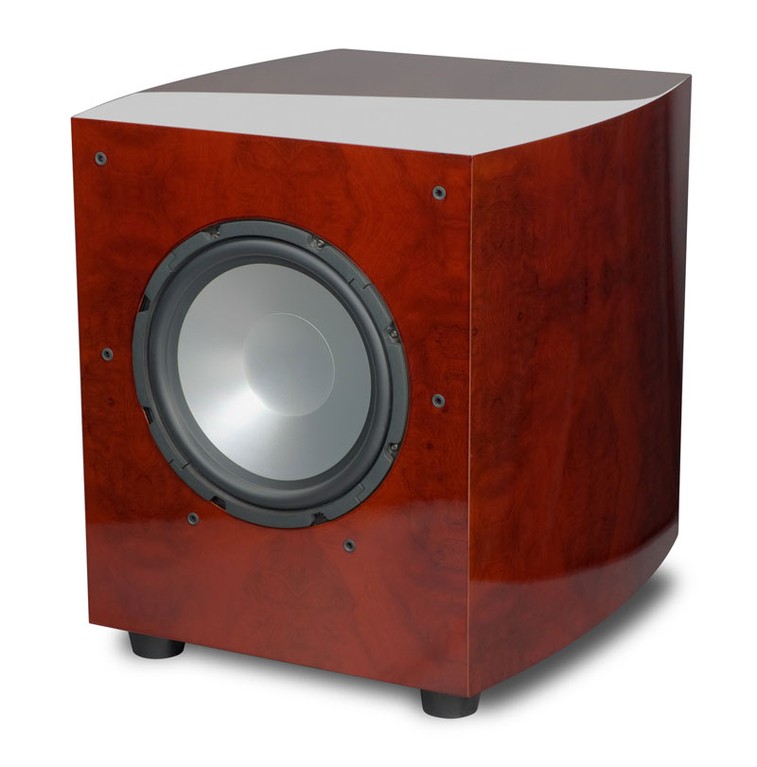 RBH Sound I-12/e Subwoofer
Series: ... Impression (Compatible with all RBH Sound Speakers)
System Type: ... Ported Powered Subwoofer
Amplifier Type: ... Class D
Drive Units: ... (1) 12" (305mm) Aluminum Cone Subwoofer
Voltage: ... 110 and 220
Amplifier Power: ... 500 Watts RMS
Frequency Response: ... 20Hz-200Hz ±3dB
Low-pass Crossover: ... 40Hz-150Hz (continuously variable)
Line Level Input: ... Yes
Balanced Input: ... Yes
Speaker Level Inputs: ... No
Speaker Level Outputs: ... No
Phase Control: ... Yes (0/180 Degrees)
Cabinet/Color: ... High-gloss Red Burl or High-gloss Black Ash
Grille: ... Black Fabric
Dimensions ... 20" W x 22-3/4" H x 22" D
(508mm W x 578mm H x 559mm D)
Weight: ... 65 lbs. (29.48 kg)
Warranty: ... 5 Years/2 Years*
Pros
Respectable output and extension
Very musical
Nice aesthetics
Cons
Big footprint
Amplifier limiter a bit too aggressive
Impression I-12/e Introduction
RBH Sound, has always been on our short list of high performance, high value loudspeakers and subwoofers.  With the launch of their Impression Series seven years or so ago, RBH was looking to compete in the Internet Direct space and they've made some good strides doing so.  Their initial subwoofer offerings in the Impression line placed more emphasis on aesthetics and compact form factor than they did in ultimate output and extension.  With the launching of their new I-12 and I-12/e subwoofers, they're hoping to change all of that.
We decided to take the I-12/e for a spin to get a full understanding of the maximum capabilities of this subwoofer. Before diving into this review, be sure to check out our YouTube Video preview and testing.
RBH Sound I-12/e Preview and Testing

Design
RBH's Impression Series consists of two models, the $499 I-12 and $699 I-12/e.  The I-12 is powered by a 350-watt RMS Class D amplifier while the I-12/e features a 500-watt RMS Class D amplifier and some extra DSP processing to lower the bass extension.  These are continuous rating power figures, not peak like some subwoofer companies often specify.  The I-12/e is a triple ported, large box subwoofer sporting a 12" aluminum driver with a 2.5" voice coil, a large motor structure with vented pole piece, and stamped basket.  This driver has been used in other RBH products for years so it's field-tested and very reliable.
It comes with port plugs that allows the end user to tune its response to preference.
All ports open - max output above 25Hz
1 Port Sealed - max extension below 25Hz
3 Ports Sealed - maximum damping, least output below 30Hz
The I-12/e amplifier offers unbalanced stereo and balanced LFE inputs and outputs to daisy chain multiple subs while also bypassing the internal crossover in favor of using the AV receiver/processor internal bass management.  Unlike most subs in this price class that typically offer 0/180 degree phase switch, the I-12 offers a variable phase dial for more precise adjustability when blending the sub with the main speakers at or near the crossover point.  Trust us, this is a nice addition and can really come in handy for bass heads wanting to fine tune their set up.  For those using the internal crossover of the I-12, it offers an adjustable dial from 40Hz to 150Hz.  The power cord is detachable and there is an auto-on option. 
Unpacking & Set Up

RBH I-12/e Exterior Packaging
The RBH I-12/e was well packaged as you can see in the photos above.  It came double boxed with very thick padding and cloth protecting the subwoofer from taking a beating during shipping. 
Given its largish size, the most aesthetically pleasing position for a sub like this would be in a corner.  Of course this may not always be the optimal placement for the sub, but EQ can help and given the affordability of this sub, a pair loaded on opposite corners would certainly improve the quality of bass from seat to seat while also providing more usable output.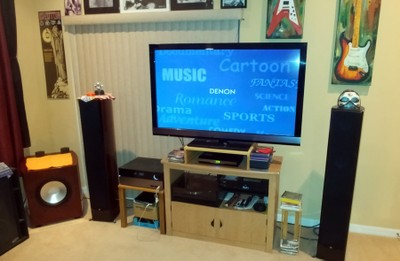 We tested the I-12/e in the Audioholics family room system which uses a compete RBH Signature Series speaker system powered by a Yamaha RX-Z7 AV receiver and at my neighbors house who runs a pair of RBH R55ti towers powered by a harman/kardon HK3490 stereo receiver.  When connected to the RX-Z7, I used the LFE In connection to bypass the subwoofers internal LPF.  However when connected to the HK3490, we utilized the line inputs and dialed in the subwoofer crossover to around 60Hz for the best blend to the R55ti towers.  In both rooms we corner loaded the sub.  I preferred one port closed for the listening tests in the Audioholics family room setup while my neighbor settled on sealing all ports since he was primarily using his sub for music listening and thought it sounded a bit tighter in this configuration especially when used with his RBH R55Ti towers running full range.
RBH Sound I-12/e Sound Quality & Performance Tests
The majority of the listening tests done with the RBH I-12/e subwoofer was with music.  In the Audioholics Showcase family room system I compared it directly to two JL Audio e112's, which I know is an unfair comparison considering the 6X cost difference of JL subs and dual subs always being better than a single sub.  However, it was a good gauge to what I am familiar with in that room setup.
CD: Armin Van Buuren - Mirage
I fired up the title track "Mirage" to give the I-12/e a workout.  The room was pumping with deep tight bass.  As I cranked it up, the I-12/e held its composure well.  There was good weight to the bass, especially with 1 port plugged to increase the very low frequency output.  For comparative purposes I switched over to my dual JL Audio e112's.  There was really no comparison, the JL Audio's managed to muster up more tactile feel, and better overall quality of bass, which wasn't surprising given the cost difference and also comparing dual subs to a single sub.  However, I still respected what the RBH sub was able to do in my large room.  It provided very satisfying bass output for bass heavy music like this.  I never heard it strain or run into gross distortion, which was a testament to the well-engineered driver and limiter circuit in the amp.  Track #5 "I Don't Own You" had the 12" driver pumping really well in the RBH sub.  Thanks to the flat linear output above 80Hz, the sub blended in seamlessly with my satellite speakers allowing them to sound like a full range speaker instead of a sub/sat system. 
The I-12/e belted out clean tight bass without complaining.
CD: Best of Fourplay
I like using this CD to test bass since some of the tracks really let you stress a woofer that simply can't handle a loud kickdrum.  Track #5 "The Chant" has been known to misalign a few voice coils in my theater room on wimpy designed woofers.  I cued this track up first and cranked up the volume.  The RBH I-12/e had no complaints.  It belted out clean tight bass without complaining.  I was particularly impressed with the seamless integration I was hearing between the sub and my satellite speakers.  I found a good blend to convince myself I was listening to a full range system instead of a sub/sat system.   Track #7 "Bali Run" showcased the wonderful bass playing of Nathan East.  It was a very satisfying experience to hear fulfilling bass round out the sound of my system at listening levels I'd be a bit embarrassed to admit I was enjoying in the comforts of my home while the wife and children were out.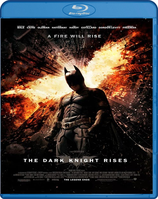 Blu-ray: Dark Knight Rises
Say what you want about Christian Bale, but in my book he was the best live action Batman to date. Dark Knight Rises doesn't disappoint when it comes to action, and especially sound. The opening scene with the giant plane pulling and ripping apart the passenger plane is pretty epic.  The I-12/e handled the deep bass without complaint. It may not have been as visceral an experience as my reference subs, but the end result was clean bass that gave plenty of heft to make you appreciate the scene.  I found the sub sounded cleanest with one port plugged which is what I'd recommend when listening to program material with very deep sustained bass.  My favorite bass moment in this film is when the Batwing takes off to flee the police force.  In my reference theater room the bass from my Status 8T's reference speakers (RBH's top model), makes your spinal column shake.  That is bass below audibility and very difficult to reproduce on all but the very best subwoofers properly set up in the room.  The I-12/e makes a valiant effort of recreating this effect and unless I hadn't experienced it on my reference system, I'd never know anything was missing.
There are 3 tuning modes for the I-12/e subwoofer as shown below in a screenshot from their manual.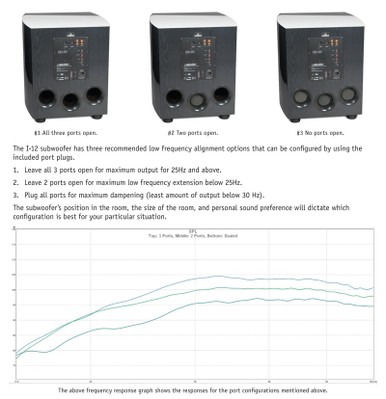 RBH I-12/e System Tuning
Outdoor 2 meter ground plane testing of the RBH I-12e
The I-12e exhibited a very linear frequency response beyond 100Hz making it a good subwoofer for small satellite speakers requiring a higher than 80Hz crossover frequency.  The limiting factor for output of this sub above 20Hz was actually the amplifier, which wouldn't allow me to exceed 103dB output levels at 2 meter as seen above for continuous sweep tests.  I couldn't help wonder how much more output this sub would have if RBH chose an amplifier with a less aggressive limiter and how that would have ultimately affected my listening test results.
For max output, you will want to leave all 3 ports open.  However, if you want extended deep output and slightly more control below 20Hz, I'd recommend using 1 port plugged.  Trace #6 shows the woofer losing control below tuning with all ports open but plugging 1 port dampened and lowered this behavior to subsonic frequencies.
RBH I-12/e System Tuning

Tuning with all ports opened was around 21Hz but with 1 port plugged, it dropped to about 18Hz.  You do loose about 1-2dB of efficiency with one port plugged but in my opinion it's worth it for the increased extended low frequency response and better system control below tuning.  
CEA2010 Test Results
Here are the peak CEA2010 burst results taken at 1m and translated to 2 meter in the data table below.  The mic was SPL calibrated with a B&K 4230 reference microphone calibrator.
| | | |
| --- | --- | --- |
| Frequency | 3 Ports | 2 Ports |
| 20 Hz | 93.2 dB | 100.3 dB |
| 25 Hz | 107.6 dB | 107.0 dB |
| 31.5 Hz | 110.6 dB | 107.1 dB |
| 40 Hz | 112.0 dB | 109.3 dB |
| 50 Hz | 109.9 dB | 109.9 dB |
| 63 Hz | 109.2 dB | 109.5 dB |
| 80 Hz | 109.5 dB | 110.2 dB |
| 100 Hz | 106.2 dB | 106.1 dB |
CEA 2010 Results 2 meter rms (measured sideways)
CEA Distortion Thresholds (2 Port Mode)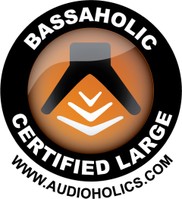 Based on the test results above, the I-12/e has earned our Large Bassaholics rating, signifying that it should be able to provide satisfying bass levels in rooms of 3,000 cubic feet to 5,000 cubic feet (read about our Bassaholics room rating system). If you can afford it, I would still go for multiple subwoofers, regardless of room size, for the sake of smoothing out the low-frequency response and extending dynamic range. 
RBH Sound I-12/e Subwoofer Conclusion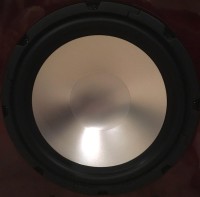 For years I've been suggesting that RBH Sound build an affordable HUGE subwoofer to compete with the ID subwoofer greats.  Not only has RBH succeeded with the I-12 and I-12/e subwoofers, but they've managed to do so in an attractive package that goes beyond just the standard square box.  Although the I-12 sub is large, it looks quite attractive, especially when placed in a corner and used alongside their matching Impression series loudspeakers.
While there are some comparably priced ID subs that play a bit louder and deeper, the RBH I-12/e arguably makes up for it in aesthetics and possibly musicality thanks to the low mass driver and flexible tuning modes. 
The fact that RBH Sound gives you a 30-day in-home free trial with free return shipping when ordering from them directly, gives little reason NOT to try this subwoofer out in your own home to see if you agree with our assessment.
RBH Sound I-12/e Preview and Testing

Impression I-12/e Subwoofer
MSRP: $699 (includes shipping)
RBH Sound
Mailing Address:
382 Marshall Way
Layton, Utah USA 84041-7318

Phone and Fax:
Toll-free: (800) 543-2205
Phone: (801) 543-2200
Fax: (801) 543-3300


The Score Card
The scoring below is based on each piece of equipment doing the duty it is designed for. The numbers are weighed heavily with respect to the individual cost of each unit, thus giving a rating roughly equal to:
Performance × Price Factor/Value = Rating
Audioholics.com note: The ratings indicated below are based on subjective listening and objective testing of the product in question. The rating scale is based on performance/value ratio. If you notice better performing products in future reviews that have lower numbers in certain areas, be aware that the value factor is most likely the culprit. Other Audioholics reviewers may rate products solely based on performance, and each reviewer has his/her own system for ratings.
Audioholics Rating Scale
— Excellent
— Very Good
— Good
— Fair
— Poor
| Metric | Rating |
| --- | --- |
| Bass Extension | |
| Bass Accuracy | |
| Build Quality | |
| Fit and Finish | |
| Features | |
| Performance | |
| Value | |